To add your Drexel Streams video to a course in Blackboard, follow these steps:
Step-by-step
Log into Blackboard at learn.drexel.edu, and click on the desired course
Select the content area where you would like to add your video
Go to Build Content > Kaltura Media  (listed under Mashups)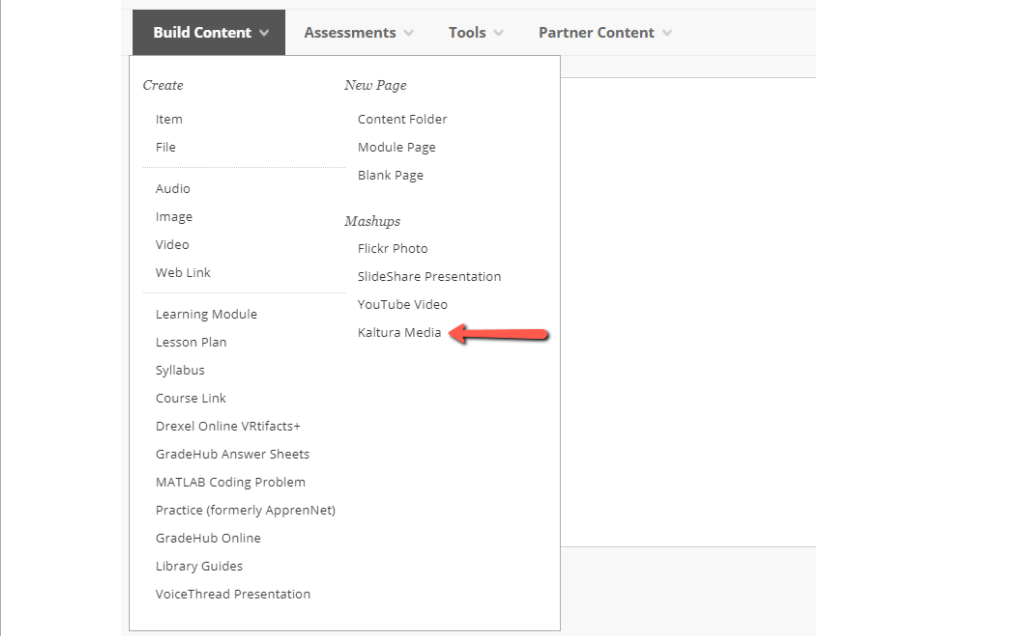 4. Select your video by either scrolling through your Drexel Streams library, or by searching for the video in the "search" field
Note: Zoom cloud recordings will automatically be titled with the meeting name. If you would like to change the name of the video, you can do so in Drexel Streams.
5.Once you have selected a video, use Blackboard's "Title" field to title your selected video as it will appear in your course. You can also add an optional description and set the availability dates.
Note: This means you can use one general topic name for the video in Kaltura but customize the name of the video link in Blackboard. This can be useful if you are using the same video across different courses or academic terms.
6.Click 
Submit
to post your video Storing videos in Drexel Streams and then using the Kaltura Media tool is the recommended practice to add your videos to Blackboard. Video files should not be directly uploaded to Blackboard courses because of performance issues and storage limitations.
It is also Drexel's policy that recordings of classes with students–whether in-person or remote–only be shared with that original section and not be reused or shared with other classes.
If you have additional questions about Drexel Streams, reach out to LeBow Instructional Tech at lebowintech@drexel.edu
Have Questions?