Business Leader of the Year
We are pleased to announce a new date to honor Judith M. von Seldeneck, Founder and Chair, Diversified Search Group, as the 66th Drexel University Business Leader of the Year. Please join us for this virtual event.


Thursday, April 29, 2021 from 11:30 a.m. to 12:30 p.m.
> REGISTER
For questions, please contact Stephanie DiMuzio at sdimuzio@drexel.edu


About Judith M. von Seldeneck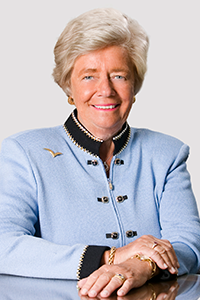 A born-and-bred North Carolinian, Judith M. "Judee" von Seldeneck graduated with a bachelor's degree in political science from the University of North Carolina before beginning her career as an executive assistant to then-Senator Walter F. Mondale in Washington, D.C. After she got married, Judee relocated to Philadelphia, and in the 1970s bought into a small Philadelphia firm founded to find temp jobs for women. Buying out her partners in 1974, over time she built a tiny enterprise into what is today the Diversified Search Group, ranked by Forbes magazine as one of the Top 5 executive search firms in the nation, with offices in 11 cities and annual revenues exceeding $100 million. Additionally, Diversified Search Group serves as the official U.S. partner of AltoPartners, a global alliance of search firms in 63 cities across 36 countries around the world.
A pioneer among women business executives in Philadelphia, Judee has long been both a role model for and a champion of women, and she has nurtured the careers of some of Philadelphia's most high-powered executives. A past president of The Chamber of Commerce for Greater Philadelphia, she has also served on the boards of some of the area's most prestigious companies, including Citizens Financial Group, Tasty Baking Company, Teleflex, Inc., CoreStates Financial Group, Meridian Bancorp and AAA MidAtlantic, and served as chair for the Philadelphia Chapter of the National Association of Corporate Directors. She currently serves on the Comcast and NBCUniversal Joint Diversity Council, and she is chairperson of the Women's Advisory Council. In keeping with her tireless advocacy for women in business, she also founded the Forum of Executive Women, the largest association of women business leaders in the Philadelphia region. Always interested in serving the community, she also serves on the board of the Cobbs Creek Restoration & Community Foundation.
Judee has been the recipient of numerous honors recognizing her achievements both professionally and philanthropically. These include the William Penn Award, the highest honor bestowed by the business community of Greater Philadelphia; the Association of Executive Search Consultants' Eleanor H. Raynolds Award for Excellence in Executive Search; being designated as one of BusinessWeek's Top 50 Most Influential Executive Recruiters in the World; and induction into the Philadelphia Business Hall of Fame.
About the Business Leader of the Year Award
Presented annually by the Drexel University LeBow College of Business, the Business Leader of the Year award has become one of the most prestigious honors in the Greater Philadelphia region. This award was established in 1954 by a student, George Ross '55, Hon. '99, who was later recognized as the 35th Business Leader of the Year in 1989.
Proceeds from the event will fund scholarships and support academic programs within the LeBow College of Business.