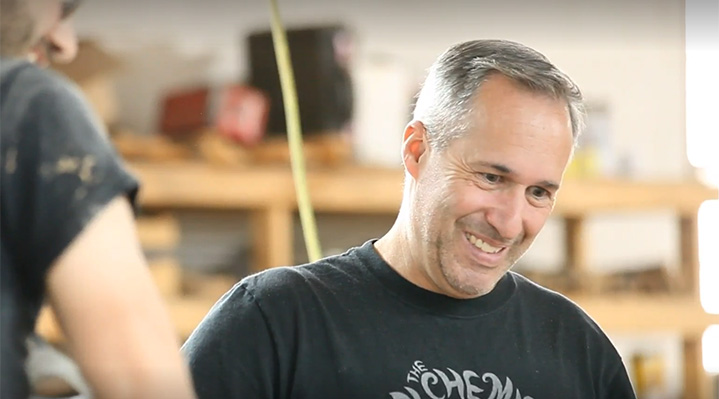 Mike Cosenza, '22
Executive MBA
With a constant thirst for knowledge and an entrepreneurial spirit, Michael Cosenza, EMBA '22, was destined to run a business. It comes from his father, who owned and ran Accounts Receivable Management Inc. for 40 years in New Jersey. Cosenza climbed the ladder through his family's business, learning in lockstep with his dad, eventually becoming CEO. When the business was sold in 2014, Cosenza was ready to put his stamp on his own business. Despite 27 years of experience in the business world, Cosenza knew something was missing, which led him to pursue an Executive MBA (EMBA) through Drexel LeBow's College of Business.
"I knew that I needed to take that next step to get where I needed to be," said Cosenza. "It gave me the experience, the network and the tools to take my career, business and my family to the next level."
In the middle of the Covid-19 pandemic, Cosenza not only enrolled in the EMBA program, but acquired Napa East, a home décor business that makes and sells items from reclaimed wood and repurposed wine barrels. Always enjoying working with his hands, the venture combines woodworking and his business experience as he looks to expand the company.
"With the EMBA program, I dedicated the time to education and got the formal tools which I applied directly to my business," said Cosenza.
Cosenza chose Drexel based on the renowned faculty who bring real industry knowledge to the program.
"The real-world experience from the professors, you can't put a price tag on it," said Cosenza.
What also stood out to him was the opportunity to gain business experience on a global level through the EMBA program's international residency.
"That was one of the many elements that pushed it over the edge for me to make the decision to go to Drexel," said Cosenza.
Currently, Napa East does business solely in the United States. After visiting with business leaders in London, England and Dublin, Ireland during his international residency; Cosenza believes expansion is now in his future.
"The network is invaluable," said Cosenza. "We went to the U.S. Embassy in London and the Dublin Chamber of Commerce and they explained how they could help us get a foot hold in England and in Dublin."
After successfully navigating going back to school and acquiring a business through a pandemic, Cosenza is already reaping the benefits of the EMBA program.
"I've always tried to do what is best for the company, and Drexel helped give me the tools to really do what's best for the company, my employees and my family," said Cosenza.