Leading for Change Fellowship
"This program is the soul of our university." - John Fry, President, Drexel University
"Drexel's Leading for Change Fellowship program provides today's experienced and emerging public servants with the tools, knowledge and understanding to better serve the city in their current roles and for decades to come." - Michael A. Nutter, Mayor, City of Philadelphia (2008-2016)
A Program for Leaders in the Public Sector
The Leading for Change Fellowship is an intensive year-long professional development program for Philadelphia public sector leaders that combines the rigorous academic curriculum of Drexel's LeBow College of Business with a signature experiential learning practicum designed for maximum community impact. Leading for Change emphasizes intersectionality, helping Fellows overcome silos and barriers by building relationships that catalyze collaborations, partnerships and friendships beyond the classroom.
Leading for Change Fellows' ability to lead initiatives and projects more effectively is measured through a 360-degree feedback exercise at both the beginning and conclusion of the program, as well as by monitoring post-training career development and tracking the effects of community practicum projects. Fostering diverse leadership is a hallmark of the program, as it recruits people of many different expertise and backgrounds to create a supportive work environment that helps them perform at their highest levels.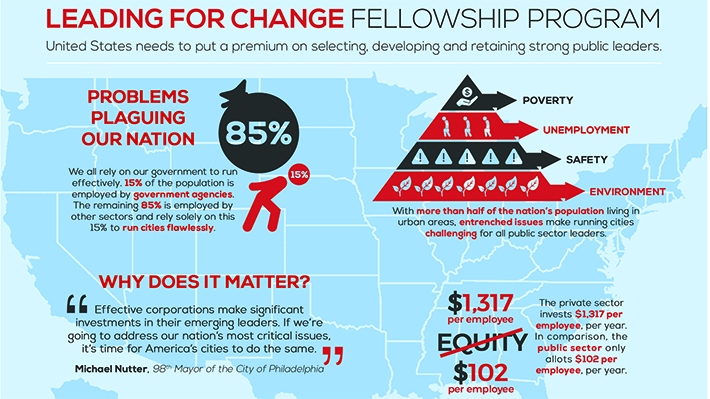 View the full Leading for Change Fellowship infographic.