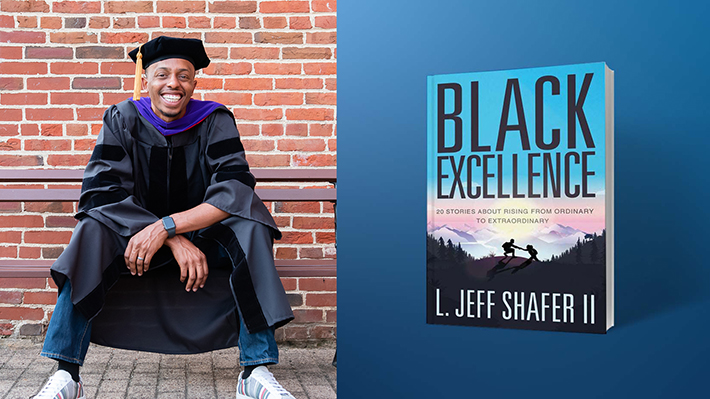 Accounting Alum Gathers Stories of "Black Excellence" From Across the Business World
The year 2021 has been one of major milestones for Lynnewood "Jeff" Shafer II '12: he graduated from the University of Pennsylvania Law School, celebrated the birth of his first child, and moved to New York City to work as an associate attorney at Simpson Thacher & Bartlett LLP. In August, he celebrated another significant accomplishment: The publication of his book, "Black Excellence: 20 Stories about Rising from Ordinary to Extraordinary."
In the book, published by New Degree Press after a successful crowdfunding campaign through Indiegogo, Jeff interviews 20 notable Black leaders from across all major fields of business about their paths to successful careers. In advance of the book's publication, Jeff shared what inspired him to write it, how he balanced writing with his legal studies and the impact he hopes the book will have.
Drexel LeBow: Tell us a bit about your path since graduating from LeBow.
JS: I worked at PwC for close to six years, auditing financial statements for financial services companies, including broker-dealers, mutual funds and private equity funds. Looking back to my childhood, I'd always had the idea to go law school and become an attorney. I always wanted to study the intersection of law and business, so that's why I chose to major in accounting. Before entering law school, I ended up spending more time at PwC than I anticipated because it was such a great place to work: I was steadily having increased responsibility and leadership opportunities on my team, and I worked with marquee clients. It can be hard to start over somewhere new, but what comes from that is leveraging transferrable skills, and that's an asset you can use. When I was interviewing with law firms, they liked that I was a CPA, and I was able to leverage client success in that area to working in law.
LeBow: When did the idea for this book first come to you?
JS: The idea first came to me last June. I'd always wanted to write a book, and I've always been an avid reader, particularly books about great figures in history and stories of overcoming, and I wanted to pay it forward. I've always been an advocate for the Black community, and I get frustrated with lack of representation in elite fields and in high-ranking positions. So, I wanted to combine those two things and see how I could make a contribution. At this time last year, everyone was working from home remotely while the world was on fire, and instead of complaining or thinking "woe is me," I wanted to do something that I could look back and say, when someone asks me how I spent the pandemic of 2020, "I did this.'" I wanted this project to broaden the narrative and expand the perceptions of what Black people are able to do, because we've demonstrated excellence in every field of human endeavor. I hope it's something that can contribute to the community and to everyone who reads it.
LeBow: How did you identify the individuals and the industries they work in for inclusion in the book?
JS: I started off by looking at people within my network. Once I started interviewing people, I made a point to ask them if they knew anyone who would be a good fit. I ended up speaking with lawyers, accountants, partners at large law firms and accounting firms, federal judges, entrepreneurs, executives, consultants… I really wanted to hear from a wide swath of people.
There were so many people that could have been featured in this book. This just reflects the breadth and depth of Black Excellence, and while it was an honor to be able to feature all of these individuals in the book, there are three particularly special examples that I want to highlight.
First, Ken Frazier, who just stepped down as CEO of Merck and is still chairman. This is someone who was born in North Philadelphia in 1954, the year of the Brown vs. Board of Education decision, and who was raised by a single father. He went from North Philly to Harvard Law to becoming CEO of Merck, and he said to me, "If you want to know how I did it, here's how I did it." It was honestly a bit surreal.
Also, Jeh Johnson, former Secretary of Homeland Security under the Obama administration — a person who's on boards of Fortune 500 companies and who's been in the Situation Room with President Obama. He shared things with me about getting the nomination from Obama and asking himself, "Am I ready for this?" I feel it's important that we get a behind-the-scenes look at people who've accomplished so much but who still had questions and doubts, and have them share how they overcame them.
Finally, Rob Young, who's a partner at PwC. He was born and raised in South Jersey like me, and he was raised by a single mother and played football at Bucknell. He told me, "I can't guarantee you I'll be the smartest person or the most well-connected person in the room, but I can tell you that I won't be outworked." That sort of grit is something that really resonates with me.
LeBow: How were you able to balance work on this book with your studies?
JS: I started on it during my third year of law school, so I had a lot on my plate — plus, while I was working on it, my wife was pregnant, and my son is now five months old. In one of my chapters, I talk about productivity and using your time effectively, so I feel that not only am I giving good tidbits from the people I interviewed, but I also stress-tested those tips in the making of the book. I became very intentional with my time, because I knew I had a clear purpose and a goal: I wanted to write this book in order to have an impact in the community. Accomplishing big tasks like this really comes down to consistent effort across a period of time.
LeBow: Were there individuals you met or worked with during your time at LeBow who exemplify Black Excellence?
JS: Hubert Glover, who passed away in 2019, was my mentor when I was in Drexel. He came to Drexel around the time when I became the president of the student chapter of the National Association of Black Accountants, and he was the faculty adviser. I was a young college student looking at him and wondering, how did this guy accomplish all of this? He'd written his own book, he was chair of the accounting department, he was a CPA, a CMA, a PhD… Every time I spoke with him, his wisdom was just so rich because he'd had all of these life experiences, and I'm so glad he was willing to support me, encourage me and challenge me when necessary. He also appointed me to the LeBow Accounting Department Advisory Board, and I'm sorry that he's not around today to share this experience with me.
Also, Rev. Gregory Ross, who was director of the Drexel University Gospel Choir. He's also a Drexel alum and an accountant himself. His leadership of the choir was so inspiring, and I met some of my best friends and my wife there. Both of them exemplify Black Excellence to me.