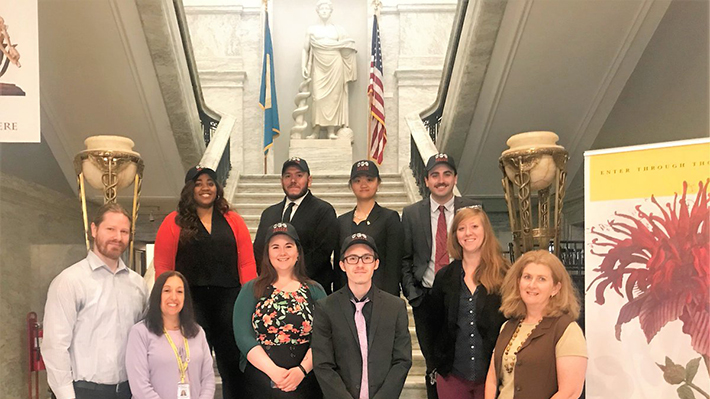 Accounting Students Complete Consulting Project for Mutter Museum
There's a lot more that goes into the gift shop of your local museum that meets the eye. At least, that's what eight Drexel Accounting students discovered during their work with the Mutter Museum.
Seeking to gather more information on the performance of the gift shop, the Mutter Museum approached Drexel LeBow looking for help with their financial reporting.
"The museum was interested in how its gift shop was performing, so the students helped management gather information and design reporting to better understand performance," said Professor of Accounting Maureen Breen, the instructor of the course.
The students then collected the data from the Mutter Museum electronically, researched the formats that the museum used for managing their data, and then worked together to find suggestions for ways the museum could work with the information moving forward.
"It was also important for the students to visit the museum several times because seeing what's there is really helpful. They went behind the scenes to see how the museum works so that they could better present this financial performing," said Breen.
Through frequent visits and correspondence with Mutter Museum staff, the students were able to get a thorough understanding of the innerworkings of the museum and strategize how to create a solution that would satisfy the Mutter Museum's unique structure and needs.
"I kept encouraging the Mutter Museum to talk to the students before they talk to me," said Breen. "I wanted to get the Mutter Museum to understand the students were leading it and they did. […] I really think the respect grew between the students and the Mutter Museum."
"Our relationship with the staff developed over the duration of the project," said Reed Woodworth, a senior accounting major who took the course. "We were students coming into a real nonprofit and looking at sensitive information, so we had to prove we knew what we were doing."
Woodworth stated a key aspect of deepening the relationship with the Mutter Museum were the visits where they would work directly with the staff. "When we would have questions or want to stop by the museum to talk over the project or in one instance, measure their storage rooms to determine an allocation percentage, they warmly welcomed us and provided assistance," he said.
At the end of the course, the students presented their findings to the president of the Mutter Museum and other members of managerial staff. They also presented suggestions for management should they want to continue with their method of financial reporting in the future along with recommendation for how they might gather the information going forward.
The students were rewarded with items from the Mutter Museum's gift shop and seasonal passes, but for at least one student, the experience was all the reward he needed.
"For me, the most impactful takeaway from the experience was working with real information and real people," said Woodworth. "Academia provides us a great foundation, but once we're in the real world working, there are many drastic differences."