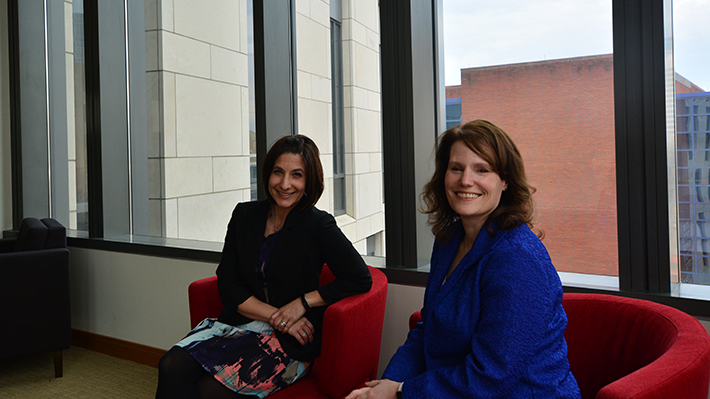 LeBow's Teresa Harrison and Lisa DeLuca Win Assessment and Pedagogy Award
When Lisa DeLuca, director of undergraduate career services, heard she had won the fifth annual Drexel University Assessment Award, she was no less than surprised. Having worked with the UNIV B201 Career Management capstone course since 2008, seeing the class progress seemed like a byproduct, and the changes, common sense.  
Chosen from among eight finalists, DeLuca won the provost-level award with Teresa Harrison, associate dean for academic affairs and associate professor of economics, for being able to seamlessly incorporate the Association to Advance Collegiate Schools of Business (AACSB) "Assurance of Learning" component into the course with demonstrable results. 
The one-credit, writing-intensive course requires students to meet the goal of integrating academic and experiential learning during their time at the University. The course originally sought to meet this goal with three objectives including identifying their skillset for future work experience, presenting and showcasing their skills, and creating a career action plan. After noticing that students were struggling in the interview portion of the course and facing difficulty with their college portfolios through iWebFolio, Harrison and DeLuca reviewed ways in which the course could be improved, and made structural changes that saw students go from struggling to excelling. 
The interview portion was originally a 10-minute presentation at the end of the course that then was changed to a video project. "Some of the brainstorming on that came from logistical constraints but it was also very much informed by our conversations about how first round interviews are often now done by video – Skype or some other form of technology," said Harrison.
This change in combination with streamlining the two career objectives led to more classroom discussion and reflection and a sharp change in scores where 95 percent of students either met or exceeded expectations in personal pitches and roughly 85 percent in video interviews. But despite the drastic change in data and scores, DeLuca credits her insights into improving the course with her hands-on approach to student learning. "I look at the course and I think, 'Well, this needs to be tweaked or that needs to be changed,' but I don't look at it as assessment," said DeLuca. "I'm in the classes. I'm listening to feedback. I can see what's working. I don't always look at the data, but with the interview exercise we saw it in the data." 
Overall scores weren't the only thing that changed. Through the course DeLuca says she's seen a drastic change in students' career outcomes, especially with the shift from iWebFolio – an online portfolio website – to LinkedIn. "They had four portfolios: business, writing, math and career. The theory was in senior year, they would create their career portfolio building on everything that they've learned," said DeLuca. But noticing a lack of engagement with employers and a dip in student portfolio performance in their sophomore and junior years, DeLuca decided LinkedIn may be a better avenue for students to showcase their skills and experiences. "We saw that employers weren't really looking at portfolios in that way, and we wanted students to be able to share something that really made an impact with employers," said DeLuca.
With a better online presence and solid interview experience thanks to UNIV 201, DeLuca has seen a shift in how students approach their career development and job search overall. "If I think back to the time before the course, we had a lot of students graduating without a job, not knowing how to do a job search and not knowing what they wanted to do," said DeLuca. "This course forces the ones who were probably going to be lost and putting it off to at least start sooner. Now, I don't see a lot of students coming to our office after graduation and saying, 'I'm lost. I don't know what to do.'"
Despite the drastic shift, DeLuca was shocked by the win because she's not a member of the faculty. "I'm not an academic, so it's an interesting process to learn how to develop a course and keep revising it. I wouldn't think I'd be doing that, but it's been a lot of fun," said DeLuca.
But her fellow awardee sees differently. "We're all an important part of making sure our students are learning and getting what they need. And this course is an important part of their capstone experience and Lisa absolutely has taken the lead on that," said Harrison. "She may not have the title of a formal faculty member, but all of us are involved in curriculum and engagement with the students. From that standpoint, that's a part of all of our charges."