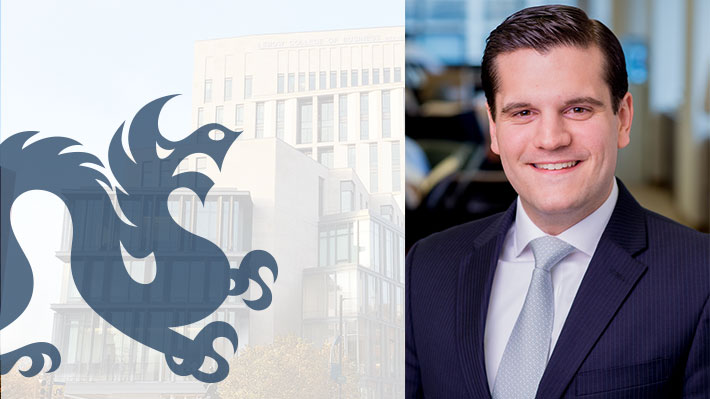 Alum and Goldman Sachs VP Shares Advice for Students Navigating Today's Uncertain Economy
For Michael Angelos, vice president in Goldman Sachs' Consumer and Investment Management division and member of the LeBow Dean's Advisory Board, the economic impact of the COVID-19 pandemic brings to mind his experiences during the Great Recession. In the fall of 2008, Angelos was a pre-junior at LeBow, interviewing for his second co-op, while the upheaval of the global financial system was well underway; he recalls that the investment bank Lehman Brothers had just collapsed into bankruptcy the week of his interview.
Though his options were reduced, Angelos found a way to make the most of his opportunities. Here, he shares some of the lessons that have served him to this day.
1. Focus on long-term goals.
Angelos began the fall 2008 co-op cycle with his sights on a position with Goldman Sachs, a coveted co-op assignment. With available positions reduced at other companies, competition for the role was even higher, and Angelos was able to land only a qualified alternate spot. He later received an offer from Susquehanna International Group (SIG), a global options trading firm and another major employer of Drexel co-op students. It was a great role but not the one he originally had in mind.
"That ideal co-op may not available, at least for this cycle," Angelos says. "When times are challenging, it's important to maintain your focus on the long-term objective and see opportunities when others don't."
Both during his search and on co-op at SIG, Angelos set out to build resilience and adaptability to changing conditions. For example, when a colleague would leave for another job, he volunteered to pick up the extra work from that vacant position to learn how his role, and his department as a whole, related to other positions in the organization.
2. Study the industry and its leaders.
With his co-op position at SIG secure, Angelos began learning everything he could about options trading and how it fit within the rest of the financial sector and the economy at large.
"I asked myself, 'How was the industry impacted by the crisis? How would it evolve in the wake of it?'" he says. "Most importantly, I thought about how to incorporate that potential transformation into the decisions I was making about what I studied and how I was mapping out my career path going forward."
As you weigh your own career path in the current climate, Angelos says, look at the statements and actions of corporate and political leaders. It doesn't have to be the CEO of the company you want to work for; leaders of every stripe are being put to the test right now.
"This current period is unfortunately one of the most difficult times in history," Angelos says. "I encourage students to really study the impact of the coronavirus, as well as how leaders reacted to the crisis, so that they're prepared to lead when their time comes."
3. Cultivate relationships.
As he weighed career options during the rest of his time at Drexel, Angelos stayed connected and sought out advice from faculty in LeBow's Department of Finance, in particular Dean's Industry Fellow and Associate Professor of Finance David Becher.
"He was always willing to talk about life and about what he was seeing in the markets," Angelos says. "He really guided me through everything."
Build relationships with your professors and remain in touch, Angelos says. If a co-op or job offer falls through, consider how your professors might be able to offer other opportunities to move your career forward such as a research position, a professional connection to your field or industry of interest, or another alternative you hadn't yet considered.