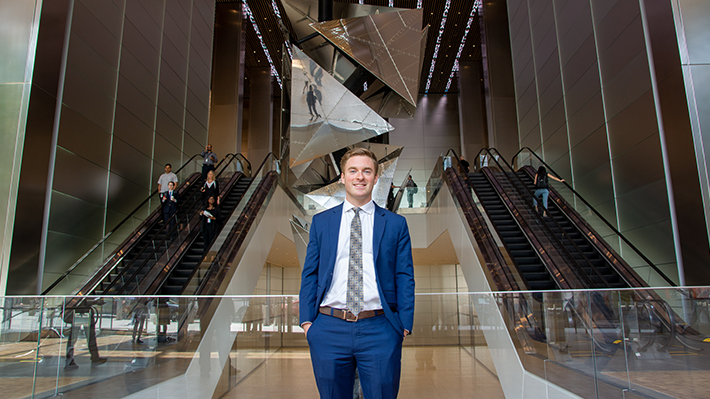 Appreciating the Bigger Picture
Steven Blumberg's on-the-job performance during his co-op at Comcast paved the way for a full-time position there, but connections forged in the company's cafeteria played a role as well.
A few months into his co-op, he struck up a conversation with Comcast's Chief Business Development Officer, whom he recognized from his first day on the job. "Now I've met with him three times and he's given me some really good ideas about how to appreciate the bigger picture," Blumberg says. "I'll listen to investor calls and really know what's going on."
He initiated a conversation with the President of Comcast Business in much the same way: "He was next to me in line. I got 30 minutes on his calendar, and now I have a much more comprehensive understanding of how our leadership thinks about problems, which is helpful when I get the opportunity to present my projects to them.
"That's something that I think not enough co-ops know about: they don't learn the faces of their executives."
That excitement for the bigger picture in the company and organizational understanding eventually led to Blumberg accepting a role as program manager, product planning and strategy at Comcast Business. As Comcast invests millions of dollars in building and launching new products and features, Blumberg says the product team monitors "for all the money spent, whether we're producing what we say we would, on time, and doing the highest value things possible."
"As a marketing and MIS student, it's great to dive into how are we selling our products and how are we working with our customers. Everything I've learned, I'm directly applying."
Notably, his experience in SQL coding and database development from an MIS course proved useful when he received an assignment to create a product catalog.
"There was never a one-stop shop for everything we've created as a product team," he says. "You'd see pieces of it, but you wouldn't see everything we sell."
With the help of the rest of the product team, Blumberg created a database for all of Comcast Business' products. He even got some assistance from two other Drexel alums – Brian Borochin, senior manager, procurement at Comcast Cable and a 2010 graduate, and Caitlin Hogan, HR Analytics Analyst and a 2017 LeBow graduate – who were able to assist in its completion. Plans quickly took shape to present it to the leadership team of Comcast Business. "That catalog became my marquee project," he says. "It's a document that hundreds, if not thousands, will be using in our company."
Having started on the catalog project in May 2018 and gotten it presentation-ready by January, Steven realizes he made a strong impression.
"I really think what differentiated me is that I had an approach of broader learning and didn't want to focus just on marketing or MIS," he adds. "Because I was able to handle the workload, do the reports they needed and keep up with special projects, they were able to trust that I would fit into the team long-term.'"
Steven cites Dean Emeritus Frank Linnehan for encouraging him to explore areas outside of business. As a member of the Pennoni Honors College, he mentions a class taught by Honors College Dean Paula Marantz Cohen as especially instructive. In a course where students worked with prison inmates on reading and reflection, his first paper was thoroughly dissected, grammar errors and all.
"I realized, I'm no longer writing in a LeBow setting – I'm writing for the honors college dean," he says. "I create reports and case studies for my team that I'm sending out to our senior VP and that he's sending out to his leaders. If I have grammatical errors or my writing isn't abundantly clear, there's no way I make it to where I am today."
That motivation to seek outside perspective led him to study abroad in Hong Kong, where he came to value insights from guest speakers on attracting employees and entering the Chinese market; for example, where American companies might discuss their strategy for Amazon or Instagram, companies in China look to gain traction with Alibaba and WeChat or to land endorsements from K-pop stars. "The underlying ideas are the same, but what they're using and how they're developing their ideas are really different," he says.
Blumberg's comfort interacting at an executive level came in handy in Hong Kong, too. Having worked as business manager for the Drexel Triangle, he entered a competition sponsored by the South China Morning Post, the newspaper that he calls "the New York Times of Hong Kong, with many millions of readers," to meet and interview the company's CEO. Steven ended up being selected, shadowing the CEO for three days and meeting the paper's entire leadership team. "It was 100 percent because of my experience and understanding of the Triangle," he says.
Steven's family is rooted in Drexel – his father and older sister are both alumni – and Drexel basketball posters still decorate his room at his parents' house, but he never took his place at Drexel – or at Comcast – for granted.
"I thought, when I was in the position of co-op, I'm not going to act like one. I'm going to act like a high-value member of the team that's going to do really great things."
"I don't see myself as just a Drexel student. I see myself as part of the whole community, and it's important to add a lot of value for that," he says. "I really believe in it."