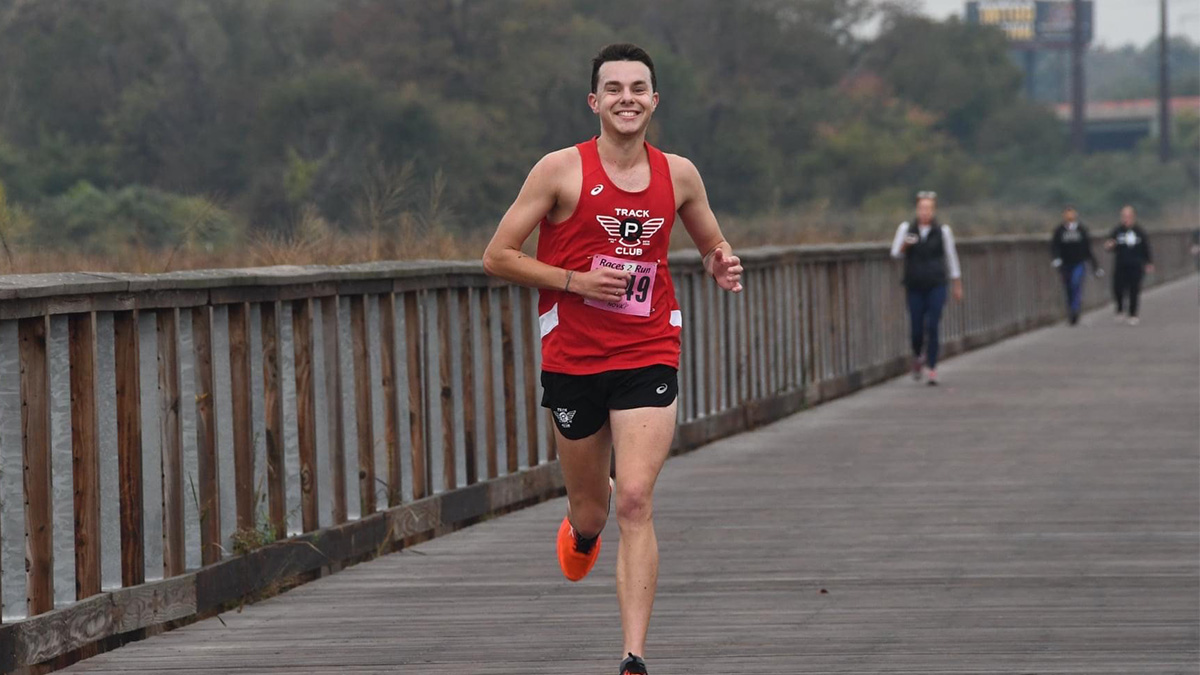 Setting Big Goals to Gain a Deeper Understanding
Ethan Hermann has always pushed himself toward his goals: in his studies at LeBow, in setting personal bests as a runner and, over his five years at Drexel, through on-the-job performance at his co-op assignments.
As a BA in Economics student, with minors in communications and Spanish, Hermann has sought to combine these areas into addressing communication issues in the United States and the divide that has emerged between political parties and Americans' sources of information.
His co-op experience has come at the intersection of business and communications through three co-ops with Harris Insights and Analytics, a global consulting and marketing research firm previously known as the Harris Poll, and he's looking ahead to a full-time role there after graduating.
"It will be more consulting-based, using my major and my minor in unison," he says. "I'll need to do analysis and understand both quantitative and qualitative survey data. I also have to create narrative reports and give presentations to clients — some of whom need more technical explanation, and some of whom need more personalized stories around the narrative of what consumers are going to want."
His first stint as a thought leadership intern with Harris came during summer 2020.
"On the thought leadership team, one of our client companies comes to us with a problem or a question, something they want to figure out so they can go to market or move forward as a company," he says. "We go back and create a survey that hopefully can get at the answers that they want, and then create deliverables for the client.
"From day one, I felt like I was on the job doing important work."
Hermann came out of that experience eager to gain skills to help out on the job: Game Theory (ECON 250) and Economics of Small Businesses (ECON 260) in the School of Economics to better understand things from the client side, and communications courses in Drexel's College of Arts and Sciences in order to communicate better with certain clients and to be more flexible.
"Those courses really taught me how to think ahead and look at data and present in different ways," he says. "I feel like I could go to work for one of our client companies and feel really confident about knowing how they're run."
In addition to the economics courses that powered up his co-op performance, Hermann cites Professor of Economics André Kurmann, PhD, as particularly influential on his studies at LeBow.
"I took Principles of Macroeconomics (ECON 202) with him right before the start of the pandemic," he says. "I'd never been challenged or pushed academically so much, and I could tell he just wants the best out of his students."
Hermann has a bent toward imparting information to others passed down from his father, who has taught at Carnegie Mellon University, and an interest in journalism and communications that he shares with both parents and his older brother; these inclinations have both fed into his interest in polling.
"I feel good communications can break through that wall in this country where there's this partisan divide," he says. "How do we effectively communicate information and counteract disinformation or misinformation? How do we communicate the truth, both the good and the bad? The more transparently we can communicate with one another in America, the better."
Hermann came away from a recent term spent abroad with a new perspective on his home country. In spending fall term at Cardiff University in Wales, he experienced the proud and distinct Welsh culture through, most notably, attending a Welsh national rugby match against Australia and hearing a stadium full of people singing loudly along to the Welsh national anthem.
"It was such a beautiful experience that really cemented how proud they are," he says. "It taught me a lot about positive nationalism and that I can be proud of where I'm from while knowing there are things that I shouldn't necessarily be proud of."
His experience in Wales built on his time at LeBow in numerous ways: taking a course on the economics of the European Union to supplement his major; joining the Cardiff University Running Club after years running with the Elite team of the Philadelphia Runner Track Club; and exploring Wales' capital, much as he has explored Philadelphia, with curiosity and an appreciation for the underdog spirit.
He notes that his running experience in Philadelphia has helped him not only to develop as a runner but also to get outside of the collegiate environment on a regular basis, running alongside professionals of all ages and backgrounds.
"I've made a lot of personal and professional connections and know people all over the country that I wouldn't have met if I had just gone running by myself," he says.
He's gotten a similar sense of community at LeBow, particularly in contrast to other colleges and business schools.
"After my first class at LeBow, I knew it was a place that's going to help you grow and help you at your own pace," he says. "LeBow strives for greatness but isn't willing to sacrifice its students' health or schedules to get there. That's something that really resonates with me."