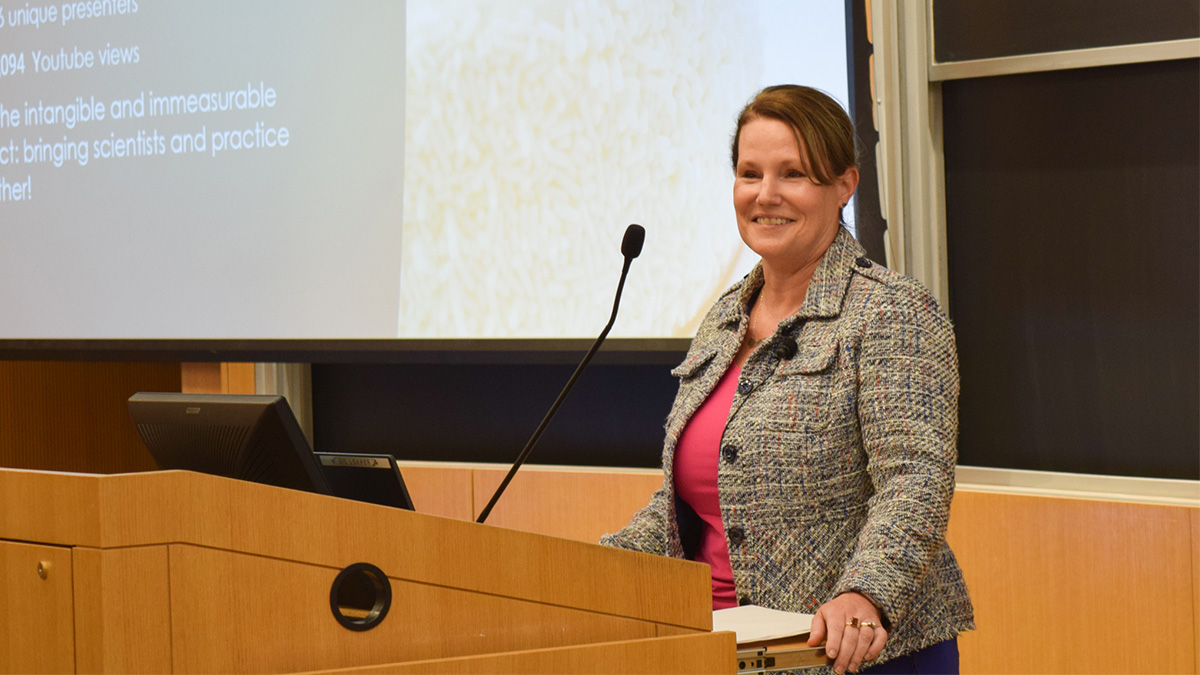 The Big Questions Behind Getting a Bigger Picture of Nonprofit Activity
Teresa Harrison, PhD, professor of economics and academic director of the Raj & Kamla Gupta Governance Institute's Center for Nonprofit Governance, has made nonprofit organizations the focus of her research going back many years, and she keeps coming back to one persistent question: "What makes markets with nonprofits function best?"
"I think about this from an economist's standpoint, but also from an industrial-organizational standpoint, which means a very specific way of looking at firm strategy, competition and collaboration, and how firms interact and react to each other in a marketplace," she says.
As one of the keynote speakers at the Science of Philanthropy Initiative (SPI) annual conference, hosted by the University of Chicago's Griffin School of Economics, Harrison delivered some of her findings from a very prominent platform. At the initiative's tenth annual conference, a high-profile gathering of leading academic and nonprofit executives, Harrison was one of two academic experts to deliver a keynote address.
Harrison credits other researchers who have indicated that nonprofit markets work differently from for-profit ones.
"Most economists believe that competition, in most circumstances, produces better outcomes for consumers and for society as a whole," she says. "Current research hasn't really established whether that applies to nonprofits."
The SPI conference arose to investigate this further by working toward two goals: first, to put more evidence-based research, documentation and findings behind promoting donations in the nonprofit sector; and second, to facilitate better partnerships between researchers and executives, fundraisers and other leaders with nonprofit organizations. While much of the activity at SPI has focused on experiments, both in lab settings and in the field, that investigate what motivates giving, Harrison takes a different approach by viewing firms as active agents in the market and working mainly from archival data.
"My work isn't experimental, and it doesn't focus on donors," she says, adding that presenting these findings to an audience of mainly experimental economists and fundraisers had the effect of putting out a call or challenge: "Use what you know about field experiments, and let's start applying that to how firms react."
Her presentation was framed around two big questions — what's going on with donations that we might not have a clear understanding of, and how might nonprofits and their strategies be part of the explanation of what we're seeing — and it sparked conversations among attendees throughout the remainder of the conference.
In a follow-up conversation, conference organizer and Kenneth C. Griffin Distinguished Service Professor at the University of Chicago John List, PhD, asked Harrison another big question: what does this mean for what nonprofits really need to do? She's thought deeply about that question, too.
"We really need to push forward on doing experiments with nonprofits with a focus on things that are testable, like a match rate for donations, or the effect of another nonprofit running a fundraising campaign at the same time as your own company," Harrison says. "Those kinds of things will really help nonprofits understand better."
She's exploring these topics further in two current working papers: "Nonprofit Competition and Fundraising Elasticities," co-authored with Phillip Gayle, PhD, of Kansas State University, and another, "A Further Examination of Entry and Exit in the Nonprofit Sector," co-authored with Jonathan Oxley, PhD, of the Andrew Young School of Policy Studies at Georgia State University.
The former paper builds on earlier research with Gayle and examines what it means for nonprofits to compete and how that competition relates to fundraising decisions.
The latter paper examines reasons why nonprofits are less likely to exit an industry and this potential lack of response to market incentives, and through support from a joint grant by the Urban Institute, Harrison and her co-authors are attempting to quantify differences between states on regulatory systems for nonprofits. The follow-up study utilizes data from close to present day to assess the impact of the 2008 recession and economic disruptions.
"We returned to this data using improved methodology to ask whether these former patterns still hold, and the bottom line is yes, the overall trend continues quite a bit," she says.
The next stage, drawing from the most recent publicly available data, starts to tackle the reasons behind that trend.
"I'm optimistic about what that might show about what organizations are doing and what donors are doing," she says.