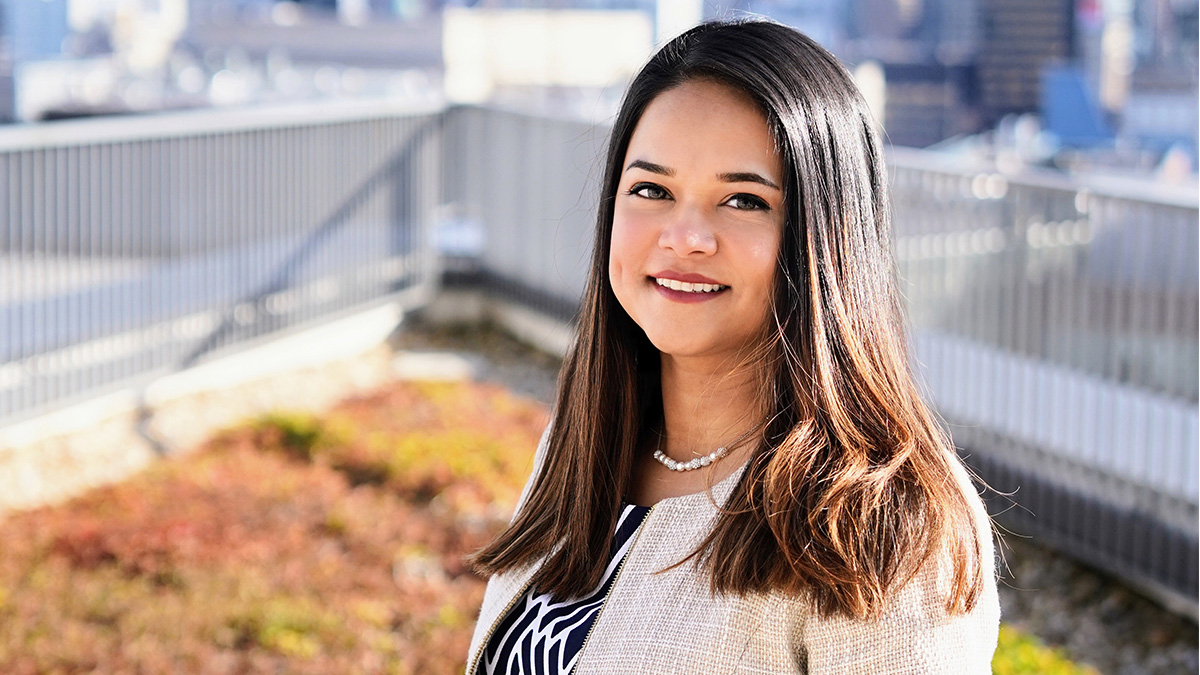 When Brands Speak, Who Listens? A Doctoral Student Investigates
What's a tweet worth to some of the world's biggest brands? And how do brands decide when to weigh in on hot-button issues?
Mithila Guha, PhD candidate in marketing, is getting to the bottom of social media quandaries like these through rigorous attention to brands, their posts and the data behind them, and as she prepares to complete her dissertation later this year, she's been fueled by some early-career success.
Guha's paper, "Peer Effects on Brand Activism: Evidence from Brand and User Chatter on Twitter", co-authored with Daniel Korschun, department head, associate professor and Stephen Cozen Research Scholar in Marketing, was selected as Best Track Paper at the American Marketing Association's 2022 Summer Academic Conference in Chicago.
This success in the Digital and Social Media Marketing Track, one of the conference's most popular and competitive, was a significant honor, particularly for a PhD candidate among more established professors. It's also now been accepted to the Journal of Brand Management's Special Issue on Brand Activism, and Guha says the AMA recognition was a major confidence boost.
"I'm really passionate about this topic, and I think that really showed in my paper," she says. "I got such good feedback at the 2022 Summer AMA on my research, and this year I was invited to be a special session speaker at the 2023 Winter AMA to talk about brands' sociopolitical risks."
Along with that session, titled "Sociopolitical Risks: Impact on Consumers, Brands and Firm Value," she also presented her paper "Callouts and Shoutouts: Is Consumer Online Activism Loud Enough to Drive Brand Performance?" co-authored with Korschun and Trina Andras, PhD, professor of marketing and assistant dean for DEI and sustainability.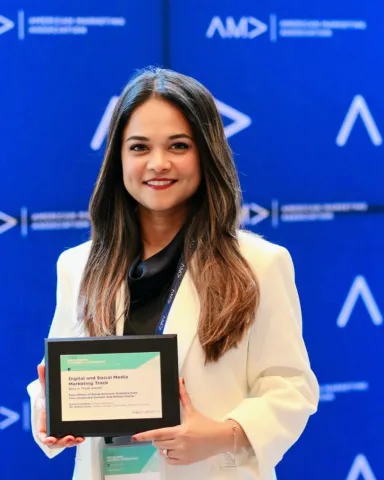 Mithila Guha, PhD candidate in marketing, accepting the Best Track Paper award at the 2022 American Marketing Association summer conference.
"Her paper is really out there on the cutting edge in social media," Andras says. "She's working with really big data sets, primarily from Twitter, and she's looking at brand activism and corporate social responsibility — all things people are really talking about right now."
For her award-winning paper, part of her doctoral dissertation, Guha analyzed over half a million tweets from leading global brands, on the level of Amazon and Nike, as well as user reactions to those tweets. Her findings reveal that brands do look at what other brands are doing and how consumers are reacting to it as they weigh the risks of taking a stand versus staying silent on divisive sociopolitical issues.
Her second dissertation paper looks more at the consumer side: how consumers perceive brand activism and whether that affects brands' social media engagement across other topics, as well as their stock market performances.
"We looked at consumer activism and categorized them into 'callouts' or 'shoutouts,' where users publicly criticize or publicly praise a brand for its stance on an issue," she says.
Drawing on more than one million data points, Guha used text mining to scrape those tweets and use natural language processing in an attempt to capture the impact of consumer activism on a brand's social media engagement and stock market performance on any given day. Finding that brand activism is positively associated with both callouts and shoutouts, and the impact of these demonstrations of consumer activism may trickle down to a brand's overall social media engagement and stock market performance.
"Marketing is often misunderstood as simply advertising and selling products for profit," she says. "However, in today's world, marketing has a much broader purpose, especially for leading global brands with significant influence on social media platforms. These brands can leverage their power to address issues that are important to their consumers. While they may not directly profit from these efforts, it is an essential way to meet the expectations of today's socially conscious consumers."
Her interest in this topic was piqued in the summer of 2020 as she saw major companies weighing on racism and injustice after the killing of George Floyd in Minneapolis.
"I noticed there were lots of brands saying similar things and making posts that all looked the same: black backgrounds with white letters. So many brands were speaking up on social issues that mattered to their consumers, and that really motivated me to look deeper into this topic — I wanted to look at how social media can bring social change."
With a background in economics, Guha came to LeBow with a desire to use large-scale data in her research, and she made an unusual but beneficial choice to take a graduate minor in computer science.
"The data available on social media is huge, and I thought if I can just get the skills in machine learning and natural language processing to scrape that data, I would gain more independence in my research," she says. "Most importantly, my computer science studies taught me critical skills to bring out marketing insights from large-scale unstructured datasets."
Because of the dedication and rigor she's shown in her research, her early-career success has come as no surprise to Korschun, a co-author and collaborator in addition to co-chair for her dissertation.
"She is able to document, using some very comprehensive datasets, how brands, consumers, and competitors all affect and react to one another," he says. "She's able to take what seems like this chaotic blizzard of tweets and boil it down to some basic principles about how brands and the public relate to one another."
Guha, in turn, credit Korschun with providing critical mentorship and support.
"Dan's expertise in CSR and brand activism has added so much to my work," she says. "I feel like mentor is a bigger role – someone who encourages you and shows you the right direction – and he's been a great mentor to me."
This fall, Guha will start as a tenure-track assistant professor in the Department of Marketing and Business Analytics at San Jose State University. Andras notes Guha's enthusiasm for teaching will serve her well in this next phase.
"At LeBow, doctoral students handle recitations during their second year, and then after that, they get full responsibilities for a class," Andras says. "Mithila was really excited to do that and it showed, because students reacted to her amazingly well."