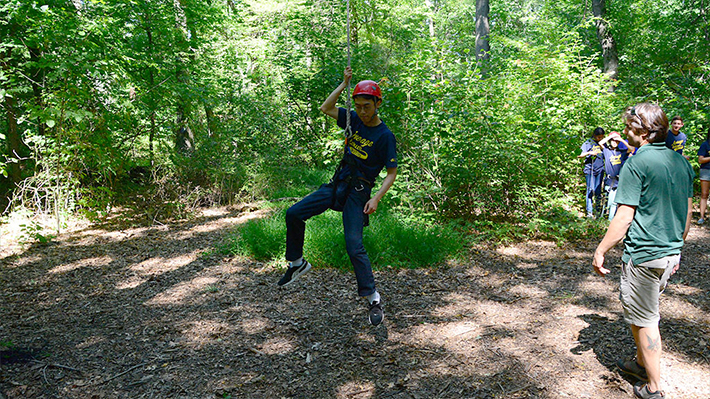 Check Out LeBow's Learning Communities
Students who participate in LeBow's learning communities form strong bonds with fellow students during freshman year. They are also extended opportunities for special events, such as their recent trip to Adventure Network's ropes course (pictured above), and upcoming events including a bowling night, Thanksgiving potluck dinner, and visits to various companies including Comcast, KPMG and Ernst and Young.
LeBow's oldest learning community is BLC (Business Learning Community), comprised of students from all majors within the College. We now offer major-specific communities for students in the Business and Engineering program as well as for Economics majors. The LeBow Commuters community offers a great opportunity for students who live off-campus to make close friends with other students who commute.
LeBow also has a program called BRIDGE (Building Relationships In Diverse Group Experiences), which is a little different from the other learning communities in that membership is offered by invitation only, and extends throughout a student's undergraduate career. BRIDGE focuses on four pillars: academic excellence, financial literacy, and social and community engagement.
Learn more about LeBow's Learning Communities and BRIDGE.
Why Our Students Love Learning Communities
Michele Aldape, a junior marketing and entrepreneurship major, recalls: "During my first visit to Drexel, I attended a student life panel discussion session. On the panel was a young woman whose exact words would be engraved in my mind forever: 'I don't know what I would have done my freshman year not being in the BLC.' And in that moment I knew that if I chose Drexel, I would apply for BLC as well."
She remembers the day she found out she got accepted into BLC. "I read the email and was overcome with emotion and excitement. While being in the BLC meant you couldn't choose where you live or who your roommate would be, I knew the opportunity it would give me would surpass these minor details. All of my expectations were met, living with 40 other members of the business community and having your own dedicated group of faculty to advise and guide you made my freshman year 1,500 miles away from home as smooth sailing as one could hope."
She says that professionally, BLC gave her an edge her non-BLC peers did not have. "For example, we visited business and companies around the Philadelphia area who hire Drexel co-ops. My favorite visit was our spring trip to New York City, we were able to visit Bloomberg which was absolutely one of the most inspiring experiences of my college career."
Michele says community service is important to BLC as well. "While BLC creates a community of 40 students whom genuinely become your family, we also work together to help our new community, Philadelphia. From fundraising to visiting a local learning center to helping students with their homework after school, BLC is dedicated to teaching its members about civic engagement. BLC is where I found my closest friends; we keep up with each other despite not living in the same hall any more, and we continue to pass our legacy on to the BLC students have come after us."
It has been four years since Michelle was a member of the BLC, yet she says she still feels very connected to the program. "From networking events to end-of-year barbecues, the network of BLC alums and current members we build are connections that will last far beyond graduation."
–
Cayla-Simone Riggs, a member of BRIDGE, says: "It is a family, an outlet, a home away from home, and most importantly, an atmosphere of love and support. Having a group of professionals and students to just be there for me is a wonderful feeling. I can talk about what's bothering me in and out of school. I can depend on them to motivate me or just make me smile. Its not just about what the organization can accomplish, but how they can develop the people within the organization; that is what resonates with my heart."
Riggs, a junior majoring in MIS and Business Analytics, says she would not be as successful in her college career without this program. "BRIDGE has given me countless opportunities to lead, engage with my university, and promote myself. BRIDGE's support has helped me work towards a sought-after coops, university job positions, and humbling academic rewards. But BRIDGE also helped me understand the importance of building yourself up to help others. Mentoring has given me more than I expected and has made me a more well-rounded person."
She says the best part about BRIDGE, hands down, is "the people. We are all different. We all have unique experiences. But we all come together to be there for each other. To me, that is beautiful!"