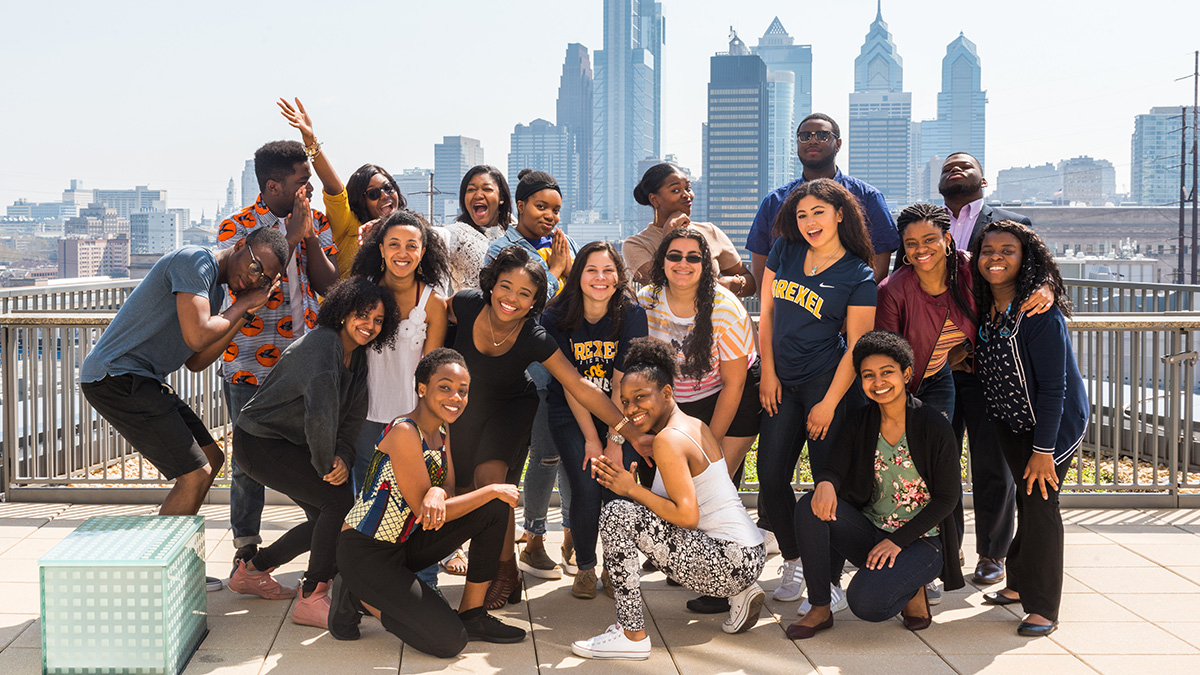 BRIDGE is a LeBow College of Business program and learning community created in 2012 to support underrepresented students as they develop into the leaders of the future.
BRIDGE scholars represent majors across the LeBow College of Business and share a commitment to excelling academically and consistently achieving GPAs above the average student and those in other university learning communities. They excel professionally through securing prestigious co-op positions with top employers including Johnson & Johnson, Comcast, KPMG, Ernst & Young and PricewaterhouseCoopers, among others.
BRIDGE Awarded Diversity Magazine's 2023 Inspiring Programs in Business Award
Drexel LeBow's Build Relationships in Diverse Group Experiences (BRIDGE) has received the 2023 Inspiring Programs in Business Award from INSIGHT Into Diversity magazine, the largest and oldest diversity and inclusion publication in higher education. The Inspiring Programs in Business Award honors colleges and universities that encourage and assist students from underrepresented groups to enter the field of business. LeBow College will be featured, along with 21 other recipients, in the April 2023 issue of INSIGHT Into Diversity magazine.
Mission
The program's mission is to Build Relationships in Diverse Group Experiences by developing student potential and preparing them for an ever-changing world. BRIDGE exists to enhance the student experience and foster a sense of belonging, engagement and empowerment to ensure student success at Drexel.
BRIDGE Student Success Pillars
Programs and Events
The BRIDGE program offers a variety of events and programs for its scholars to engage with each other and develop as students, professionals and leaders in the community. Activities may vary for each cohort of students, but regularly include many of the following:
Corporate Site Visits
BRIDGE scholars are offered the opportunity to meet business leaders across Philadelphia through off-campus site visits where they can explore business spaces and meet company leadership. Some site visits have included KPMG and Comcast.
Educational Workshops
Educational workshops on a variety of topics are offered each year with expert presenters sharing their wisdom and insight with BRIDGE scholars. Some workshops have included academic success workshops, Ernst & Young Dress for Success workshop, financial literacy training and Johnson & Johnson diversity training.
Cultural Immersion Trips
Cultural immersion trips offer BRIDGE scholars the opportunity to explore the world outside of Drexel and Philadelphia. Some immersion trips have included travel to Washington D.C., New York City and the spring break immersion trips to California, Oregon and Washington.
Social Activities
Members come together regularly to a share a meal or activity to support the interpersonal aspect of the BRIDGE program and help students develop a network of support. Some activities include Sunday dinners, athletic activities and student and alumni networking events.
Civic Engagement
BRIDGE scholars are actively involved in service to the Philadelphia community through mentoring at local middle and high schools and other projects, including Martin Luther King Jr. Day of Service and Month of Kindness.
BRIDGE Application
The Advisory Board will review your application for acceptance or denial into BRIDGE. If accepted, you will join BRIDGE under an initial one-term probationary period where the Advisory Board and BRIDGE Scholars will seek to understand your level of commitment, fit within the culture and academic performance. After one-month; if approved, you will be a full standing member of BRIDGE.
The application will be posted to this page later in the fall term. Please check back or reach out to an undergraduate advisor for more information.