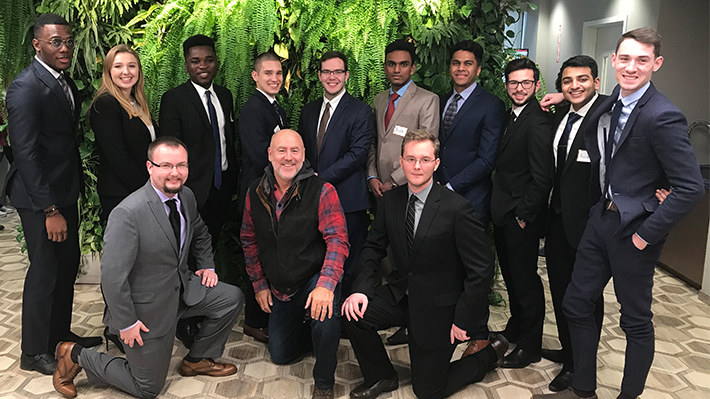 Consulting Course Builds Strong Teams and Solid Solutions
What's the best way to run a team? Who leads? Who follows?
Students in Dynamic Team Consulting (ORGB T280), taught by assistant professor of management Lauren D'Innocenzo, discover the answers to these important questions as they work their way toward solutions for a complex and ambiguous problem statement. The course, conceived in collaboration with local tax software company Vertex, serves a dual purpose, as students present both their solutions and their findings on effective teamwork to senior leadership at the company. Following their final presentation, which they gave in December while Vertex was LeBow's Corporate Partner of the Month, the students received grades based on the quality of their solutions and their presentation, as well as the personal skills and growth they showed along the way.
The idea for the course originated under Jeff Westphal, Vertex's chairman of the board and former president and CEO, and has continued under current President and CEO David DeStefano with support from Colleen Kirk, Vertex's director of organizational development. "It's about business coming to the University and giving the students a real consulting experience where you're not giving them the answer," Kirk says. "It's so beneficial for our company, as well as for them."
This fall's session was D'Innocenzo's fourth time teaching this class. Though D'Innocenzo describes the class as "very hands-on," that description better fits the students' work than her own approach.
"I give them a problem statement at the beginning of the term, and we look at how they're going to scope the problem in order to do the research and put things together," she says. "Each week, the students work together, and then during second class we debrief on their performance."
In order to address this problem statement, the class split into two teams: Estex, addressing talent acquisition and employee retention, and the I-Team, focusing on adoption of automation processes and openness to technological change among the workforce. Both teams surveyed university students and Vertex employees and researched Vertex's competitors in the tax software industry, particularly with regard to their recruitment and employment benefits. After a midterm presentation, the two teams combined into one to deliver an overarching, holistic solution to Vertex regarding its current and future workforce.
With two teams of seven students all providing updates each week on their progress – as well as giving numerous presentations throughout the term – D'Innocenzo notes that having an extra set of eyes – courtesy of Andrea Farro, PhD student in management – is very helpful. "We're there to provide support and help them develop their team process," she says.
The 14 students ranged from sophomores to seniors in their final quarter of studies. Samantha Morningstar, a sophomore majoring in organizational management and finance, said she valued the team formation experience and the close bonds it helped to produce. "We started the class by telling 'Two truths and a lie' and by sharing with our team difficulties we've been through," she says. "It helped us to see that we all will make mistakes and we all will have hard times, and how important it is to be vulnerable."
For younger students, this class was an introduction to consulting-style work and delivering business solutions, and Morningstar found that her confidence grew as the class built up toward the final presentation. "I was worried I would feel underqualified, but I learned that my opinions are just as valid as anyone else's."
Andrew Kosinski, a senior majoring in accounting and organizational management, has had previous experience in consulting courses but found the experience in this course uniquely rewarding. "I don't think we cared about the grade," he says. "We all cared about what we're presenting."
He notes that his teammates – both in Estex and in the final presentation team – came up with "things I never would have thought of. I appreciated the diversity of the group's thoughts and perspectives."
Reflecting on the class following the final presentation at Vertex's headquarters, Westphal said the students "had the kind of experience I knew they would have."
"When you have a problem and you're given freedom, and you're treated like a peer adult, it creates a context where you have a real experience, and that leads to a real sense of bonding that happens in the business world," he says. "Elements of their recommendations today will absolutely be implemented – I guarantee it."