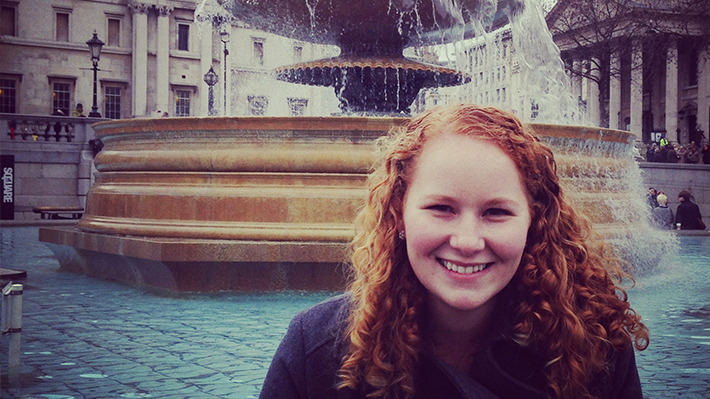 Down the Tube: Tips for Studying in London
BY MARISSA NEALE
Heading to London for a co-op or study abroad program? Lucky you! I firmly believe that London is one of the best places to study and work due to the numerous cultural activities, easy-to-use transportation system and the obvious lack of a language barrier. However, London is a huge city of over 8.5 million people and can initially seem overwhelming.
What is a Drexel Dragon to do? By following these few tips, you will spend less time being confused, and more time at the local pubs.
1. Buy an Oyster card So you've landed in Heathrow Airport ready to explore London. Skip the pricey taxi and head directly to the Underground train station, nicknamed "the tube." From there, you should purchase an Oyster card, which is a reusable plastic card that can be used to pay for all of your journeys on the tube, bus or light rail.
While you do have to pay five pounds upfront for the card, it doesn't expire and you pay less for each journey than when buying individual tickets. Not to mention if you have any money left on your card at the end of the trip, you can cash it in and get a refund.
2. Visit the museums It's always fun and interesting to learn about the local culture when traveling. From art to history to dinosaur fossils, London has a vast selection of museums to visit and soak up British culture. The best part is that most of them are free! Many of the museums in London are funded by taxpayers or donations, making them free for visitors.
My top picks include the Museum of London, which is an interactive history museum, or the Victoria and Albert Museum, which has decorative arts from all over the world. If you get tired from reading all the signage, take a break in one of London's beautiful parks. Try lounging in my favorite, Kensington Gardens.
3. Like theater? You'll love the West End London is a dream destination for a theater fan. From hit musicals like Wicked to one-man comedy shows, the variety of shows could keep you busy for a long time. Unlike Broadway, it is actually affordable to students. Most theaters offer standby deals for students. To take advantage of this, visit the box office about two hours before the show you want to go to, ask for standby seats, and flash your student ID. Oftentimes, you can get a ticket for 15 to 20 pounds. If the theater doesn't offer student deals, you can usually purchase tickets in the nosebleed section for only a few pounds more.
4. Foodies, get excited! The United Kingdom is rightly recognized for many cultural contributions, but food has never been one of them. Sure, the mushy peas take some getting used to and you will inevitably ingest a pathetic pudding, but overall I greatly enjoyed the variety and quality of the many restaurants in London. Burgers, in particular, are having a renaissance in London with many specialty shops opening and creating hour-long waits. London also has terrific Indian restaurants as well as other ethnic cuisines. Last, London has amazing food markets, such as Borough Market, which are great places to try British classics like fish and chips as well as pick up some souvenirs.
5. Go somewhere else As great as London is, you may feel like getting away for the weekend. London is a prime gateway for European travel. Jump on a Eurostar train and you could be eating croissants in Paris in two hours. You can also find a cheap flight to just about anywhere else in Europe using a budget airline – just watch out for baggage fees.
Marissa Neale is a junior majoring in accounting and finance with a minor in history. She has co-oped abroad twice - with an NGO in Ghana and KPMG in London. She is excited to be studying abroad this summer in Berlin and London.