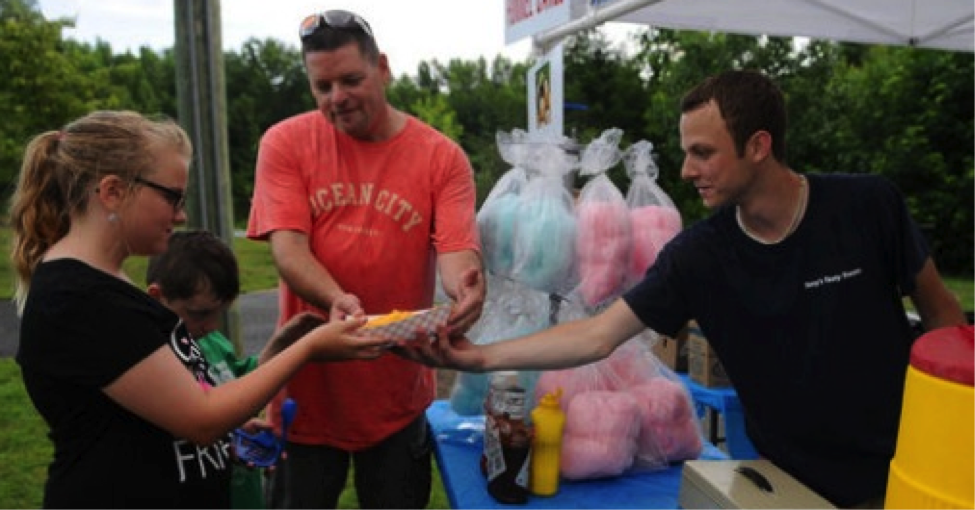 Sophomore Tony Grelli's Startup: Tony's Tasty Treats
A German tourist at a craft beer festival in South Jersey gets in line at a food stand and asks, "What's a fried Oreo?" He tries one. He loves it! He forgets about the beer and gets in line again to order more Oreos.
Introducing international citizens to the delights of American concession fare is just one of the perks of being the CEO of Tony's Tasty Treats, says LeBow sophomore Tony Grelli. Others include being a boss at age 20, and coming up with funds to pay your college tuition.
Grelli, a finance and accounting major, is from Washington Township, N.J., where he was raised around the food business. His grandparents own a farm market with a deli and bakery called Duffield's Farm. He spent his fall weekends at the farm among the thousands of visitors who came for the hayrides, pumpkin picking, corn maze and market.
"Before I was born, my mom, who has a culinary background, began selling hot dogs, hot sandwiches and soda there on Saturdays in September and October. I helped out from a very young age and took on more of a management role as I got older. I always had aspirations to own my own business, and in 2010, when I was still in high school, I decided to branch off from my mom and sell funnel cake and fried Oreos from my own stand."
Grelli's venture grew quickly. He expanded to include many more events, and added a full-service catering menu including chicken fingers, fries, hot sandwiches, hot dogs, Buffalo wings and more. "We went from being able to provide a few menu items at one event in 2010 to being able to provide a full menu at up to three events per day just three years later."
Last summer, Tony's Tasty Treats was busy selling food at nearly 30 events. Thankfully, recruiting employees has been easy for young Grelli: He mainly employs friends and friends of friends.
Grelli says the biggest lesson he's learned running his company is the importance of perseverance. "There are many difficult aspects to the food industry – like when you commit to being at an event, you cannot back out. There are times when an employee doesn't show up, or a commercial fryer goes down. But I've learned over the past few years to persevere until the problem is solved."
Another recent expansion to his business: Grelli now sells 10 different candy, caramel and gourmet apples and several "barks" – peppermint bark, white chocolate bark, caramel chocolate pretzel bark, just to name a few – at eight retail stores across South Jersey. These apples and barks can also be ordered online from Tony's Tasty Treats' Facebook page.
After graduation he hopes to make a career for himself on Wall Street. "Hopefully by that time, Tony's Tasty Treats will be able to run itself, and I can take a back-seat role as I focus on my job in the financial industry," Grelli says.
Tony's Favorite Eats: His favorite tasty treat? Those fried Oreos. "I don't eat many anymore, but who doesn't like a fried cookie?" His two favorite restaurants in Philly are Baby Blues BBQ near 34th and Sansom and Ralph's Italian Restaurant in the Italian Market. He's also partial to Roast Pork Italianos from Tony Luke's.