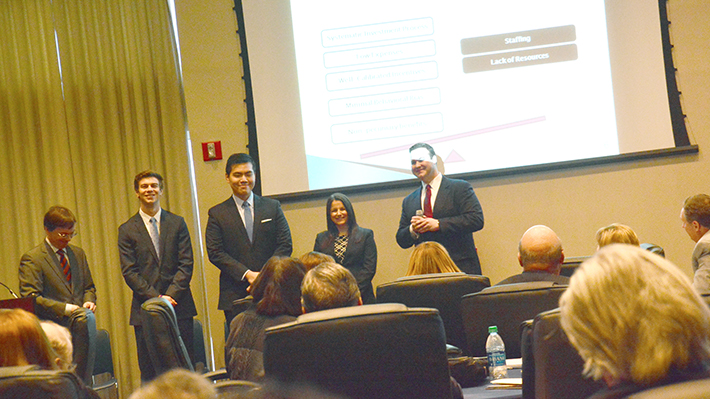 Drexel Trustees Boost Dragon Fund Investment
Investing in the Dragon Fund team has been a good bet for the University since the students were first granted a portion of the endowment to manage in 2007. At a recent meeting, Drexel's Board of Trustees again demonstrated immense trust in the team of student managers with an additional $250,000 in funding, raising Drexel's overall investment in the Dragon Fund to $1.5 million.
At the meeting, Dragon Fund management represented by students Tian Fang, Alex Gilbert, John Matson and Ashley Saidler along with faculty advisor Daniel Dorn, reported to the full Board of Trustees for the first time in the Fund's nine year history.
"During our presentation we spoke about the history of the fund, historical performance, the investment process and the future of the fund. I presented statistics illustrating that Dragon Fund analysts on average accept good ideas and reject bad ideas. Stocks that are included in the fund tend to outperform their sector by 1.3 percent on average during the three month time period following recommendation. While stocks that are rejected tend to underperform their sector by 2.3 percent on average over the same time period," explains John Matson.
The increased funding speaks to the Dragon Fund's reputation and track record as one of the top performing student managed funds in the nation. And although fund performance is important, helping students jumpstart careers in the competitive field of asset management is the ultimate goal of the Dragon Fund. To this end, the delegation thanked the Board of Trustees, Drexel's Investment Office and Drexel alumni for their continued support in placing Drexel students and their help in acquiring industry leading software such as Bloomberg and FactSet.
"Having the opportunity to serve as an analyst for the fund over the past six months has been an experience that I will always take a great amount of pride in," says Ashley Saidler. "My time as a member of the Dragon Fund has provided me with an invaluable skill set and the confidence that is necessary to pursue my future goals and aspirations in the world of investments."