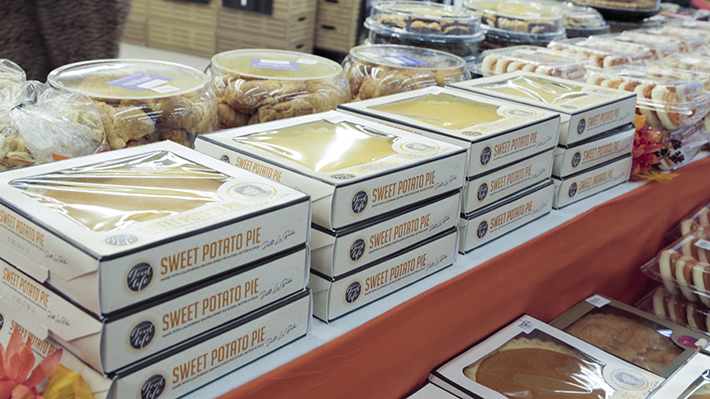 EMBA Student Alex Thompson and the Sweet Potato Pie Serenade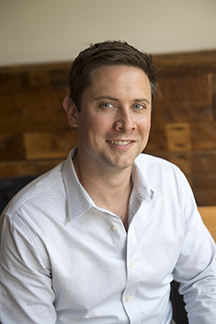 Executive MBA student Alex Thompson and his celebrity-owned employer, Patti's Good Life, have experienced the power of social media firsthand.
The company introduced a sweet potato pie in August 2015. Right off the bat, the pies began selling more quickly than expected. Three months later, a fairly popular YouTube personality named James Wright Chanel posted a video of himself singing while eating his first Patti LaBelle sweet potato pie. "You turn into Patti after eating this," he says, in between bites of pie and while crooning lines of her popular songs. "Go to Walmart and buy the Patti LaBelle pie!" he exclaims. It's quite entertaining. (Warning: It contains explicit language.)
The video went viral, and the pies started flying off shelves even faster. People started selling them on eBay for hundreds of dollars. Walmart's demand was so high that part of the recording that callers heard when phoning stores apologized for the unavailability of LaBelle Foods' sweet potato pies. To date, the video has more than 5 million views.
For Thompson and Walmart, things got crazy. "Walmart was trying to find kosher salted butter and a million pounds of sweet potatoes. We had to buy some from Canada — then, that meant we had to change the text on our boxes from California to Canada," Thompson explains. "We were out of stock during holidays, which was nuts."
On top of all that, Thompson, who earned his undergraduate degree in business administration in 2009 with concentrations in finance and business law, had recently enrolled in LeBow's Executive MBA (EMBA) program and was just finishing up his first quarter of classes.
Thompson landed the position with Patti's Good Life after his family's small batch specialty food company, Lancaster Fine Foods (LFF), starting producing sauces for Patti's company. When she decided to expand into baked goods, she brought Thompson on board to help run the company's operations.
Simultaneously, Lancaster Fine Foods is also in the middle of a huge expansion —nearing the end of construction on a $5 million factory. The company's growth rate is 35 percent. Thompson works for this company as well — he essentially has two jobs.
He explains his decision to start working toward an EMBA at this very busy time in his life as, basically, a necessity for the family company. "LFF was growing so quickly that my father realized we needed more expertise," Thompson says. "I had inherited a lot of responsibilities relating to finance. I felt I was in just a little over my head, with cash flow models and such. And after landing the Patti's Good Life position as well, I found myself in meetings with really big executives like the CEO of Walmart and the CEO of Sam's Club. I needed to improve my business acumen, quickly."
Thompson commutes from Lancaster to Philadelphia for his classes just one Friday and two Saturdays a month. LeBow's EMBA program features hybrid delivery, so some of the coursework is online.
"I use the stuff I learn in the EMBA program literally the next day. Managerial accounting was a godsend. It seemed like I was gaining the expertise my family company needed just in time. The finance coursework is especially helpful in my role at LFF, while the marketing knowledge is better applied to my position with Patti's company."
Thompson also says the diversity of professional backgrounds of the students in his EMBA cohort make classes really interesting. "I'll be able to depend on my classmates for perspectives and advice for years to come," he says.
Lancaster Fine Foods is a relatively new small-batch maker of specialty foods. Part of a family of companies called Earth Pride Organics, its product offerings also include Sir Kensington condiments (sold at Whole Foods), and it manufactures the jam used in Starbucks' PB&J sandwiches. LaBelle was attracted to the company to produce her line of foods, because in addition to its small batch mantra, its nearby location in Lancaster, Pa., is only an hour's drive from her home on the Main Line.
"Patti is awesome," Thompson says. "She's extremely personable. She's invited us over for Thanksgiving. And she visits the factory regularly. She'll come with no makeup, no entourage; she just drives in. She thanks all the employees and takes selfies with them. She is super genuine, and she really cares about the products that bear her name."
Thompson recalls when the video first came out in fall of 2015. They discovered it after getting a Facebook notification that LaBelle was trending. "She was in London, so we let her know. She watched the video and thought it was hilarious. She called Chanel to thank him. Next thing you know, he winds up at her house for Christmas." The two also produced a special show for the Cooking Channel together.