Michael O'Halloran had always worked in kitchens, including those in some of Philadelphia's best-known restaurants like White Dog Café in University City and Fork in Old City. But in 2002, he decided to leave that career behind him and follow in his father's footsteps: he enrolled in a full-time MBA program at Drexel LeBow.
A year later, with his new degree listing concentrations in finance and economics in hand, he accepted an analyst position at the world's largest pharmaceutical consulting firm: IMS Health in Plymouth Meeting, Pa.
"I spent three years working exclusively with spreadsheets. That's all I did. I really liked it at first. But then it got really boring. It really made me realize how much I missed the kitchen."
Right around that time, he also got married. His wedding changed his life in more ways than one. In attendance was Judy Wicks, the founder of White Dog Café, whom O'Halloran had worked with for three years as a line cook and sous chef. She asked him how he liked his job. He told her the truth: He wasn't sure being an analyst was right for him. "She said, 'call me.'"
About two months later, she called him. Her executive chef of 20 years left abruptly, and she needed someone to run her kitchen. She offered O'Halloran the job of executive chef.
"My wife told me, 'If you don't go back there, I'll kill you. You're clearly unhappy.'"
So he said yes. He and his wife, Sophia, were living in Old City at the time, and O'Halloran started to dream about utilizing his MBA in a different way: opening his own place. When the former home of a nearby restaurant called Blue In Green — he describes it as a "hipster breakfast place before hipster breakfast places existed" — went up for sale in 2006, he took notice. Someone bought it in a snap.
He kept his eye on the location on North Third Street. A new restaurant opened and didn't even make it six months. He jumped at the opportunity by making a quick offer, which was accepted. He opened his own restaurant, Bistro 7, four weeks later, in 2007.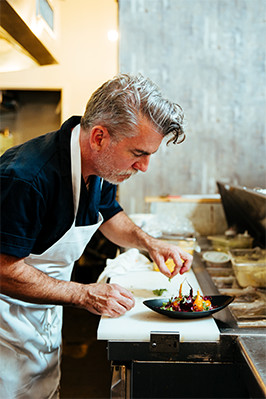 Bistro 7 opened as a BYOB specializing in French cuisine. The décor was traditional yet minimal, with green walls and white table clothes. And the menu featured three-course offerings. "My vision was to open a neighborhood bistro, really rustic and really French, and to buy from local purveyors as much as possible. We quickly became known for our gnocchi and duck liver mousse, but our menu changed all the time — even day-to-day sometimes."
Last year, O'Halloran decided it was time for an update to both the décor and the menu. The updated look is clean and modern; relaxed yet upbeat. Gone are the tablecloths and green walls. They have been replaced by blues and grays, a large abstract painting and butcher block tabletops.
The menu also changed to lend itself to a more casual dining experience. O'Halloran says he got bored of offering a 10-course tasting menu.
"Basically, it was a three-hour ordeal, and it began to feel stuffy and rigid. Like, 'I am the chef, and these are the 10 things you are going to eat today. I just didn't feel like that was a restaurant I wanted to go to anymore. Now that I have kids, I no longer had time to read a menu and think about what wines we were going to bring. In fact, I haven't been to a restaurant and had three courses in five years. We're more likely to wind up at a pizza place."
His new, less formal menu format includes small plates, which O'Halloran says lend themselves to more creativity in his kitchen. Many are only four or five bites, so he makes the flavors very impactful. Also, the small plate format allows patrons to try as many things as they want.
The duck liver mousse is still on the menu. Other current offerings include lamb merguez meatballs, tea smoked duck breast and 'Nduja braised clams. His wife's family is from Hong Kong, which also influences his menu (for example, the ahi tuna with puffed red rice, hijiki and sesame aioli).
He doesn't offer entrees anymore, but he does offer sharing platters. One features a whole chicken. In a recent column, Philadelphia Inquirer food critic Craig LaBan raved about it:
"The platter before me was so gorgeous it had its own gravitational pull — a whole bird divided across a wooden board into two stunningly different incarnations. One part was lemon-brined, then fried in a buttermilk crust tinted exotic yellow with a cardamom whiff of vadouvan curry. The other, a cast-iron pan of creamily braised thighs, exhibited its own adventuresome charms, a light Moroccan touch of Picholine olives and preserved lemon adding a piquant tang to the crème fraîche…Do I really have to share? This is elite poultry craft at its most devourable, with so many well-executed textures, flavors, and contrasting themes in play (yet somehow all in juicy harmony) it almost seemed unfair."
LaBan gave the BYOB a very impressive three-bell rating.
O'Halloran credits his MBA as being crucial to his success. Prior to coming to LeBow for his business education, he remembers another restauranteur he worked with who had an MBA. "Her ability to analyze things so quickly was an eye-opener for me. I realized that you could have a good restaurant with good food in a good location but still fail if you don't know how to analyze the numbers."
"I probably would not be in business now if I didn't get my MBA," he says.
Photography by Colleen Stepanian