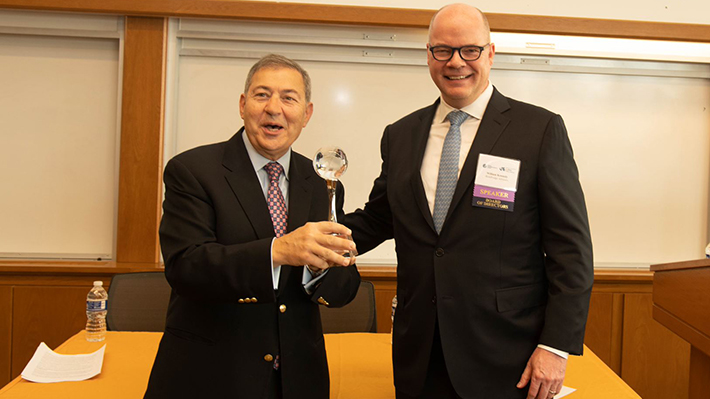 George Tsetsekos, PhD, Honored by the Global Interdependence Center
Drexel LeBow is hosting the Global Interdependence Center's 40th Annual Monetary and Trade (AMT) Conference and Global Citizen Award Ceremony on Tuesday, Nov. 15. This year's event will explore climate-related issues and include the dedication of the Global Citizen Award to LeBow Dean Emeritus and George B. Francis Professor of Finance George Tsetsekos, PhD.
Tsetsekos is being recognized for his unwavering commitment to the mission and vision of the Global Interdependence Center (GIC). With over a decade of service on its Board of Directors, and as Chairman of the Board from 2013-2014, Tsetsekos has championed numerous programs, chief among which is the AMT Conference, now in its 40th year.
Additionally, Tsetsekos launched the Annual Conference on Sovereign Debt Restructurings, now in its 6th year, in partnership with GIC. Through these conferences and participation in many international programs, Tsetsekos has convened an impressive cadre of international experts among business, government and academia. Over the last 15 years, Tsetsekos' engagement and development efforts in the Philadelphia community have successfully generated more than $200,000 in financial support for GIC.
Dean and R. John Chapel Jr. Dean's Chair Vibhas Madan, PhD, is grateful for the role Tsetsekos played in connecting LeBow and GIC. "George created a presence for LeBow through external industry interactions, including his leadership role at GIC and was instrumental in creating this partnership. The conference brings in thought leaders in trade, monetary policy and globalization, which has tremendous positive spillover for LeBow."
Madan also acknowledges LeBow would not be where it is today without the dedication and leadership of Tsetsekos. "George led LeBow through a tremendous period of growth and change, while elevating our reputation nationally and internationally. He drove the College's transformation into the research intensive and student-focused college it is today."
The conference hopes to shed some light on outstanding climate-related issues and main international initiatives and policies relating to climate change and its implications, as well as take stock of corporate and financial market developments relating to ESG and green finance and explore suitable sustainability proposals going forward.
Patrick Harker, the president and CEO of the Federal Reserve Bank of Philadelphia will serve as a keynote speaker. Session topics will include the impact of climate risk on food production and prices, the role of tech in incentivizing emissions reductions and the macroeconomic consequences of climate change.