George Tsetsekos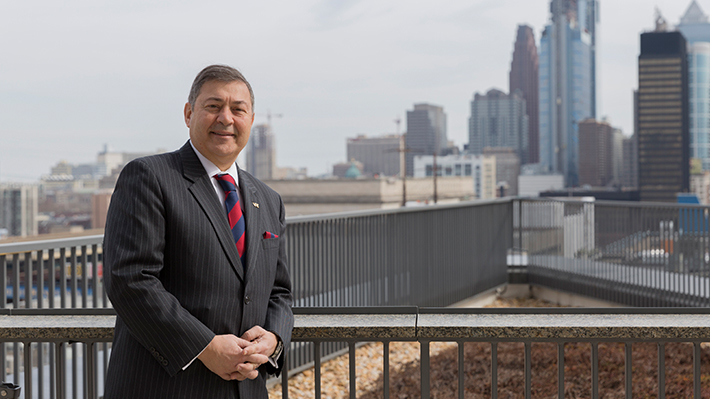 Dr. George Tsetsekos is Dean Emeritus and the Francis Professor of Finance at LeBow's College of Business at Drexel University. He served as Dean of LeBow from 2002 to 2012. Under his transformative leadership, the College achieved important quality milestones and an ambitious capital campaign program that allowed for the completion of two business school buildings.
Dr. Tsetsekos was appointed to LeBow College's finance faculty in 1988. He has published research in many journals including The Journal of Financial Economics, Journal of Banking & Finance and Journal of International Business Studies. He is the author of books on finance and international capital markets and has served on editorial boards for several academic journals.
Dr. Tsetsekos has served as Drexel's vice president for academic administration, as well as in advisory and consulting roles in the U.S. and abroad including: the World Bank, the SEC, Bear Stearns, Calamos Investments, Fannie Mae, the Federal Reserve Bank of Philadelphia, the Penjerdel Council, Pennsylvania Economic League, The Conference Board, World Trade Center of Greater Philadelphia, and recently has been elected Chairman of the Board of the Global Interdependence Center.
He holds a Ph.D. in Finance from the University of Tennessee, an MBA in Finance and a B.Sc/MSc in Electrical and Mechanical Engineering from the University of Athens, Greece.
Areas of Expertise
Board of Directors
Corporate Finance
International Finance
Investments
Selected Works
Articles
Tsetsekos, George, and Papaioannou, Michael G., Cryptocurrencies in the Global Economy. The Journal of Investing 28 (Apr 2019): 7-12.
Tsetsekos, George, Vivek, Bhargava, and Malhodra, DK, Volatility Spillovers Across the Swap Markets: Evidence from US, Australia and Japanese Swap Markets. International Journal of Bonds and Derivatives 31 (Apr 2016): 121-143.
Tsetsekos, George, Malhodra, DK, and Rand, Martin, Mutual Fund Governance and Fund Performance. The Journal of Index Investing 10 (Summer 2014): 1-19.
Education
MS Mechanical and Electrical Engineering - National Technical University of Athens 1979
BS Mechanical and Electrical Engineering - National Technical University of Athens 1979
MBA Finance - Wright State University 1981
PhD Finance - University of Tennessee 1986

College News
Dean Emeritus George Tsetsekos, the George Francis Professor of Finance, and his wife, Niki, marked two special events last week at Gerri C. LeBow Hall — one to celebrate the past and the other to look toward the future.
On September 23, Aronimink Golf Club played host once again to Drexel LeBow's 11th Annual Dean's Cup Golf Tournament. A record 33 foursomes took to the links for the annual fundraiser that helps support scholarships at LeBow. This year's title sponsor was the Triumph Group, Inc. Company chairman, Richard Ill, a Drexel University trustee, played in a foursome with fellow trustee Chuck Pennoni.