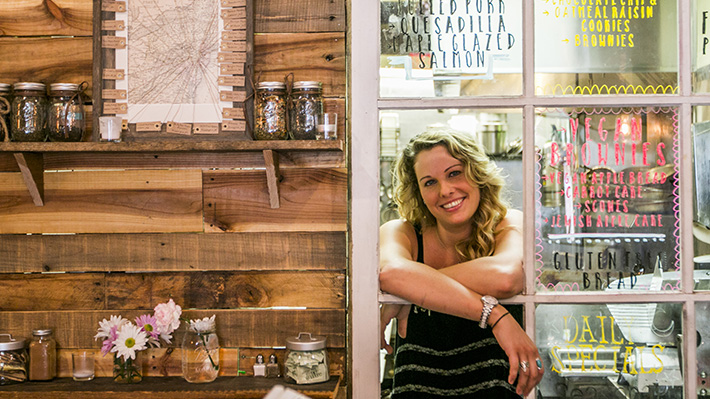 Luna Cafe: New Comforts for Old City
With two weeks left in her MBA program, Sarah Levine saw a listing for the perfect restaurant space in Old City. She had enrolled at Drexel LeBow with an eye towards opening her own business after working in kitchens in Philadelphia and Los Angeles, but the high price of restaurant space had discouraged her until she saw the ad for a turnkey space on Market Street. "I may have jumped the gun a little, but I didn't want to miss the opportunity," she says. She made an offer only hours after taking a tour.
The space, only two blocks from Independence Mall, had good bones, but would need a substantial overhaul. "There were a lot of bumps in the road I didn't anticipate," Sarah admits. "Buying an existing restaurant is a blessing and a curse. You're dealing with someone else's setup and older equipment comes with its own bugs and whatnot."
When the remodel was complete, including custom light fixtures and reclaimed wood walls, the space was transformed into a cozy, casual neighborhood BYOB. All it was missing was a name. Sarah had brainstormed for months, but nothing felt right. "I said that when I hear it, I'll know," she says. When her father suggested "Stellaluna," the title of a book her mother read her as a child, it stuck. She named her restaurant Luna Café and prepared to open in February 2015.
Debuting during one of the coldest, snowiest winters on record may have slowed business initially, but Sarah and her staff used that time to perfect a menu she describes as "gourmet comfort food" sourced primarily from farms in New Jersey and Pennsylvania.
Local products figure prominently throughout the café. The walls are decorated with work by Philadelphia artists, the coffee is from Philly Fair Trade Roasters and the baked goods are made by Northeast Philly's Wildflour Bakery.
In Luna's first year, customers have responded well to Sarah's locavore ethos. Weekdays bring a steady flow of tourists and office workers, and on weekends regulars and nearby residents visit. The chance to become ingrained in the fabric of the neighborhood has made the early challenges worthwhile. "When I came here, I thought, what a perfect neighborhood," she says. "They say Old City used to be the place to go and then it kind of fizzled. Now it's coming back."