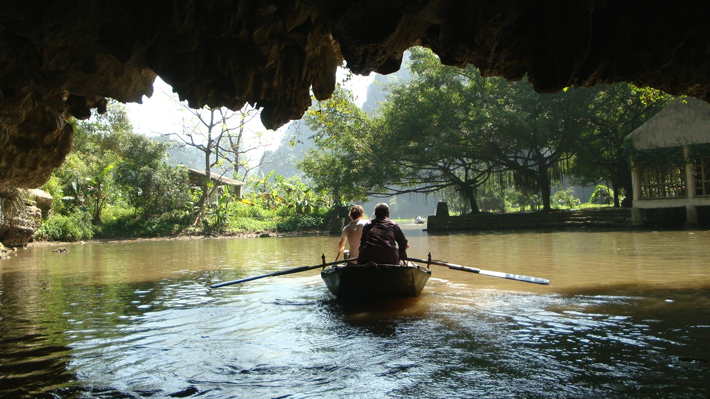 Heading to Vietnam
That's what Dean Frank Linnehan and about 20 MBA students will be saying come Saturday as they arrive in the easternmost country on the Indochina Peninsula in Southeast Asia. The trip is part of the international residency program offered to students enrolled in four of the MBA programs offered at LeBow. The week-long trip will expose students to the country's economy and business practices while immersing them in its culture.
Linh Trinh, a Vietnamese pre-junior studying at LeBow, will accompany the group and serve as a cultural guide and translator. Alumnus Bruce Pashko, a Dean's Advisory Board member with a senior position at Johnson & Johnson, will also attend the residency and facilitate the group visit to J&J in Vietnam.
The country was primarily chosen because of its emerging economy, according to Diana Jones, program manager of international residencies at LeBow who coordinated the trip and created the itinerary.
"To understand business, it is also important to understand the culture of a country, along with its politics and its history," Linnehan says.
"Vietnam's economy has been one of the fastest growing in the world over the past 10 years," he continues. "These trips are designed to give students an understanding of the business environment in the country we visit. We try to understand things like: what drives the economy, the prospects for growth, banking and regulatory policies and the economic future of the country. The week provides us an opportunity to immerse ourselves in the culture."
The trip is the culmination of a 10-week international business course that invites students to look at the cultural, historical and social fabric of Vietnam. Prior to the trip, Dean Linnehan assigned They Marched Into Sunlight: War and Peace in Vietnam and America, a 2004 Pulitzer Prize-winning book to offer the students a historical perspective of the country.
"It's a Pulitzer Prize winner that juxtaposes a particular fire fight during the Vietnam War [known as the "American war" by the Vietnamese] and a day of student riots at the University of Wisconsin over the presence of recruiters from Dow Chemical on its campus," Linnehan explains. "It's a fascinating insight into the United States during the 1960's. It will be interesting to contrast our experiences in Vietnam to how the author describes the country and its people during the war."
The trip will include nine visits to local and multi-national companies, including J&J and IMS; a motorbike food tour of Ho Chi Minh City; a visit to the Cu Chi Tunnels; and a full day trip to Mekong Delta on a motorized boat tour, among other excursions. A reception will also be held to meet with the alumni in the country, a growing group.