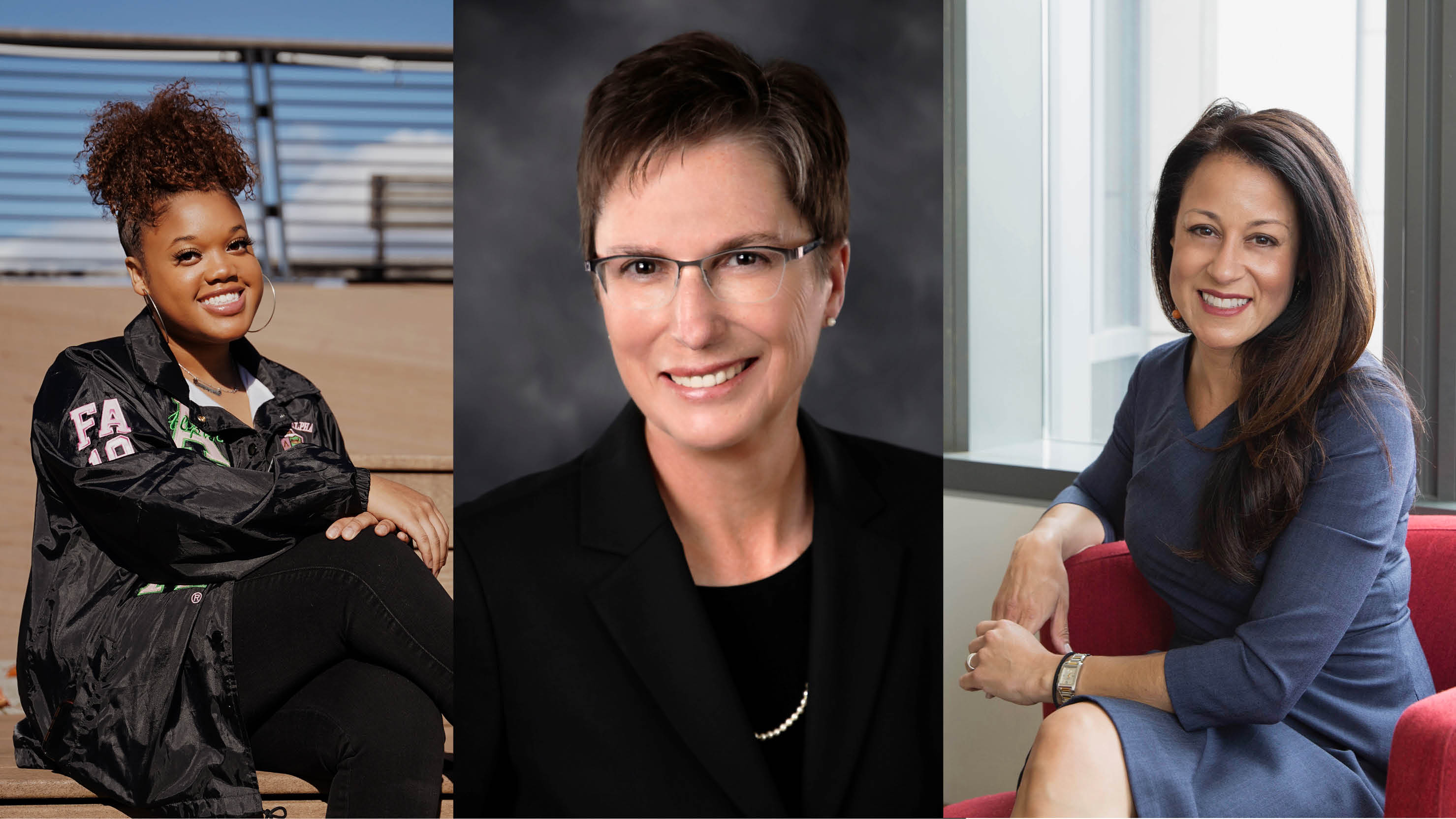 Honoring Women Who Lead by Example and Empower Others
In celebration of Women's History Month, we asked women leaders from the LeBow community, including students, alumni, faculty and professional staff, to share stories of their successes, the impact they've had as mentors and role models and advice for young women pursuing their goals today.
What is the accomplishment you are most proud of during your time at LeBow?
Hande Benson, PhD, professor of decision sciences: There are several accomplishments that I take a lot of pride in, including launching and nurturing our Business Analytics programs, continuing the great tradition of our Business and Engineering program, and receiving the STAR (Students Tackling Advanced Research) Mentor Award in 2018.
Devon Copestick, junior business analytics, marketing and MIS major and president of Drexel Women in Business: I am most proud of the work I have done within the Drexel Women in Business (DWIB) community. It has been so rewarding to be able to collaborate with my fellow peers as well as leaders from local corporations to create events for LeBow students who are passionate about championing women in the workforce.
Camryn Honesty, junior operations & supply chain management major and co-chair of LeBow BRIDGE: During the search for the College's new dean, I served as the only undergraduate student on the LeBow Dean's Search Committee. I was honored to be able to speak on behalf of the student body to give input on students' virtual learning experience, the transition back to an in-person environment, and the creation of a virtual seminar where students would be able to hear more about the Dean's plans and vision. Also, I'm proud to serve as a member of LeBow's Diversity, Equity and Inclusion (DEI) Action Group and contribute ideas on how to improve the recruitment and retention of Black students in LeBow.
What do you do to empower other women?
Lisa DeLuca, director of undergraduate career services: At LeBow, I started the Undergraduate Career Services office, and I'm heavily involved in career learning and helping students transition from college to their professional lives. I've guided and mentored many young women as I've helped them achieve their career goals. Outside of my efforts at Drexel, I empower women though health and fitness, which are two of my passions. If someone feels good and is healthy, they tend to feel like they can conquer the world. I teach women how to properly fuel their bodies for optimal health, how to manage stress and how best to exercise to get strong, which carries over to all parts of life.
Teresa Harrison, PhD, professor of economics and academic director of the Gupta Governance Institute's Center for Nonprofit Governance: I do my best to lead by example, be a sounding board, and provide any advice and support I can. I always encourage the young women I work with as an advisor and mentor to find out what works for other women leaders; what works for them might not work for you, but if you gather that information, you can experiment, learn and continue to grow.
Diana Jones, director of the Center for Business Analytics and the Dornsife Office for Experiential Learning: I've been fortunate to serve as a mentor to a middle-school (now high-school) girl after meeting her through a volunteer mentorship program at Mighty Writers, a Philadelphia nonprofit. For the past six years, she and I have met weekly to work on her personal and academic goals. Mentors can serve as advocates, educators and confidants, reminding girls of their strengths while opening doors to academic, social and professional opportunities. I became a mentor as a way to give back, but what I didn't realize at the time was how much the experience—and my mentee—would enrich my own life.
In your own words, why is it important for women to pursue leadership opportunities?
Theresa Carter, retired Air Force Major General enrolled in the Drexel LeBow Executive DBA: It's important to pursue any opportunity presented to you, regardless of size, because you will always learn from the experience. Often it's the small, seemingly unimportant task done well that earns you the next opportunity to shine. Also, diversity in thought and in background is critical when facing difficult challenges. The best problem-solving discussions and meetings I've been part of were those that included a variety of perspectives, which led us to ask different questions and to develop better solutions. For all these reasons, we need women in the room as part of these discussions, contributing to and making decisions that organizations face today.
Bianca Mitchell, senior finance and business analytics major and co-chair of LeBow BRIDGE: There is nothing more important to me than being a positive example for the next generation of Black girls. Representation is the most important reason why women should purse leadership opportunities, especially women of color, and it's critical for young girls to see others like them as successful business owners, CEOs, engineers, doctors and so on. We need to have these inspirational role models to show us and reinforce the idea that our dreams are possible.
Do you have a female mentor? If so, how have they helped or inspired you?
Shefali Karani '10, MBA '13, executive business director, Rama Phosphates Limited: My mother has always been one of my mentors, especially at the start of my career. Since she's on the board of directors at my company, we attend a lot of the same meetings, and she's always honest about what I need to change at work. She has supported me throughout my career, even in the toughest times. Seeing her work and how she balances everything in her life inspired me to join our family's companies years ago and take on more responsibility along the way.
Samantha Morningstar, junior finance and accounting major and president of the Dean's Student Advisory Board: I have so many female mentors in my life, but two that will always stand out to me are my managers from my first co-op at Comcast, Kaitlin Sadowski and Susie Hughs. It was my first job working in a corporate setting, and I was so nervous, but they welcomed me to the team and taught me everything I needed to know about Comcast, the corporate world and career paths that I could take. They pushed me to become the best version of myself during my time there, and I wouldn't be the leader I am today without their mentorship – which they still continue to provide, even after my co-op ended.
Diotima Roy, pre-junior economics major and Dean's Student Advisory Board executive board member: My academic advisor Ashley LaTorre has helped me in numerous ways, the most memorable one of which was supporting and guiding me when I was going through a rough patch; I was overwhelmed with schoolwork, extracurriculars and co-op interviews. Ashley is currently getting her master's degree while working a full-time job, and that is very inspiring to me! She is one of the most warm, caring and empathetic women I have met, and I admire her a lot.
What advice do you have for women who want to advance their careers?
Raquel Arredondo, MA, PHR, associate director of Outreach, Engagement & Professional Development in the Office of Graduate Student Services: Women looking to move into leadership roles need to create a network of advocates: in particular, other women in leadership positions within and outside of their organization. It starts with identifying women whose passion, drive and accomplishments inspire you. Connect with them on both a professional and personal level to not only learn from their experiences but to share your professional aspirations. Cultivate a mutually beneficial relationship so that you can glean advice from them while also demonstrating your value. In doing so, you are more likely to gain an advocate who may provide you with the right opportunities to grow.
Jade Lo, PhD, associate professor of management and director, PhD program (on sabbatical winter and spring quarters): Dream big but start small. Ask yourself: who do you want to be? What do you want to achieve in 10 years? Or in 20 years? Then work out a plan towards the goal and celebrate each small milestone along the way. If your plan changes or if you find yourself deviating from the plan, be fine with it. The important thing is to believe that you can make an impact, regardless of what you do.