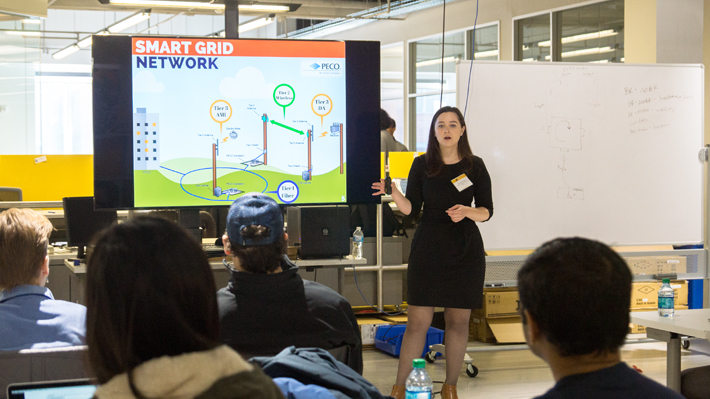 How the Internet of Things Is Making an Impact
Motion-sensored streetlights, self-driving cars and wearable technology – attendees of "IoT and the Electric Industry" were discussing advancements in technology that inventors before them would not have dreamed possible. But according to panelists, this reality is far closer than previously thought.
In the center of Drexel Wireless Systems Laboratory, right under Drexel's very own Internet of Things (IoT) technology, representatives from PECO and Drexel discussed the future of IoT and exactly how business and engineering are combining for new advancements in the industry.
"The day is coming very quickly that people aren't going to want to wear a FitBit on their wrists," said College of Engineering professor Kapil Dandekar.
Alexandra Ryder, an electrical engineer at PECO, spoke to students on just how PECO plans to get in on the action. "At PECO, we take innovation very seriously. It's all about improving customers' experience before they ask for it," said Ryder.
Bridging the gap between their reconstruction efforts and their commitment to customer service, PECO is developing an application based on their IoT technology. Their point-to-multipoint smart grid network relieves the customer of having to report outages. Instead, PECO is immediately notified through sensors and tries to remedy the issue long before the customer makes the call and then updates the customer that their issue has been resolved.
The tower gateway base stations that PECO uses receive data from the devices while simultaneously controlling them, allowing continuous contact and removing the aspect of customer reliance to provide better service.
But that's just the beginning: Dave Weaver, vice president of technical services, expects the smart grid project to continue to grow as the technology advances.
"We're looking at how we use the IoT technology to create a distribution network in the future that is offering services that the customer will need 5 or 10 years down the line," said Weaver.
The current smart grid department at PECO operates with four engineers but is only a small component of a larger strategy to use IoT technology in the electrical industry.
This effort is being further developed by an initiative under PECO's parent company, Exelon Utilities, that combines the engineering technology of PECO, PEPCO, and other subsidiaries to rebuild their distribution infrastructure to detect and prevent customers' electrical problems long before the customer realizes there is an issue.
"We really do have this vision of having a place where a technician knocks on your door and says, 'I'm here to solve your electrical problem.' And the customer says, 'I don't have an electrical problem' and the technician says, 'You don't but you will,'" said Weaver.
But Rajneesh Suri, PhD, vice dean for research and strategic partnerships and a professor of marketing at the LeBow College of Business, is far more interested in the customers' reaction to the type of preemptive service PECO is looking to provide.
Using data from LeBow's Behavioral Science Laboratory, Suri is working to determine what the correct interfaces are for communication from IoT items.
"It all comes together when we assess how the customer responds to it and how we interface the data," said Suri.
Working with biomedical engineering, Suri and the Behavioral Science Lab are using sensors to detect how the IoT stimuli cause customers to react by looking at brain activity.
"IoT is good, but we're trying to understand the next steps in terms of how people respond to that particular thing to see if we can create the right kind of impact and the right kind of responses," said Suri. "Otherwise, it's a lot of money that's being spent on technology with no lasting value."