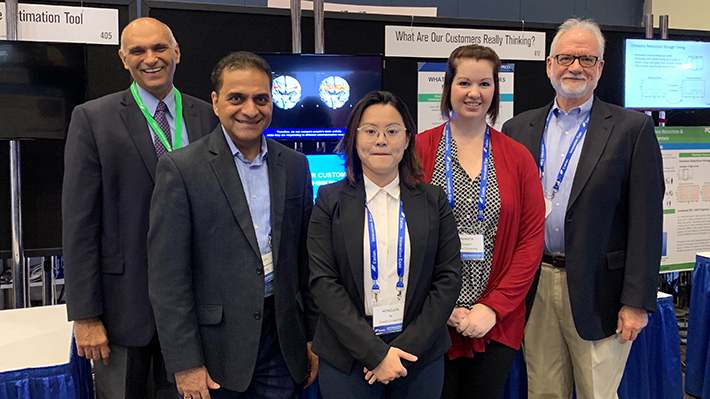 Drexel-PECO Partnership Explores Dynamic Pricing Models
What are consumers really thinking when considering new products?
A recent Drexel study, conducted in partnership with PECO, Pennsylvania's largest electric and natural gas utility company, sought to answer this question in the context of household utilities, exploring influences on consumer reactions to new utility pricing models.
Started in 2018 and completed in spring 2019, the research project drew on faculty expertise from across Drexel University, including LeBow's Center for Neuro-Business and the School of Biomedical Engineering, Science and Health Systems (BIOMED). With support from PECO, the study provided a greater understanding of customer comprehension of utility billing elements and how to effectively communicate dynamic pricing to customers.
After an initial presentation at the PECO Innovation Showcase in Philadelphia, the research team was selected as one of 30 to present their findings at the company-wide Exelon Innovation Expo in Washington, DC, this fall. PECO is a subsidiary of Exelon, a Fortune 100 energy company with the largest number of electricity and natural gas customers in the U.S.
The Exelon Innovation Expo brings together thousands of Exelon employees, industry innovators, scientists, engineers, makers and energy leaders to demonstrate the best ideas and inventions that address the challenges facing the energy industry.
"With all the disruption in the utility industry, it was important for us to understand how our customers perceive various pricing programs," said Kathy Lentini, director of Customer Strategy and Support at PECO. "This unique process allowed us to gain insight into what our customers feel is most important when evaluating programs. We can now utilize this data to develop programs and messaging that resonates with our customers and delivers on their expectations."
Rajneesh Suri, PhD, LeBow's vice dean for research and strategic partnerships and director of the Center for Neuro-Business, served as Drexel lead for the project, along with Hasan Ayaz, PhD, associate professor of Biomedical Engineering and Psychology and director of the Neuroergonomics group at Cognitive Neuroengineering and Quantitative Experimental Research (CONQUER) Collaborative.
"We uncovered what consumers do not say by combining neuroimaging technology and academic rigor with a client focus," said Suri.
"This project is another demonstration of the potential of Neuroergonomics that utilizes mobile brain and body imaging to enhance our understanding of behavioral performance and interaction with our tasks and environment," says Ayaz.
This complex, multiphase study combined focus groups, phone interviews and surveys with neuroimaging to test potential messaging and customer receptivity to new pricing models.
LeBow undergraduate marketing students helped create messaging, reviewed focus group narratives and compiled results from surveys, while graduate students enrolled in Applied Market Research, taught by Prashant Srivastava, PhD, designed survey questions and conducted phone interviews and focus groups.
Undergraduate and master's students also assisted the team — which included marketing PhD candidates Hongjun Ye and Siddharth Bhatt (now assistant professor at Penn State), along with Amanda Sargent, Yigit Topoglu and Jan Watson, PhD students in Drexel BIOMED — in conducting the study.
At the Exelon Expo this fall, the team presented their research along with the functional near-infrared (fNIR) device that was used to measure brain response to video and written messaging. The CONQUER Collaborative at Drexel BIOMED first developed fNIR-based wearable optical brain imaging systems in the early 2000s and has led their deployment in diverse application areas.
"Working on this project, I learned how to apply different neurophysiological measures to business problems," Sargent said. "The project helped us gain valuable insight to better understand how to effectively communicate with consumers beyond traditional market research."
Both faculty and students remarked on the ease of working with PECO throughout the project, including the process of fine-tuning the presentation for the Expo.
"PECO was engaged throughout the process and really let us do what we needed to do," Suri said.
The team foresees continued collaboration with PECO and across Exelon following the success of this initial study.
"It's good to work with a company that cares so much about innovation," Ye said. "They were supportive throughout the process."
This research project was facilitated by Drexel Solutions Institute (DSI), Drexel University's gateway for industry collaboration. For more information on DSI's interdisciplinary approach to innovative business solutions, visit drexel.edu/solutions-institute.