Hunger to Succeed
Food trucks have been feeding hungry Drexel students for generations, and nearly anyone you ask will have a favorite for meals packed in Styrofoam or rolled up in foil. Whether they're stainless steel sweatboxes or more modern, streamlined versions, these trucks are fixtures on campus, lining Market Street and Ludlow Street behind the Main Building, and throughout Philadelphia.
When LeBow students Nick Nanakos and Cameron Hansen's thoughts turned to food trucks just a few years ago, it wasn't because their stomachs were empty; they were looking for a business opportunity, and they saw these staples of student life through fresh sets of entrepreneurial eyes. As co-founders of TruckBux, a mobile app connecting food trucks with nearby customers, they have transformed the typical lunchtime transaction, enabling ease of both payment and pickup.
The two business partners became friends through Nanakos' older brother, and their collaboration was jump-started by a single text message sent by Hansen: "We should do something with food trucks." Nanakos replied, "I love it. What do you want to do?" and their collaboration was on; they batted business ideas back and forth throughout the summer of 2016 before homing in on a mobile payment service, with app design taking place in early 2017.
By October 2017, they were ready to launch their app and to purchase office space at ic@3401, a startup hub at the University City Science Center, to house their growing team. Then in December, Nanakos and Hansen came in third place at the 2017 Startup Fest, hosted by Drexel's Close School of Entrepreneurship, for which they received a $5,000 prize and space in the business incubator at the Baiada Institute for Entrepreneurship.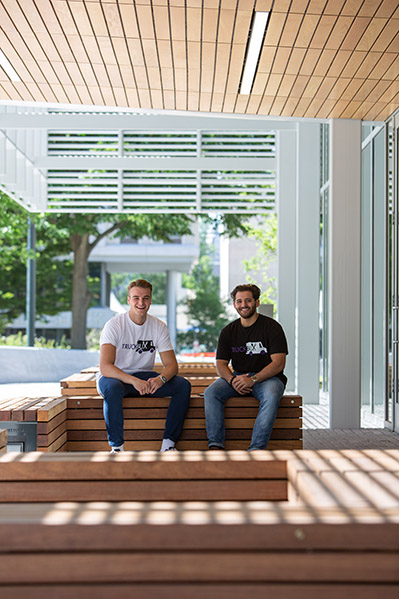 Things have only accelerated since then: TruckBux is now an eight-person operation, not counting their development team in India, and it has made the leap from being just another startup to becoming a vital hub for food trucks and their patrons.
"My vision is that TruckBux will be a billion-dollar company, and it will revolutionize food trucks throughout the entire country," Nanakos says. "It's a niche market, and no one's capitalized on it except for us."
Simple and Streamlined
Using TruckBux is still as simple as the day it debuted: Open the app, see what trucks are nearby and what they're serving, flip through photos of menu items, place an order, go pick it up. On the other end, truck operators receive notifications and track orders on a tablet computer that they're issued when they sign up as TruckBux vendors. The app's offering to vendors also includes a professional photoshoot capturing the truck, itswares and its owners, as well as display signage encouraging those waiting in line to "skip the line, no more cash, pay with Venmo." (Venmo, the popular mobile payment service, is integrated with the app, along with Apple Pay – or you can enter a credit card.)
As Nanakos puts it, the app "streamlines their order process, allowing them to handle a higher volume of customers." It can help them to attract new ones as well; he says he's seen people download the app while standing next to him in line.
After launching the app with three trucks signed up, Nanakos now has over 40 on board, and growth among users has been even stronger: from less than 100 in October 2017 to over 6,000 as of July 2018. Both figures reflect the app's launch on a second college campus; earlier in 2018, trucks serving Temple University's campus in North Philadelphia signed on. Nanakos has plans in place to work with trucks serving the newly renovated Love Park in Center City, and he has his sights set on a deepened relationship with Drexel – perhaps linking the app with students' meal plans.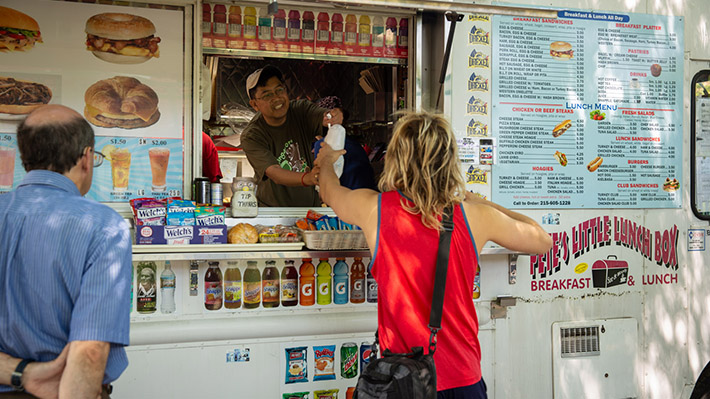 With that growth has come some significant changes: following an in-depth discussion during winter 2018, Hansen decided to change roles, stepping down as co-CEO while staying on as an advisor to the business. "Other startups will have these conversations and they'll sever completely," Nanakos says. Not so with TruckBux: "Cam helps with whatever we need – it's a good relationship."
"I never would have been able to do this without Cam," he adds. "No shot."
Now that he's the full-time CEO and the face of the business, Nanakos admits that work on the business has sometimes come at the expense of his studies. "Being a student-entrepreneur is one of the most challenging things you can do," he says. "It's a fact that school will take a back seat when your startup is your passion."
Still, adding members to the TruckBux team to onboarding new vendors and handle technical discussions with the app's developers has helped with his balancing of work and school. "Being able to rely on team members is key," he says. "You can't be everywhere at once."
On a daily basis, Nanakos is putting business skills learned in the classroom in action: attracting and presenting to investors, addressing when and where to expand and other major operational decisions. "This is the real deal," Hansen says. "Nick could go in and teach students about what exactly it takes to run a company."
Vision for the Future
"Startups don't fail as a result of lack of capital, they fail as a result of a lack of innovation." That mindset factors into processing feedback from both consumers and truck owners when making updates to the app. He cites the app's map feature: at launch, it just showed the truck's location in an embedded Google Maps window; it now has an "open in maps" feature to provide users with walking or driving directions.
The app has been a boon to Pete's LunchBox, a fixture on the Drexel campus for nearly 20 years. Pete's is more of an old-school truck – they're cash-only apart from orders placed through TruckBux – but with a devoted following. "If we had created an app just for Pete's people would use it – that's how much people love it," Nanakos says. "They're our number one."
"We still don't accept cards, but decided to give TruckBux a try," says Pete's owner Sandy Tang. "Not only have we received new customers, but our current customers love it. That's what matters to us."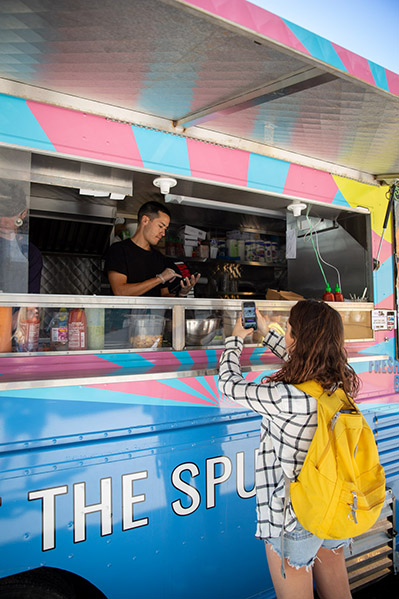 Using TruckBux has helped other newer trucks gain a foothold in Drexel's lunch market – like Papermill, an import from Sydney, Australia, that dishes out rice paper-wrapped concoctions called "spurritos" – a hybrid of spring rolls and burritos – from a slickly branded, rainbow-hued truck. In a presentation to Drexel President John Fry, Nanakos called Papermill "what you want to every truck to be," citing its street presence, customer service and high-quality menu offerings.
"TruckBux gives me an additional revenue stream which I would have not have otherwise," says owner Alex Sherack, comparing the app favorably to GrubHub and UberEats, two competitors in the food-technology space.
With footholds at two of Philadelphia's college campuses and in a high-traffic hub in Center City, Nanakos has his sights on expansion to other cities, as well as on more diverse uses for the app. "It's not limited to ordering and pickup," he says. "The vision is not just to skip the line and get ahead, it's to get into food truck catering" – an area of growth he sees emerging at parties, weddings and corporate centers.
As he pursues these new opportunities, Nanakos keeps in mind lessons from the initial brainstorming that resulted in the company's creation. "Have a strong line of trust, of course, and a great relationship, and make sure you share a vision." He adds that having different strengths from one another served him and Hansen well in the app's early stages, with Nanakos intensely focused on the details and Hansen looking at bigger-picture pieces of the business.
That foundation, Nanakos says, will help student-entrepreneurs later on in their startup's life cycle, whether through a pivot or a transition in leadership: "No one's going to lose respect for you for being honest, whether they like it or not."