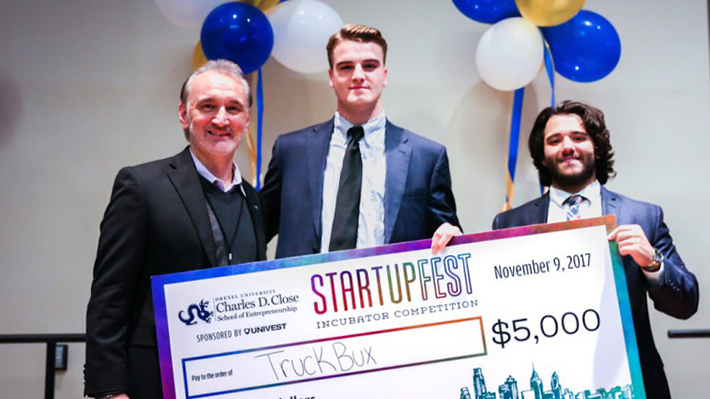 Student-Run Startup Finds Success
It has been an eventful fall term for Nick Nanakos and Cameron Hansen.
As founders and CEOs of TruckBux, they launched their app, which connects food trucks near the Drexel campus with potential customers for mobile ordering, pickup and payment, on October 24. They purchased office space at ic@3401, a startup hub at the University City Science Center, to house their growing business – currently at six employees.
Then, at 2017 Startup Fest, hosted by the Close School of Entrepreneurship, Nanakos and Hansen came in third place, receiving a $5,000 prize and space in the business incubator at the Baiada Institute for Entrepreneurship after presenting their business plan and making a 90-second pitch to a panel of judges.
Nanakos, a senior finance major, and Hansen, a junior finance major, say they are thrilled at the opportunity that their third-place finish provides them.
"It's great to have more money to put into the business without diluting equity," Hansen said. They did initial fundraising for the business from their family and friends, then through a first round with an "angel" investor; they later secured $10,000 in free legal services from Ballard Spahr, a Center City law firm, through another competition.
The two business partners became friends through Nanakos' older brother, and their collaboration was jumpstarted by a single text message: 'We should do something with food trucks.' That simple idea launched their project during summer 2016, with app design taking place in early 2017.
Throughout the process, they've drawn on connections through LeBow: doing market research through surveying their classmates, recruiting others as both volunteers and employees and seeking advice from their professors.
"I've come to my professors with questions about valuing businesses," said Hansen. "I've had to miss classes and make up a midterm, and they've been nothing but helpful."
Jie Cai, associate professor of finance, even allowed Nanakos to practice his pitch at the end of a recent class. Nanakos notes that Cai later became a user of the app himself.
In reflecting on how far the business has come in such a short time, Nanakos said that during the design phase, he and Hansen worked "day and night," working late into the night followed by early-morning calls with designers based in India.
"The main thing students who want to start their own businesses should know that is the tremendous sacrifice that it takes," Nanakos said.
After just over a month since Truckbux's public debut – it's available on the App Store and Google Play – they're beginning to see their hard work rewarded.