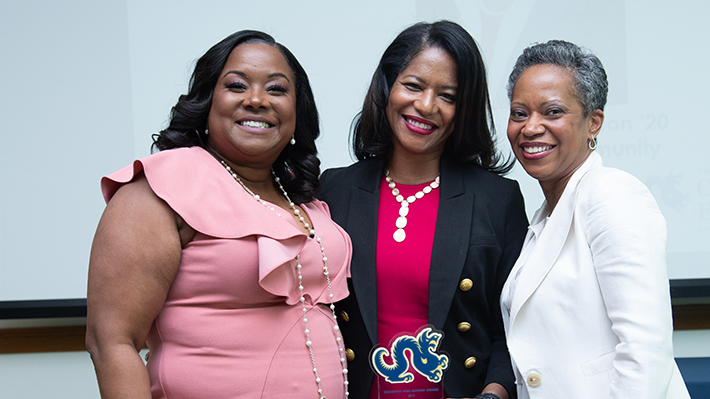 Ideas, Vision and Inspiration at the EMBA Executive Summit
Constantly evolving, learning and searching for new and innovative strategies, Drexel alumni from across the University were back on campus on May 20 to be part of the 13th Annual Executive Summit at the LeBow College of Business, presented by LeBow's Executive MBA Alumni Board.
Part of the University's Alumni Weekend, the one-day seminar offered a unique blend of ideas, vision and inspiration, where professionals explored leadership development topics and engaged with fellow business professionals in and around the Philadelphia community.
This year's theme was "Disrupt Yourself: How to Be Intentional About Everything You Do," with keynote speaker Scott J. Miller delivering lessons drawn from his best-selling book, "Everyone Deserves a Great Manager."
Additional speakers and topics included Sheri Riley on owning your greatness, Ken Sher on how to leverage LinkedIn, and Tania Sterl and Tavia Sharp on dressing to express your personal brand.
A panel discussion on cryptocurrency, NFT's and the Metaverse brought together leaders from the technology and innovation sectors: Russ Kliman, head of ventures and innovation programs, SEI; Scott Carcillo, partner, Virtual Leaders LLC; Julius Walker, principal, Epic Tech Group, Inc.; and Eric Wittenberg, founder and CMO, Camper Machine Operations.
The Summit also gave the Executive MBA community the opportunity to recognize the accomplishments of many of their alumni through the EMBA Alumni Awards.
This year's award winners were:
Service to the Community: Michael J. Gallagher, EMBA '00, and Dr. Faith Dyson-Washington, EMBA '20
Service to the Profession: Angela Jones, EMBA '00
Service to Alma Mater: Joseph Rosato, EMBA '10, and Karla Trotman, EMBA '15
Entrepreneurship: Rahul Kasat, EMBA '15, and Pamela Saechow, EMBA '20