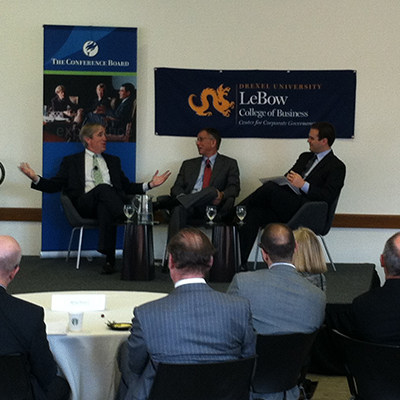 Corporate Governance Experts Agree Diversity Key to Success
At a discussion on effective board leadership with John J. Brennan, chairman emeritus and senior advisor at the Vanguard Group and director at General Electric, and Michael Useem, professor of management at Penn's Wharton School of Business, it's fair to expect insight born of the men's collective years of experience. Add moderation by David Gelles of the New York Times Dealbook and you can be sure that topics of current concern were featured prominently. But what an attendee may not have anticipated in the morning's discussion was agreement and focus on a central idea—the importance of diversity.
Michael Useem began the morning with congratulatory words for those gathered at the event, presented by LeBow's Center for Corporate Governance and The Conference Board on June 4. He described how boards had made significant positive impacts in the past decade in how American corporations are run.
He explained, "In the last five to 10 years, boards no longer only monitor, but lead."
John Brennan agreed and added that he had seen large-scale change in the ways boards are involved in keeping owners and CEOs in check.
Focus quickly shifted to the work left to be done as David Gelles followed with a question about the biggest challenges that remain for directors and boards. Time constraints in the face of increasingly complex regulations were mentioned, but as to the greatest challenge, Useem and Brennan were in agreement: Boards in the United States lack diversity. They fear that if it's not addressed, this could hurt corporations competing in a global economy.
Useem explained that in the last several decades, corporations in the United States have gone from an average of 95 percent domestic sales to a more even mix of international and local business. And yet, most boards are still nation-specific. Beyond the need for boards that more closely resemble the international world of business, both men agreed that boards should also be made up of people with different professional backgrounds, a broad range of skills and complimentary personality traits.
The morning's discussion looked ahead to the longer term effects of shareholder activism and included forward-looking predictions about the future of governance. Brennan and Useem made informed speculations where they could, but ultimately came back to the notions that to best face the challenges of the future, a corporation will need a dynamic mix of people at the helm.