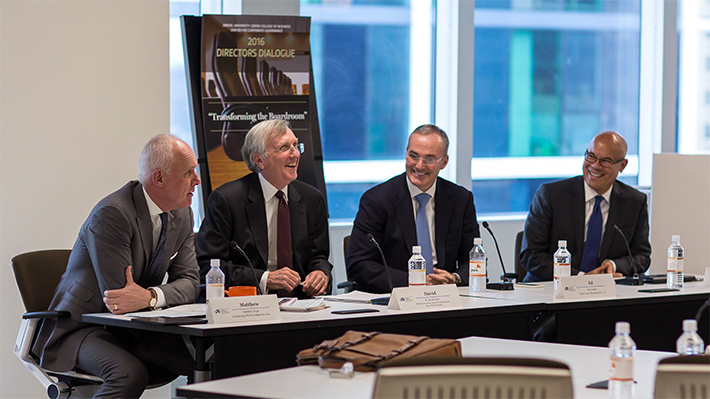 Directors Dialogue Draws Business Leaders to LeBow
The Drexel LeBow Center for Corporate Governance's eighth annual Directors Dialogue, held April 7, 2016, focused on "Transforming the Boardroom." The program was exclusive to corporate directors and lead by subject matter experts such as Jack Brennan, Chairman Emeritus and Senior Advisor of The Vanguard Group, R. David Yost, Director at Bank of America, Marsh & McLennan, Tyco International and Ed Garden, CIO and Founding Partner at Trian Fund Management, L.P.
The day's dialogue centered on questions about the trending topics in the 2016 proxy season. The gathered directors discussed how management wants to engage and utilize its board in terms of strategy, what questions directors should ask themselves in regards to capital allocation with the best interest of the company in mind, and what activists are looking for when it comes to succession plans in a target company.
The Directors Dialogue was followed by a dinner attended by more than 275 of the area's business leaders. The evening featured a "fireside chat" with keynote speaker Ed Breen, Chairman and CEO of DuPont and facilitated by Raj Gupta, Chairman, Delphi Automotive and Director, The Vanguard Group, Tyco International Ltd, and Hewlett-Packard Company. Breen discussed his success at Tyco and future plans for the Dow/DuPont merger and subsequent spinoffs. Patti Connolly, Executive Director of the Center for Corporate Governance observed: "I was joined at Directors Dialogue by individuals representing 56 public boards, 43 private boards, and 38 nonprofit boards. When I looked into the audience at the dinner, I knew those numbers were easily tripled."
The ninth annual Directors Dialogue will be held on April 4, 2017 and will be followed by the dinner featuring a keynote address by Jack Brennan, Chairman Emeritus and Senior Advisor of the Vanguard Group.