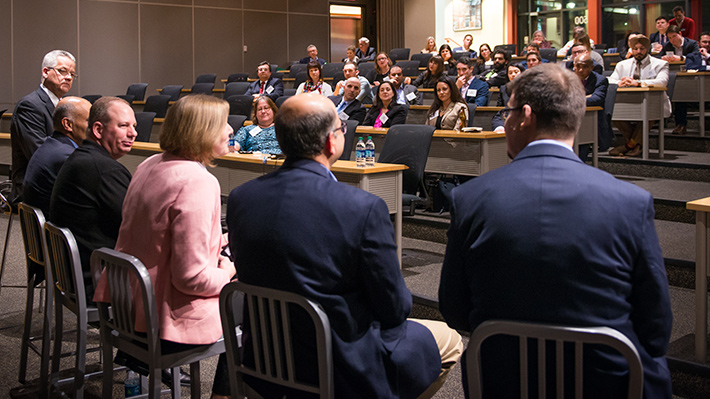 Leaders From SEI, Pfizer and Mars Discuss Benefits of Collaboration
Local industry leaders and professors addressed Drexel alumni at a recent Drexel InSites event focused on how to leverage the unparalleled research and innovative capabilities of the University to creatively solve business challenges. Leaders from SEI, Pfizer and Mars Drinks, as well as LeBow's Vice Dean Raj Suri and Hasan Ayaz, an associate research professor at Drexel's School of Biomedical Engineering, comprised a panel which spoke about Drexel's capabilities to solve real-world business challenges using innovative technologies and extensive research capabilities. LeBow's Interim Dean Paul Jensen served as the moderator.
Russ Kliman, who heads up strategic programs and innovation at SEI Investments Inc., said, "We wondered how we could create an engaging interface for consumer users. And we asked Drexel, how could you help us answer that question differently than how we would answer it ourselves?" Ultimately, SEI collaborated with Drexel LeBow on a neuro-business study led by faculty and graduate students. Investors, company employees and non-users acted as participants, whose behavioral responses were assessed utilizing fNir and eye tracking technologies inside LeBow's Behavioral Lab. These technologies provide additional data points beyond consumers' answers to survey questions that provide insights into their opinions about the platform.
Kliman recalls, "As Hasan and Raj explained, someone can tell you, 'I like the color of your suit,' but the brain may be saying something very different." The study informed the creation of a new platform that launched in fall of 2016.
Tanya Lomax, global product development director for Drinks at Mars, spoke about a taste test and usability study done in LeBow's Behavioral Lab utilizing wireless EEG technology. Mars competes with Keurig in the instant hot beverage space in workplaces, utilizing a B2B model.
"We were trying to understand the 'why' behind why people like or don't like our products. We looked at the unarticulated needs of the consumer – the insights we got from them that were critical to moving forward." She said that the findings were surprising to her and her colleagues: most consumers like the products, but interface usability was an issue. Mars Drinks is now looking to improve the interface, and working to inform consumers how to use it more effectively in the meantime.
Ash Mehta, senior director of global business intelligence at Pfizer, spoke about his company's collaboration with Drexel LeBow, which looked at utilizing artificial intelligence and machine learning to improve Pfizer's product forecast. "Our project was really to tackle a real world problem. We wanted something that had a high impact with business and also allowed us to explore new techniques, so we could learn from all the great work being done at Drexel. And this is also the foundation of a broader strategy that focuses on forecasting processes."
Mehta explained that this project was around machine learning, and focusing on how to best utilize machines so that his company can best enable "the humans to focus on the things they do best, such as look at high-value and high-variability products.
"We had a lot of success with this project," he says.
This Drexel InSites event was held at SEI's Oaks, Pa., campus. SEI is LeBow's Corporate Partner of the Month for February 2018.