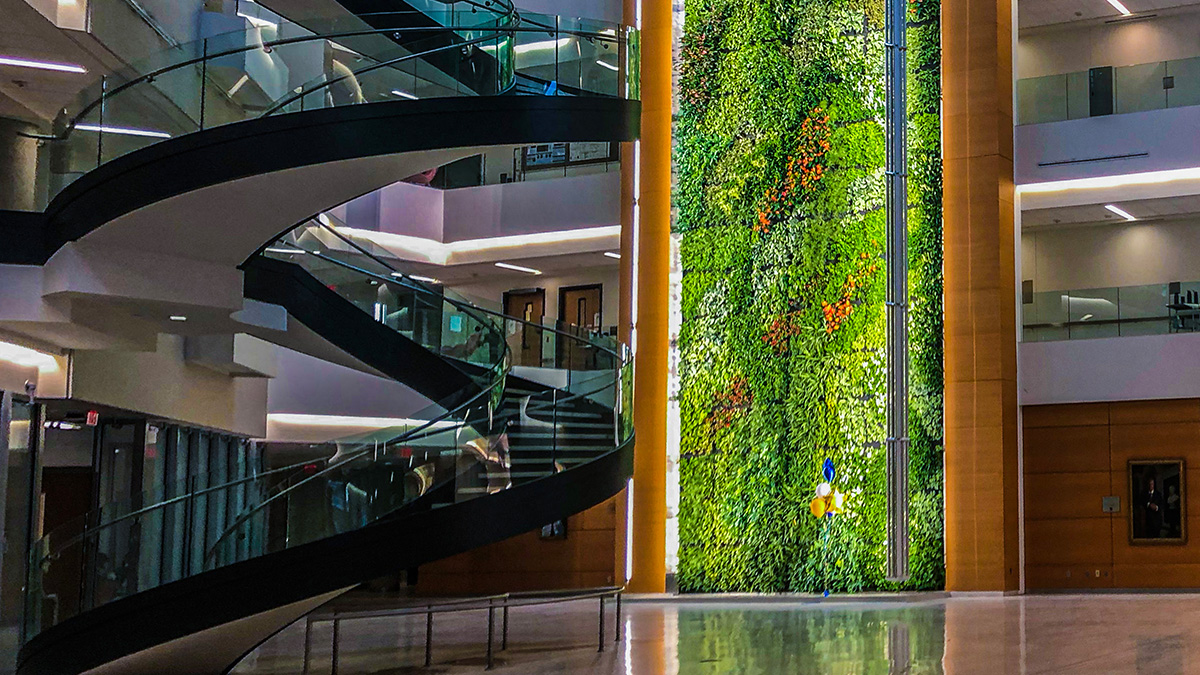 LeBow Faculty and Industry Expert Team Up for a Comprehensive Breakdown of ESG
The topic of sustainability has become increasingly present in both business-world decisions and LeBow's course offerings, and one set of factors that's playing a prominent role in companies' sustainability goals is ESG: environmental, social and governance.
These factors are important individually as well as often referred to collectively, and they affect companies' decisions on many fundamental business questions: in what countries they operate, which technologies they invest in, how they recruit and retain employees and more.
While LeBow has addressed each of these themes in various courses and faculty research in recent years, a recent MBA-level course took an in-depth look at each factor, how they interrelate and affect one another and the impact they have on a range of industries.
In Corporate Sustainability for Managers (INDS T680), students broke down the components of ESG — what regulations and ratings exist, how companies are adapting to standards and requests for information, and emphasizing the constant flux that these elements are undergoing — and analyzed a rise in anti-ESG policies and legislation carried out by political groups, state legislatures and even the U.S. Congress.
To deliver of-the-moment insights within an academic structure, a co-teaching arrangement pairing a LeBow faculty member with an industry expert from outside of Drexel can benefit students. For this course, Maureen Breen, PhD, associate clinical professor of accounting, co-taught with Kathy Jaffari, MBA, JD, who serves as chair of the Corporate Governance Group, co-chair of the Capital Markets & Securities Group, and co-chair of the ESG Group at the law firm Cozen O'Connor.
Jaffari, who previously taught pre-law courses at Temple University for over twenty years and conceived the course with Assistant Dean for Teaching and Learning Stacy Kline, CPA, noted that many students came to the course with particular areas of interest within ESG: renewable energy, for example, or workplace diversity.
"From that baseline of knowledge, we were able to demonstrate the entire landscape of what sustainability for an organization looks like. I found that the students were able to grasp the concepts and begin to critically consider the challenges and opportunities that the ESG landscape can provide a company; the students also began thinking about solutions and strategies related to the various ESG matters."
Guest speakers, many of them senior-level leaders from Jaffari's network of contacts, provided valuable context through weekly discussions of pressing issues in their respective industries.
"I wanted to give the students exposure across all sustainability concepts, because they affect all organizations," Jaffari says. "If you're working in the energy industry, diversity still matters; if you're working for a social-impact organization, its carbon footprint still matters."
Scott Duvall, MBA '24, cited Elie Bou-Gharios, senior consultant for environmental sustainability at EcoAct, as a notable industry guest.
"The passion Elie has for his work really shone through in our lecture and Q&A session with him," he said. "He was able to tackle some rather complex concepts on a level we could all understand, and he was very up-front regarding the hardships anyone working in ESG-related matters would be facing now and in the future."
Guidance from these industry experts shaped discussions during and between class sessions and had a major influence on student deliverables, which included policy recommendations, press releases and a final paper analyzing a major industry and the ESG components that affect it most.
Carly Day, MBA '24, chose a concentration in Corporate Sustainability and Social Impact for her degree studies, so the course seemed like a perfect fit.
"I'm interested in the intersectionality between corporations and their role in a sustainable future," she said. "Learning the background of ESG was eye-opening for me, particularly about the role governance plays in sustainability and how interconnected decisions are made from a director level."
After the end of the term, Ike Nwabufo MBA '24 offered a strong endorsement of the course and its impact on his own views.
"The course and professors converted me from being an anti-ESG person to a believer in the role of ESG in achieving a more positive and universally beneficial corporate and social climate," he said.