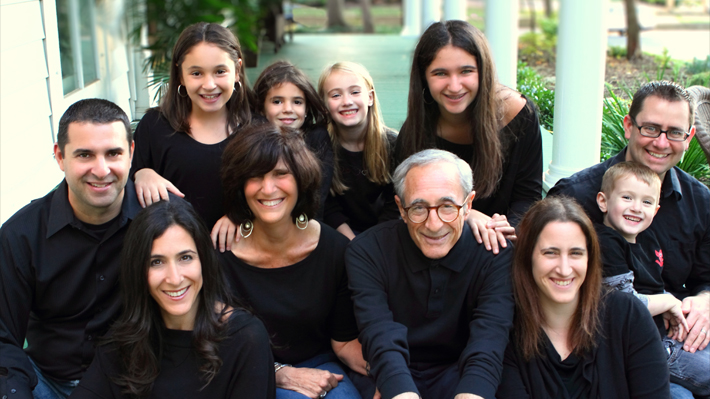 LeBow Professor: Jeffrey Greenhaus, Ph.D.
Jeffrey Greenhaus, Ph.D., Drexel LeBow's William A. Mackie Chaired Professor, knows a thing or two about commitment. He's been a member of the College's faculty for more than 30 years. He's been married to his wife, Adele, for 44 years. He even lives in the same Cherry Hill, N.J., home that he and his wife purchased in 1981, the year he joined the faculty.
His story is a fine example that commitment pays off.
Professionally, Greenhaus is recognized as one of the most influential researchers in the field of management; a recent article in the Journal of Management ranked him as the 56th most-cited management researcher worldwide, and rankings by the journal Academy of Management Perspectives put him even higher, at No. 32.
Personally, he and Adele, a social worker with a private practice in Cherry Hill, have two daughters, Michele and Joanne, and five grandchildren: Hallie, Carly, Mackenzie, Riley and Hunter. He says they enjoy living in Cherry Hill because of its proximity to Philadelphia and to Drexel, and notes that he's lucky that his two daughters and their families live in the area, too, so he sees them quite often.
Family is important to Greenhaus at home and at work. His area of research interest is work-life balance. He and LeBow's Jonathan Ziegert, associate professor of management, are working with two colleagues from New Zealand on a project to determine whether a boss' work-family conflict ultimately affects the well-being of his or her subordinates.
"What we're finding is that bosses who experience a lot of conflict between their work and family lives 'pass on' the depression they feel to their subordinates, who also begin feeling depressed," Greenhaus says. "It's a vicious cycle that can only be stopped by providing opportunities for bosses – and other employees – to lead a more balanced life."
Greenhaus entered academia because he enjoys conducting research on subjects that matter in people's lives. "Being a business professor gives me the freedom to pursue the research that I believe is important, as well as the opportunity to teach future generations of managers and researchers."
Despite spending a lot of time on his research, Greenhaus strives to keep balance in his own life by prioritizing quality time with his extended family. He says they make an annual tradition of taking a vacation, and last fall's was in Jamaica. He also makes time for the Drexel Dragons – he's an avid college basketball fan and follows them very closely.
Little Known Fact
In addition to following basketball, Greenhaus can play, too. In Jamaica, he and two of his granddaughters played three local guys they met.
"We didn't win," he reports, "but we kept it pretty close!"