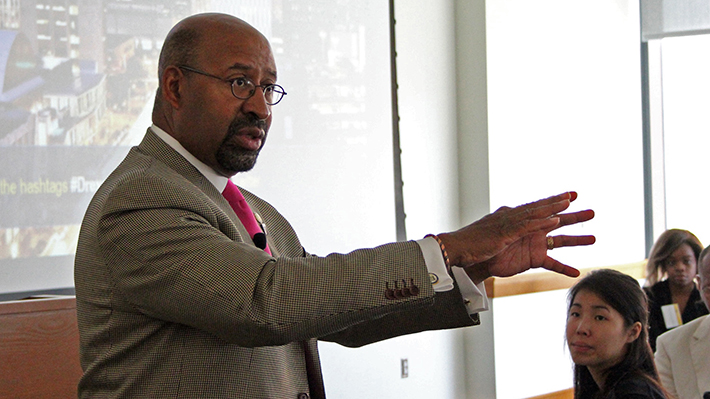 Mayor Nutter Talks Leadership, Determination at LeBow
BY FRANK OTTO
In 2006, Michael Nutter was gearing up for a run at mayor in the town he'd lived his entire life.
The West Philadelphia native decided to take his "own good money" and pay for a poll to research what his shot was at winning the 2007 mayor's election.
That poll had Nutter placing fifth. Out of five.
On top of that, local media said he would never resign his seat on city council, he'd never raise enough money and just flat-out never win a citywide election.
"The worst thing they can tell you is, 'You can't do this' — because every time they've been wrong," Nutter told the audience at his Leadership Matters talk at the LeBow College of Business Wednesday morning.
Nutter was the third speaker in the Leadership Matters lecture series, which is sponsored by the Institute for Strategic Leadership at LeBow. Previous speakers this year have included former United States Treasury Secretary Paul O'Neill and Lenny Comma, the CEO of Jack in the Box and a Drexel alum.
"Mayor Nutter is an ideal candidate for the series because he personally exhibits the leadership traits he champions — sincerity, dedication, strong and direct communication — and he gets things done," said Alison Young, executive director of the Institute for Strategic Leadership. "Our audience really responds to people who walk the walk and are willing to share both the wins and the failures as they've developed as leaders."
During his talk, Nutter emphasized the need to identify goals and be realistic about limits.
"You can't do everything for everyone. You have to accept that," Nutter said. "You can't make everyone happy."
But vision is key, Nutter said. And engaging others, whether it's as a mayor engaging citizens or the owner of a company engaging customers, is important.
"Leadership is about telling people what you want to do, where you want to go and finding ways to support it," he said.
"Mayor Nutter is very sincere and he's very authentic," said LeBow College of Business Dean Frank Linnehan. "He has a whole mindset of authentic leadership and thinking authentically about being transparent and being honest with people. People can't think leadership is about themselves and, as he said, it can't be about the individual. It's got to be about the organization, where it's going and how it gets there."
Frankly, Nutter said success depends on a little luck. One part of his tenure as mayor that Nutter prides himself on is making Philadelphia safer, with homicide levels dropping by 35 percent since he took office. He said he just happened upon Charles Ramsey, the man who would eventually become his partner in that endeavor and police commissioner, through a chance call from an old friend.
A quality of good leadership, Nutter emphasized to the audience Wednesday, is supporting those within the organization a person leads.
The reduction in violent crime in Philadelphia resulted from Ramsey's "leadership and my support," Nutter said.
"He knows he can't be the ultimate expert on everything, so he surrounds himself with people who can contribute their experience and expertise," Young said. "His job is to listen and empower them — and then get out of the way. That's a refreshing sentiment to hear from the leader of America's fifth-largest city."
Linnehan said Nutter was a great choice for the leadership lecture, partly because he's worked with Drexel several times before.
"We had an event where he and President [John A.] Fry just talked about leadership for about an hour and it was an incredible conversation talking about what they've learned," Linnehan said.
Nutter's talk comes in the run-up to the visit of Pope Francis for the World Meeting of Families in September — something Nutter described as "the largest undertaking in modern history in Philadelphia" — as well as his impending exit from office.
But even then, Nutter said leadership is key.
"I'm so optimistic," Nutter said. "I'm going to support the next mayor and make sure they have all the resources they need."
Because, as Nutter said, leadership isn't just about one person, after all.
This piece original appeared in DrexelNow.