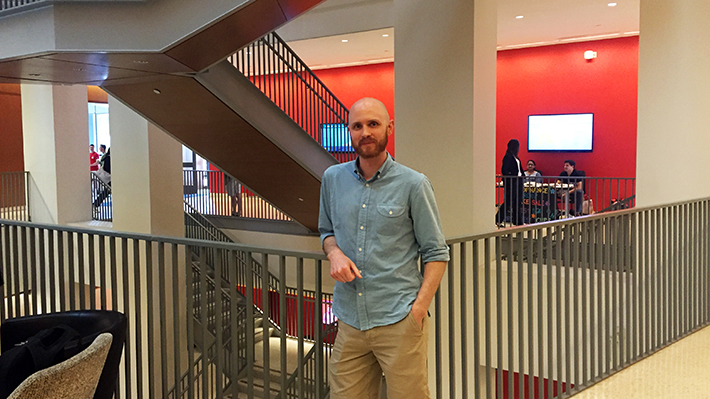 MS in Economics Alumnus Charles Gray to Pursue PhD at Wharton
Health care isn't the type of industry used to having the people they serve shop around. In an industry where providers refer to the people they serve as patients rather than customers, there is often a top-down approach where physicians attempt to lead their patients to health in the way that priests would guide members of the church to salvation – rarely with discussion and presumably ordained by an entity greater than humanity. Economist and Drexel alumni Charlie Gray is trying to change that.
Reaching the end of a statistician position at Yale, Gray will soon be entering the PhD program at Wharton to further his study of how health care and pharmaceutical companies approach competition in pricing and how these decisions affect patients – or as he calls them, consumers.
Gray has developed a talent for analyzing the health care industry over the years, beginning early on as an economics consultant and analyst for the private consulting company Economics Incorporated. "Most of the work I was doing was anti-trust work," says Gray. But often he was assessing mergers and ventures by pharmaceutical companies. But after working in consulting for a while, Gray noticed a lot of unanswered questions in health care he wanted to explore. "I wanted to be able to focus on research around questions that I found interesting rather than ones that our clients were dictating."
Gray's colleagues recommended he return to academia and pursue a PhD in the field. Though Gray received his undergraduate degree from Vassar College with a major in economics and biology, the qualitative approach to the degree left him behind in the math skills he would need to pursue his PhD. Looking for an entry back into academia, Gray saw LeBow's MS in Economics program as the perfect fit.
"It was the first time I'd seen a rigorous treatment of economics," Gray said of the program. "It was challenging but a lot of fun because I got to see a lot of math I didn't get to see in undergrad and apply it to more of the theories in economics."
After enrolling, Gray decided to continue his study of the health care field by taking a position as a teaching and research assistant to Genevieve Kanter in the School of Public Health. While working with Kanter, Gray was able to help her examine how the Physician Payment Sunshine Act, which requires pharmaceutical manufacturers to disclose any payment from a free lunch to a speaking fee, effects consumers and physicians and particularly it affects consumers. The study, "Public Awareness of and Contact With Physicians Who Receive Industry Payments: A National Survey," found that over two-thirds of Americans received care from doctors who were actively being paid by pharmaceutical companies with only 5 percent aware of such payments.
Discoveries like these are what deepened Gray's curiosity surrounding consumer choice in health care – shortly after graduation he took a position at Yale with Professor Zack Cooper where he explores the relationship between physician referrals and price. In his current position, he explores how physician behavior and recommendations may affect the price patients pay for regular services. "The savings are considerable," said Gray. "I don't think doctors are conscious of price all that much. I think they want to do what's most convenient or what they think works best, but they don't always look at the price component."
With extensive experience in research even before beginning his doctoral studies, Gray hopes to continue to explore conflicts of interest in the health care and pharmaceutical industries while studying
at Wharton's Health Care Management and Economics program. "This is a very compelling area of interest to me, and I think there are still a lot of unanswered questions in health care that I would like to attempt to answer at some point in my career," said Gray. "The consequences of health economics research could have a strong impact on our country's future and how we decide to provide care."
Gray begins his PhD studies in fall 2018.