It's not a question of IF, but WHEN. Printed newspapers will cease to exist. And of all people, that's okay with Bob Hall, the CEO and publisher of The Philadelphia Inquirer and Daily News.
"I don't know if it will be in five, 10 or 20 years, but newspapers will not exist as they do today," Hall says. "That's a fact of life." Personally, I don't think it's going to be as quick as others speculate. But we'll see."
In the meantime, Hall, a 1967 LeBow graduate who has spent the last 30 years in the newspaper industry, is not standing idly by. He is revamping the old business model — collect the news, sell advertising, print the paper — to a model that is less about papers and more about computers, tablets and cell phones. There remains, for now, the traditional print product for older readers who prefer it. Hall has never shied away from a challenge, and it would be an understatement to say that the CPA-turned-newspaper-executive has faced many since joining the industry in 1973: ownership buyouts, bankruptcy hearings, mass layoffs, employee strikes and dramatic circulation and advertising declines.
"This business isn't easy," Hall says. "Think about it. We manufacture a brand-new product every day with no shelf life. That's quite an achievement. You never know what's going to happen."
He recounts a television weather report a number of years ago about the "snowstorm of the century."
"Advertisers pulled their ads since they thought that no one would go out shopping. We lost $400,000 in advertising in one weekend, and guess what? No snow."
Weather reports aside, Hall's greatest challenge remains that fewer and fewer people read an actual paper. Today the pressure 
is not to manufacture a brand new product every day, it's to manufacture a brand new product continuously.
A two-year, $100 million drop in help-wanted advertising sales in the late 1990s — due to then-new websites monster.com and careerbuilder.com — indicated that the newspapers needed a new direction.
Hall launched philly.com and "to be honest, I didn't take it that seriously," he says today. "We just did it. It was basically the same content as the newspapers, in a different format. We floundered, just like the competition."
Yet when Microsoft CEO Bill Gates castigated newspaper publishers at their annual convention — "You don't understand what people want. Your websites are terrible." — Gates added: "The only site that knows what they're doing is philly.com."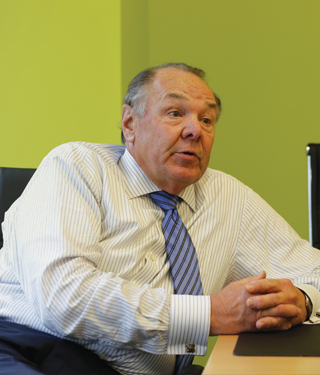 Hall remembers: "He flashed our homepage up on the slide, and I was like, 'wow.' It was a proud moment for me. And he was gracious enough to allow us to use that slide in future promotions."
Of today's philly.com, Hall says: "Besides a greater variety of news, the biggest difference is that the site is more transaction-oriented. They can read a review about a movie, and then buy their tickets right on our site. We want to keep our readers on the site as long as possible. We want people to look at it in the morning, a couple times a day and at night before they go to bed. We want them to go on often and stay a while."
As do advertisers. Attracting and keeping them has been an uphill battle for the newspapers, but being online has its benefits: immediate and measurable results.
"In the last five to 10 years, advertisers want numbers, and the Internet provides that," Hall says. "With our new site, we can tag our ads, conduct surveys, add customer response. We can clearly demonstrate to our advertisers that we can get the results they want. And that's going to become even more essential in the future."
Overseeing advertising sales and editorial content are competing priorities for Hall, who says they can be difficult to balance. Maintaining journalistic quality is a long-term strategy in a world of near-term economic demands.
"You can focus on the economics and cut the crap out of your staff," he says. "So, you'll be healthy for the next three months, but then you'll go out of business. You need to balance everything and measure the need and the risk associated with it. That's a big challenge."
Gaining support from the top during critical times was hard to come by until recently. Ownership buyouts, bankruptcy hearings and larger-than-expected revenue losses almost caused the newspaper to fold several times. Last spring a group of business people, under the name of Interstate General Media LLC, purchased the papers; Hall is positive about the new ownership.
"We are a single entity now," Hall says. "We have a group of owners who believe in newspapers but aren't newspaper people. In terms of autonomy, there's quite a bit of it. If you are performing and keep them informed, then we are in good shape with the owners. They care about the newspaper. They're not trying to make a lot of money; they're trying to make a better paper out of it."
That includes better and more robust reporting.
"We hire 'kids,' and we also hire seasoned people who speak and think differently," Hall says. "On the reporting staff, we are looking for people with different points of view and great technology skills. We want our reporters to take a video, write a print story and put it online. The demands of the job have changed. Our photographers have become photojournalists. They are all multi-media reporters.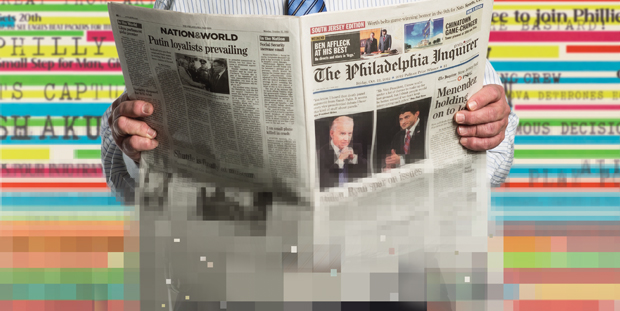 "At the same time, I think quality journalism is going to play a greater role in the future," Hall adds. "Why do I say that? There is so much information and content online that is not accurate. It's not credible. It's someone's half-baked opinion, and people take it for gospel. So credibility is important, and aspiring journalists have to remember that."
Hall does not take lightly the important role he plays as publisher of the third-oldest surviving daily newspaper in the United States. He reads both The Philadelphia Inquirer — front to back — and the Daily News — back to front — daily, often sending notes to the writers and editors, making suggestions and providing story ideas.
"Everything in the newspaper is my responsibility," he says. "How people react to it, the way we represent ourselves to the community. Even if you go to a cocktail party, everyone comments on the paper."
In 2003, Hall decided to take a break from the industry he loved to spend more time with his wife, Ronna, whom he met and fell in love with when they were students in Philadelphia's Frankford High School. "I was 58 years old. I had this goal that I wanted to retire at age 55, but that didn't happen. I wanted to play golf with Ronna, travel, and I also got on a few for-profit boards since I didn't want to get stale. It was fun."
Though it only lasted five years, retirement was bittersweet for Hall, as he loved not only what the newspaper stood for — "the voice of the community" — but the people who worked for him. And the feeling was mutual. Nineteen retirement parties were held for Hall.
"There was one at 4 a.m. in the plant, there were some in the newsrooms, and they were all different," Hall says. "The Daily News had a 15-foot Tastykake Krimpet made for me because they knew that I loved Tastykakes. Yum. That's pretty special. When you have 
a workforce like that, that is heavily unionized, and you get that 
kind of response for a CEO. That's pretty special."
Which explains in part why Hall un-retired and is again 
guiding Philadelphia's daily newspapers. He loves the people; 
he loves the challenge.
"I think multiple channel distribution of content is next," he says. "I think somewhere in the future we are going to see media partnerships. I can see newspapers, websites and TV stations being partners. The Inquirer and a TV station could do an investigative series together. We would do the work; they would tease it on the news; and we would have the headline the next day. I think that the media need to wake up and say we are only going to survive if we work together."
So has Hall embraced technology the way his newspapers have?
"I like technology. I like learning about it, and I have a Kindle because I love to read. But there's no way in hell I'm going to have a Facebook account, and I'm never going to be Tweeting that I'm laying on the beach, or that I just shot a 61 on a golf course. 
I'm too old for that stuff."