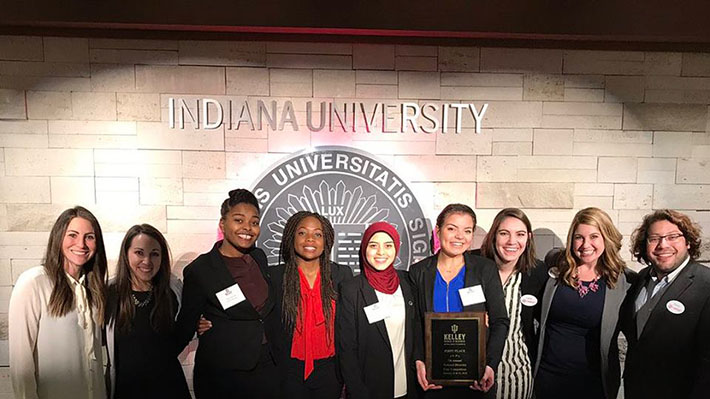 No Days Off: BRIDGE students win big over MLK weekend
While other members of the Drexel community were enjoying the break from work and school, LeBow's BRIDGE students were winning big.
Beating 34 other business schools from across the country—including University of Pennsylvania, University of Michigan and Penn State University—Alexis Serra, Amarachukwu Uche-Anya, Lotus Barron and Sharaine Eldafrawy won first place and a grand prize of $7,500 at the National Diversity Case Competition.
"The competition level was high, but we knew we put our best into this case and it all came down to the execution of it," said Eldafrawy, a sophomore studying business analytics and finance.
Tasked with helping Target create a strategy to attract and retain diverse talent, the students were helping the company build on its current inclusion strategies using a case study designed for the competition.
"Target was basically asking, 'How do we make our employees comfortable where they are?' and 'How do we help them know that they matter,'" said Barron, a pre-junior marketing major.
Completing two rounds of 25-minute presentations, the students recommended practical solutions for fostering a diverse and inclusive workplace to Executive Vice President and Chief External Engagement Officer at Target Laysha Ward and other executives.
But for the students, the concept of diversity wasn't new. Barron shared that her experience as a BRIDGE student allowed her to fully embrace the topic. "With BRIDGE, when we're going different places, we're saying, 'Don't be afraid to bring your cultural elements there. Don't be intimidated,'" she said. "And we were able to share that mindset during the competition."
Student advisor and mentor Brian Ellis, associate dean for academic programs administration, echoed that sentiment. "Our students have a wide range of experiences, backgrounds and thought leadership, which they are able to apply in practical situations," he said. "I am convinced that these traits and characteristics are what propelled them to victory, as Target was seeking unique measures and solutions around team members' authenticity."
But Amarachukwu Uche-Anya took the challenge of diversity to mean something deeper for her and her teammates, "Diversity is more than the physical attributes by which we qualify people. To me, it encompasses a plethora of distinct qualities that make each and every one unique," she said. "Whether it is your thought process, your background or your belief, diversity means that you have something different to bring to the table."
The students received top marks in all categories including defining diversity, creativity, organization and delivery and were able to participate in workshops and presentations that ended with the annual awards ceremony.
Even after the win and amidst all the excitement, Alexis Serra, a junior studying marketing and legal studies, said her major takeaway from the weekend was: "Do your absolute best and be open to criticism, because you just never know where it's going to take you."
Drexel LeBow is the only school to win this award twice; our students also took home the top prize in 2014.