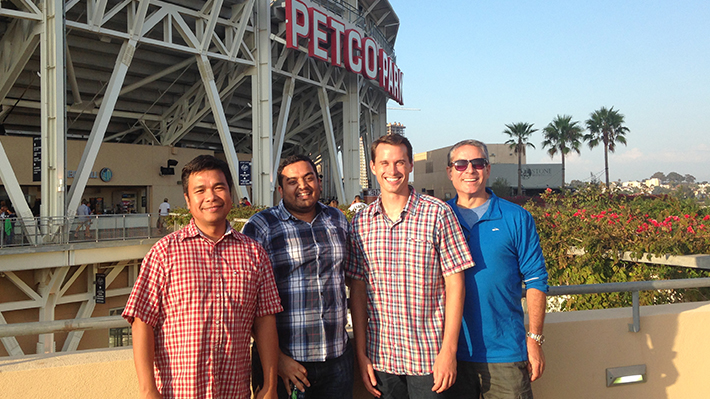 Business Analytics and Burgers: Not Your Typical MBA Co-op
Few students can claim to have worked on a big business analytics project and manned a fryer as part of their for-credit MBA co-op experience. In fact, fast-food chain Jack in the Box's two-day, in-store Brand Educational Experience (BEE) is usually reserved for full-time employees, but the company made an exception for Drexel LeBow's Warun Bubna, who landed a coveted 13-week C-Suite Co-op at the company's headquarters in San Diego.
His co-op tasked him with business data analysis in the company's consumer intelligence and analytics department, so his stint in the company's BEE program was especially insightful for his work assignments (he also flipped burgers and worked the cash register). "It's hard to fully understand what the problems are without delving into them and seeing them first hand," he explained.
One of the projects he worked on involved pricing analysis. "When you increase pricing, you need to be strategic about it," he explained. "You need to figure out which items make sense for a price increase, and what's the right amount and the right time to do it." He was given free reign to devise his own methodology on this project.
"I gained an understanding of how business analytics functions within a corporate environment, which I didn't have a background in. I also gained technical skills I had not anticipated, including Sequel querying."
Bubna, pictured above, second from the left, says the most beneficial thing about his internship was an improved understanding of how to employ big-picture thinking. "In the past, I was always focused on the problem in front of me. Now I've learned to step back and focus on the grand scheme of things and see the impact I can have."
–
A native of India, Bubna arrived at LeBow last fall with an undergraduate degree in chemistry and minors in engineering and math from Carnegie Melon and diverse professional experiences including a semester at sea. He spent three months studying and researching global warming aboard a 120-foot vessel that sailed from Hawaii to Tahiti. In the end, he decided oceanography wasn't for him.
He also helped open a K-12 school in Ranchi, India, in the state of Jharkhand. "We had eight students the first day of class; four years later we had more than 600." He maintains a strong interest in the business side of education.
Bubna finished up the classes needed to earn his MBA with a concentration in finance in December, and spent an extra quarter fulfilling the requirements needed to earn an additional degree, an MS in business analytics, last March.
Post graduation, he says he wants to work in a business analytics department, or perhaps start his own analytics company. "I enjoy the challenge of it: playing with numbers, doing analysis, looking at the business as a whole and solving business problems using data as a tool. Today, every organization's executive leadership team is looking for answers to their business problems. Whether it's marketing, accounting, finance, they are trying to build profits and understand their consumers better. What's the best way to do that? Analyze the data they have."
He points out the field is still growing, and for good reason: "Typically, the return on a business analytical project is 10 times the investment."
Little Known Fact Bubna's favorite Jack in the Box offering: its newly launched breakfast burrito.