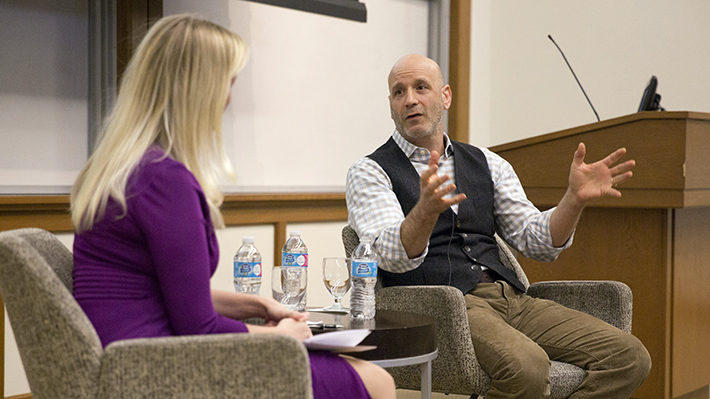 Vetri Talks Sale of Restaurants to Urban Outfitters
Chef Marc Vetri is making history. At least, that is the prediction he shared at a leap day conversation in Drexel's LeBow College of Business.
On February 1, he closed the deal with Urban Outfitters in which he sold his family of restaurants to the Philadelphia-based retailer. The move left many in the business industry scratching their heads after the announcement back in November. But for Vetri, it was a strategic and natural partnership that came after years of the two organizations working together. While his colleagues in the culinary world expressed understanding of what the move meant for him, the business world struggled to grasp the new business model the two companies had created and were left with many questions. Vetri believes this partnership is indicative of a new model that will continue to grow as online shopping remains dominate in the retail market.
"Urban Outfitters has been awesome at figuring out where the market is going and getting there before others. In seven to 15 years a lot of the large retail organizations are going to understand that the food is what brings people to the stores. This is going to make history."
"The world now isn't like it was when I first opened Vetri 17 years ago. It was a lot easier then," he said. "With Urban Outfitters, I can grow my restaurants, and I don't need investors. I don't need loans. I have no debt."
He noted how expanding a restaurant family requires not only capital to open more physical restaurants, but also infrastructure related to finance, marketing, legal and human resources that can strain even the most successful restaurant group. With the Urban Outfitters sale, Vetri can now use that company's infrastructure.
"It lets us focus on the operations of the restaurants and not all the other stuff."
According to Vetri, the new model makes sense for his growth goals but was not something he had been seeking out. After years of working together and 'what if' discussions, it became a conversation worth exploring more in depth. In fact, he noted that the only reason he considered the idea was because it was with Urban Outfitters.
"If someone like the Gap had approached us, we would have laughed at them. The only reason this worked out is that it was Urban Outfitters. We love them. They're a very like-minded organization. It is a large company but still operates like a small family-run operation. They think along the same lines we do."
Of course the deal led to a wide range of questions about Vetri's continued role in the business, the future outlook for employees and Vetri's philanthropic efforts as well as how operations of the restaurants will change.
Vetri confirmed that his role will not change much with the new corporate structure. The deal included all but one of his Philadelphia restaurants including Alla Spina, Amis, Lo Spiedo, Osteria and Pizzeria Vetri. He remains owner and chef at his flagship restaurant, Vetri, and oversees all culinary aspects of the restaurants.
He confirms, "I am never going to feel like they are not mine."
But the relationship is one rooted in collaboration, made necessary by the differences in the retail and restaurant industries. He stressed how important it is for them to learn and change in ways to benefit both organizations in what he described as a "hybrid" of Urban Outfitters and Vetri.
"It's been invigorating for us. We are learning so much. And they are learning from us."
Vetri's philanthropic work will not be affected by the sale. In fact, Urban Outfitters has been engaged in philanthropic activities for years, but according to Vetri, didn't feel the need to share it publicly. In the past, diners at Vetri's restaurants had the opportunity to make a donation to Vetri Community Partnerships. The restaurant then matched that donation. In the new model, guests will still have this opportunity, and Urban Outfitters will match each of those donations.
"It's good business, but we don't look at it like that. We like doing it, and it feels right. There is an issue, and we want to fix it."
However, the sale made news again recently as 30 employees were let go from various restaurants following the implementation of Urban Outfitters use of the e-Verify system. When asked if losing these employees made him regret his decision to sell, Vetri quickly replied, "No. This is arriving. We have to start to understand it. It is a messy situation, but the fact of the matter is the only people who lost out are us – we lost great people." He confirmed that all of the former employees had been able to secure employment elsewhere in a short amount of time.
As the program wound down, Vetri shared his perspective on leadership and the impact of his Drexel LeBow experience. As a 1990 graduate of LeBow with a degree in business and marketing, he confirmed that having a background in business could be really beneficial in the many aspects of the restaurant industry.
His leadership philosophy is a simple one: "Leadership is basically just you leading. Act like you're the owner. Act like it is yours. Take ownership." For the many students in the audience, Vetri offered advice to those thinking of going into the restaurant industry: "Jump in. We need you. Start leading."
What's next for the James Beard-nominated chef, author and businessman? He and his team are focusing on developing new ideas, conducting research and expanding his fast casual brand, specifically Pizzeria Vetri and Amis, to a number of not yet released locations that will continue to focus on quality product and hospitality.
This event was a collaborative effort between LeBow College of Business and the Center for Hospitality and Sport Management as part of LeBow's Leadership Matters program. Alison Young, executive director of LeBow's Institute for Strategic Leadership, moderated the discussion.