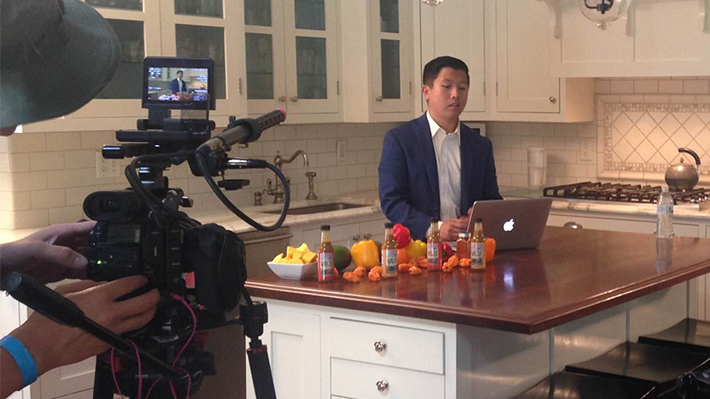 WUJU: Hot Sauce With a Sweet Side
Hot sauce is a culinary jack of all trades. Brands may vary, but each offers an inexpensive way to add spice to any dish and make a bland meal much more interesting. But Lawrence Wu '14 noticed that despite the many brands and varieties available, the ingredients and subsequent flavor of most hot sauces followed the same script – a simple blend of water, vinegar and peppers.
The lack of variety in the market looked like an opportunity to the recent graduate who had studied marketing and entrepreneurship at Drexel LeBow. After some trial and error tinkering in the kitchen, he developed the recipe for WUJU Hot Sauce with wholesome ingredients rarely found in supermarket sauces such as agave nectar and mango. "WUJU offers a different consistency, look, taste and smell. It has a blend of heat and sweet that's unique," says Wu.
Prior to developing WUJU, Lawrence had been working at a corporate marketing job. He says it was an excellent learning experience, but ultimately he wasn't happy. He had learned from his parents, both restaurateurs, that owning your own business was stressful yet gratifying.
With confidence in his recipes and positive feedback from a free giveaway organized through Reddit, Lawrence simultaneously quit his job and launched a Kickstarter to fund the launch of WUJU Hot Sauce. The campaign quickly proved successful, as WUJU quickly met its goal with over a month still left to go. The next steps for Lawrence include working with his manufacturer in Lancaster, Pa., to fill all the orders that came in through Kickstarter and securing a space for WUJU on the shelves of specialty stores and gourmet shops in Philadelphia and New Jersey.