Q&A with Dean Madan, LeBow100, A Look Back and at What's Ahead
Before it became the Bennett S. LeBow College of Business, the College went through many name changes over its history. From the Business Department to the Department of Commerce and Finance to the Secretarial School and School of Business Administration, as it was named 100 years ago when the first four-year degree program was offered, one thing remains true today — the College has always remained agile in addressing the changing needs of business and industry.
LeBow College has seen the globalization of business and the growth of transnational corporations, the transition of the United States from a manufacturing to a service economy, the digital revolution, the Great Recession, and most recently, a global pandemic. These evolutions and important moments in time have fundamentally transformed the needs of business and Drexel's business education program has transformed right alongside.
As part of the 100-year celebration of the LeBow College of Business, Dean and R. John Chapel Jr. Dean's Chair Vibhas Madan, PhD, reflects on the enduring history of the College and shares his personal insight into this remarkable milestone.
What inspired you to become and remain such an integral part of LeBow for so long?
I think you stay at an organization not just because of what you're doing in your work, although that is critically important, but also because of the people around you. I have had key people at LeBow and Drexel who were mentors to me and supported me in many ways. I've had incredible interactions with students who remain friends and engaged after they became alumni. Throughout my thirty-year career at Drexel, it's been inspiring to be a part of an institution that has evolved so much and continues to do so. Philadelphia has also become home to me.
Can you share some significant achievements or milestones of the College during your tenure?
While I've been here, Drexel and LeBow have been completely transformed. A lot took place in the early 2000s — there was a real increase in the emphasis on research, and this had a big impact on the role of the College as a thought leader, creating a bigger academic footprint, both nationally and internationally.
With the expansion of our masters programs and offerings at the undergraduate level, there has been a significant increase in the breadth of programming. The creation of the School of Economics in 2013 elevated the College's visibility as a place where you have broad and in-depth programming. It propelled the growth of the PhD program in economics, the launch of the MS in economics, and the ability to recruit additional high-quality research faculty and deeper collaborative research efforts around the world and with other schools and colleges at Drexel.
As a business school, we are in the best position compared to other academic units to engage with businesses and corporations. We are a place of confluence for students, both within and outside of the classroom. Through our programming, including our consulting courses, case competitions and expert industry speakers, we bring together students from across the University into the same classroom. I would be remiss not to mention the incredible achievements of our executive education programs driven by key corporate partnerships.
I'm also very proud of how LeBow has worked to create an inclusive culture. For example, the BRIDGE program is a great example and positive emblem of who we are as a College.
What do you think sets LeBow apart from others, and how has it maintained its reputation over the years?
The combination of high-quality research along with a student-centric approach sets us apart. Especially over the last 10–12 years, College leadership has been determined to drive LeBow forward on this dual platform focusing on high-impact research and making student success our top priorities. Not only are our faculty continuously published in top journals, but the research is also having a real impact on business practice and policy.
Co-op obviously also sets LeBow, as well the rest of Drexel, apart from most other educational institutions.
We've been able to maintain our success through the community of people we have. The faculty and staff are so important — their long-term commitment has allowed us to continue to excel. And the engagement from alumni, too.
How has the College adapted to changes in the educational landscape and advancements in technology?
LeBow has really focused on programs which cut across different disciplines. With the flexible curriculum, students can major across department areas, even across other colleges at Drexel. This is in direct response from the needs of industry with broader labor markets and greater options.
Through the need and desire for hybrid learning during Covid, LeBow saw the creation of the Center for Innovation in Teaching and Learning. Through this Center, we are looking at the best use of technology for impact on the students in and outside of the classroom. As the educational landscape and technology continue to evolve, the Center will help us drive innovation in LeBow's programs, curriculum and courses.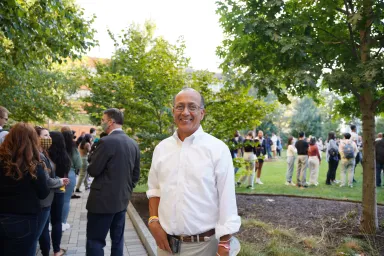 What initiatives or programs are you most excited about in LeBow's future?
I get excited about all of our programs that are stepping outside of the traditional classroom and engaging industry experts. This is the future. You have to think of instruction that brings in the industry experts and is interdisciplinary. Our ongoing and future partnerships with leading organizations allow us to do this as we continue to infuse our academics with real-world insight.
On the research side, we are looking at certain key areas where we have faculty expertise. We are thinking strategically about more clustered, cross-department and cross-college research — specifically areas with societal impact — and increasing our emphasis on partnerships in these areas. A great example of this is the Raj and Kamla Gupta Governance Institute, which uniquely aligns its academic research with diverse industry perspectives.
I also look forward to continuing with LeBow's DEI initiatives. I've been proud to see LeBow's BRIDGE program used as a roadmap across the University as other colleges create similar programs.
What advice would you give to current and future students of the College?
Absolutely focus on time management. What you do in the classroom is always priority number one, but you have to stay curious about the things around you and in the world. A lot of learning takes place outside of the classroom. I would encourage students to think and engage with academic and co-curricular opportunities outside of the classroom. Get involved. LeBow's learning communities create great opportunities to do this. I would also say, read beyond what you're studying.
Finally, what does this milestone mean to you personally, and how do you envision LeBow's future in the years to come?
I'm proud and honored to be part of an institution that has a long and respected history and legacy. Whenever you do something successfully for 100 years, it means you're doing something right. The long legacy of thousands of alumni all across the world is remarkable. Growing up in India, it's special to me to be part of an institution that is globally recognized — and having a global impact. In a way, I've grown up here. And for me, the people have always been, and always will be, the key aspect of LeBow's future success.
Whether it be through the usage of technology, the founding of impactful DEI initiatives or the innovative partnerships with industry, LeBow has helped set the pace, and I don't see us slowing down in the next 100 years.
Dean Madan was appointed dean of LeBow in December 2020 after serving as interim dean since November 2019. He joined the Dean's Office in July 2018 as senior associate dean for academic programs. Prior to that, he served as the head of the Economics Department and then as the founding director of the School of Economics, which was launched as a new school within the College in 2013. Dean Madan joined Drexel in 1989, after completing his doctorate in economics at Michigan State University.