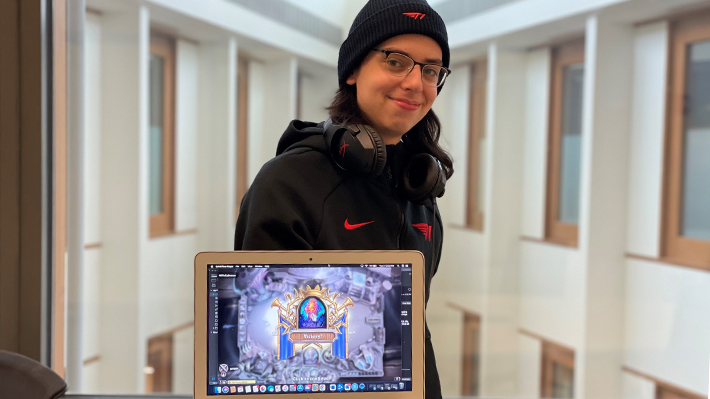 Q&A: Satchel Manchester, Esport Business Major
Name: Satchel Manchester Hometown: Ithaca, NY Degree, Minors and/or Certificates: BSBA in Business Analytics and Esport Business Graduating Year: 2024
Satchel Manchester was among the first LeBow students to declare a major in esport business, combining an interest in business with his professional gaming experience in online strategy games like Hearthstone, Legends of Runeterra and Magic the Gathering: Arena. Satchel also serves as a game lead at Drexel Esports, a club team participating in esport competitions against other universities. With Drexel's ongoing plans to create a varsity esports program, Satchel intends to be involved as both a student, researching the feasibility and potential through courses and projects, and as a competitor. He shared with us some of the highlights of his Drexel LeBow experience.
Drexel LeBow: What was the most impactful class you've taken at LeBow? Satchel Manchester: The Esport Research independent study course allowed me to apply theories that have been used in sport business for decades to the emerging esports industry. The experience was extremely informative about both industries.
DL: Tell us about your co-op experience. SM: My first co-op was with Gopuff as a Delivery Zones Analyst, and it was very enlightening to join the company during a period of enormous growth. Being in that fast-paced atmosphere was really beneficial for learning skills for the workplace. While the co-op was remote, I still felt connected to my fellow workers and would definitely consider a future co-op or full-time position there.
DL: What's your favorite place in Philadelphia? SM: I would say Localhost Philly and The Block, two LAN centers run by Nerd Street Gamers that host gaming events. Gaming is often seen as something that people do alone or together via the internet, and LAN centers like these ensure that the community can gather in person to enjoy their hobbies together and compete with each other. They also give access to those around the city who might not own a computer or have a reliable internet connection a chance to enjoy computer or console gaming.
DL: What's your favorite book? SM: "Catcher in the Rye" by JD Salinger. This book highlights the struggles of mental illness and the danger of combatting such things alone. Always reach out to someone if you need help.
DL: In 10 words or less, why choose Drexel LeBow? SM: Fast-paced academics combined with real-world experience.