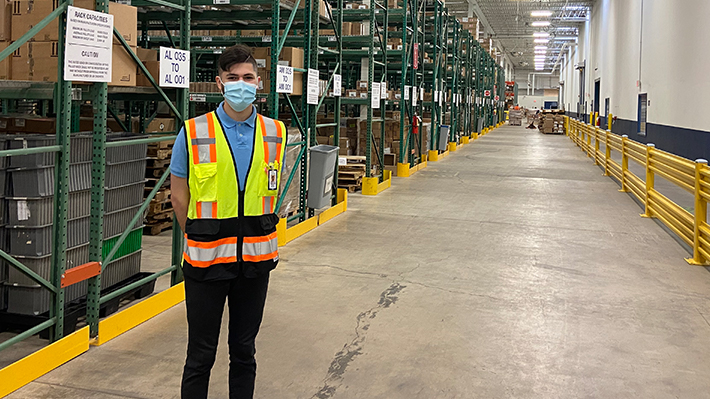 Q&A with Yaseen Ahmid, Student Supply Chain Leader and Competition Winner
With three majors, three co-ops and numerous leadership roles in student organizations and on case competition teams, Yaseen Ahmid has tried to make the most of his Drexel LeBow experience. This high level of activity has yielded both local and national recognition: leading Drexel's team to a top-ten finish in the Institute for Supply Chain Management World Case Competition in 2021, winning the Ohio University Eastern Shark Challenge in April 2021 with two LeBow classmates, and receiving the $2,500 Janet Hillier Scholarship from the Association for Supply Chain Management's Philadelphia chapter.
Though he's on co-op this term, he's remained involved in the LeBow student experience, putting together teams to enter Harvard's Global Case Competition and the University of Minnesota's Undergraduate Supply Chain Case Competition. He shared the path he's taken as a LeBow student and key skills he's gained along the way.
Name: Yaseen Ahmid Hometown: Johannesburg, South Africa Degree, Minors and Certificates: BSBA in Operations and Supply Chain Management, Finance and Business Analytics. Minor in Legal Studies. Certified Yellow Belt in Lean Six Sigma by IASSC. Graduating Year: 2023
DL: What is your advice for prospective students who are considering applying to Drexel? YA: Drexel's quarter system is incredibly fast-paced, which may take some time getting used to. Setting a healthy work-life balance and making sure that you stay on top of your deadlines is crucial. Don't worry too much about selecting your major! I came to Drexel as a sport management major and the process of switching majors within LeBow was seamless. Drexel offers a plethora of resources, and you should never be worried about navigating your way through life in LeBow — your academic advisor is always there to help.
DL: Tell us about the co-op roles you've held and your experiences with them. YA: During my first co-op, I functioned as a Contract and Real Estate intern for the Public Health Management Corporation; this position ultimately inspired my decision to minor in legal studies. My second and third co-ops have been in supply chain: a Global Supply Chain internship with Balenciaga in Paris, and currently with Estée Lauder in their reverse logistics center in Bristol, PA as a Supply Chain Management intern. The time that I have spent at Estée Lauder has been eye-opening and I am extremely grateful to my directors George Pirovolos and Neilly Woodard for the opportunities the company has granted me during my time there. The company really knows Drexel students are forward-thinking and ambitious individuals.
DL: What has been the most valuable lesson from your co-op experiences? YA: When you are in a supply chain role, no two days are the same. I am always coming out of the facility with a new favorite memory because my directors have provided me with ample space to function at my own pace. The trust and mentorship that they have provided has accelerated my growth, and I am always being handed new projects. When the company learned that I was certified in Lean Six Sigma, they immediately placed me on a team to participate in operational excellence work.
DL: Have the challenges of COVID-19 inspired you to try anything new? YA: If anything, the pandemic has increased my capacity to take on new projects, learn new skills and focus on hobbies — the kinds of things that often get put to the side during in-person classes. I'm particularly proud of co-founding TAMID at Drexel University with two of my peers, Hersh Shah and Matan Ben Abou. This organization gives students the opportunity to interact with international startups through real consulting and investing work.
DL: In 10 words or less, why choose Drexel/LeBow? YA: Drexel unlocks your hidden potential.