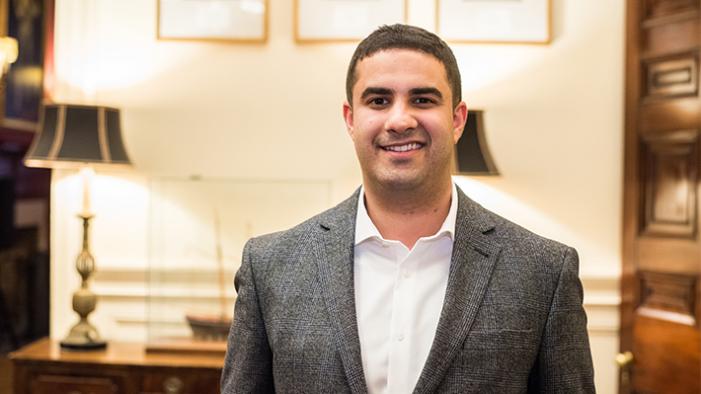 Soheil Kashan
When Soheil Kashan came to Drexel in 2013 to enroll in the Master's in Finance program, he had never visited the United States – much less Philadelphia or Drexel's University City campus.
"I don't want to say it would have been impossible, but it's close," he explains. Soheil is originally from Iran, where he completed his undergraduate degree in finance at the University of Tehran, and travel between Iran and the United States is restricted due to ongoing tensions between the two countries. Still, Soheil's sister came to the United States for her medical school residency and ended up obtaining U.S. citizenship, which helped encourage his idea of coming here to study as well.
"I picked Drexel because of the range of programs they were offering – not only in finance," he says, noting that when he arrived in 2013, LeBow first began its MS in Business Analytics program. "Even if, at that point, I wasn't sure if I wanted to do that as a degree, it was something I was interested to see."
Partway through his studies in finance, Soheil was taking some courses in analytics and considered enrolling in a second program, the MS in Business Analytics; he ended up completing both degrees in a little over two years. "The skillset you gain through business analytics, and combining that with finance, that definitely gave me a sort of competitive advantage," he says. "Soft skills are important, but when you can say in an interview, 'I did a project on that' or 'I used that tool or that technique to solve the problem,' that's definitely a big asset."
During his time at LeBow, he co-founded the Drexel Business Analytics Association, working with his classmates on promoting engagement within the program and focusing on skill development through special projects and analytics case competitions. He also cites both the Business Analytics Speaker Series and the PhD seminars in finance and other topics as highlights of his studies. "For students, if they can attend something like that, it gives you so many ideas of what's happening," he says. "It might not be immediately useful to what you're doing right now – especially with academic ideas, which might be more theoretical – but it definitely gives you intuition about how to think about certain problems."
"That's honestly something I miss a lot," he adds. "As an alum, I would still enjoy going to those."
He still finds plenty of fulfillment in his role as a risk analyst with Radian, where he landed a position after meeting his current hiring manager at a LeBow graduate mixer and striking up a conversation. "I wanted to be in financial services, and I wanted to work in a position that's very heavy into leveraging data," he says. "Those two things met each other in the role that I have right now."
After first coming to the US on a student visa, he now has a sponsorship for an H-1B visa by his employer. He advises international students, regardless of their area of study or their home country, to keep up on current events and the policies of both the U.S. government and major companies in their target industry.
"Sometimes, information is basically nowhere, and year over year they might change their policy," he says, adding that at Drexel, the Office of International Students and Scholars Services was a valuable resource, answering his questions as he applied, was accepted and moved here.