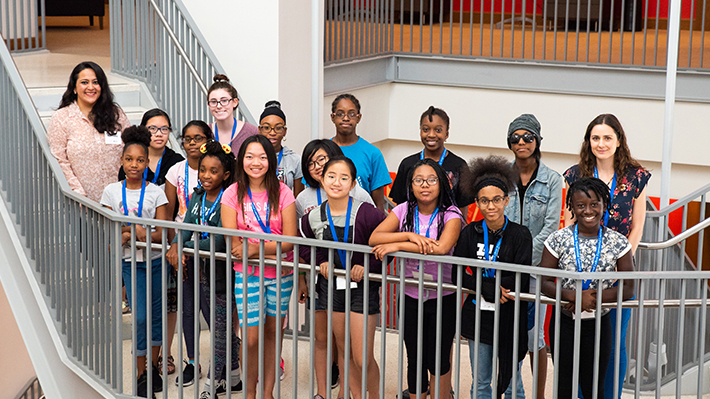 Setting a High Bar in STEM Education
When Darshita Thakker and Irina-Marcela Nedelcu enrolled in Drexel LeBow's MS in Business Analytics program, they expected to delve into topics like programming, text mining and social network analytics through their courses.
What these two recent master's graduates didn't anticipate was that they would teach lessons in these same topics to a growing audience of middle school students – in some cases, not long after they had learned the concepts themselves.
Part of LeBow's partnership with TechGirlz, a Philadelphia-based STEM-focused nonprofit, this side venture grew to encompass much of their time outside of class and their internship, and ultimately proved to be a highlight of their studies at LeBow.
"Having the opportunity to come here and study was a big deal. This was a way for us to give back to the community," Nedelcu said. "Seeing how the girls learn and seeing them come back to the workshops was very fulfilling. By having that involvement in the community, we've made more of a change in ourselves than just by coming to classes."
The TechGirlz partnership and its series of analytics workshops for middle school-aged girls reflects an extensive collaboration by Thakker and Nedelcu with Diana Jones, Director of the Center for Business Analytics, and Murugan Anandarajan, professor of MIS and department head for management and decision sciences & MIS. "When I initially thought of this partnership, I knew it would be transformative for the middle school girls," Jones says. "What I didn't realize was the extent to which it would benefit our graduate students."
Though Thakker had previous teaching experience – working on art projects with children – teaching technology was a new space for her. Still, she and Nedelcu both leapt at the chance to involve young girls in topics and ideas that could orient them for future studies and careers.
"Growing up, I really liked math, but I didn't know what I could do with it. I didn't know anything about analytics or how it could be used," Nedelcu says. "These girls in middle school are learning about how it can be used, and they'll really be at an advantage when they go into high school and into higher education."
"We make sure we deliver it in a way that's relatable and fun," Thakker says. "It gave us a good opportunity to learn, and it's very fulfilling to see the students get excited when their graph pops up."
Preparing for the workshops required plenty of extra time outside of class and internships – Thakker at AmeriHealth, and Nedelcu at Merck – and with the workshops being held on Saturday mornings, Thakker says that sometimes as late as Friday evening "we were still changing the content to make sure it's as fun and as relatable as possible."
"We have to make sure everyone feels involved. We're making sure that everyone's at the same level, because if someone's behind, they might just stop and not ask, 'How do I get to the next step?'" she adds. "We want to make sure we set the bar really high."
"I think it shows what kind of character they have," Anandarajan says. "They don't see it as a job – they see it as a passion and a labor of love."
"Seeing that type of female leadership, and from people who are in the field and practicing these concepts, is so powerful for the middle-school girls," Jones adds.
The last of LeBow's workshops for the school year – on social network analytics, with ideas and themes taken from the Harry Potter series of books and films – had the highest attendance of any that TechGirlz has held. "They offer over 200 workshops a year right now, so it was really impressive to hear that," Thakker says.
Though Thakker and Nedelcu completed their master's degrees in March, they both want to stay involved in future workshops, including a camp being held at LeBow this summer.
"We really want to hold onto this," Thakker says, though she notes that new professional commitments, propelled by her studies in analytics, come first.