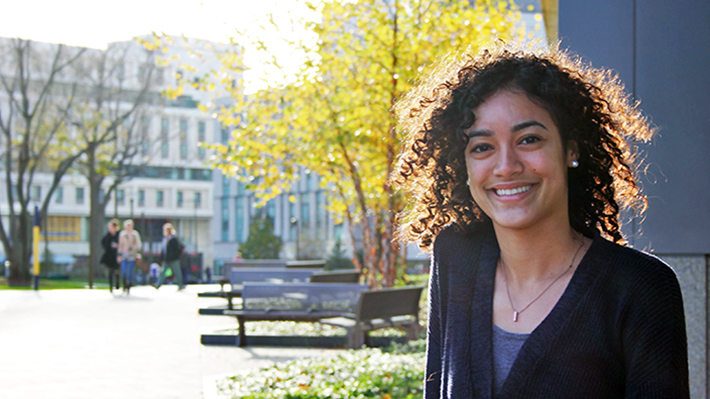 Sophomore Lands Co-op During J&J Leadership Conference
When LeBow sophomore Shania Smith applied to participate in a leadership conference at Johnson & Johnson this summer, she had no idea it would lead to a co-op position offer or a new potential career path.
She first heard of the Developing Diverse Leaders of Tomorrow program from her BRIDGE program advisor who encouraged her to attend an information session and apply. After submitting her application and completing an interview with Johnson & Johnson staff, Smith was selected as one of the eight Drexel students invited to attend the two and a half day conference at the company's headquarters in New Brunswick, N.J.
The conference offered students the chance to attend workshops, participate in teambuilding activities, get an inside look at the company and meet employees from various departments and locations with different amounts of tenure at the company.
The conference also featured recruiters who observed students in consideration for prestigious internship opportunities with the company in the areas of marketing, sales, finance and supply chain.
Smith was surprised when she received a call a few weeks after the conference offering her a position in supply chain for her spring/summer co-op. Recruiters at the spring info session noted they rarely offer positions to second-year students such as Smith.
"I hadn't even planned on doing [this conference], but someone else had recommended that I do it. It led to my offer so I am really glad I did it. It put me ahead of the curve."
For Smith, the opportunity to meet Johnson & Johnson's diverse staff was the most impactful part of the conference and ultimately led her to accept the Business Services co-op position. It opened her eyes to the potential of careers outside of what she had planned for herself.
"A lot of what I am interested in doing long term is nonprofit work," she says. "I wasn't really looking at the corporate world, which is why I was kind of reluctant to apply for the conference. Surprisingly, I ended up liking it. One of the biggest things I realized was that you don't necessarily have to go into nonprofit work to do that type of volunteering and have that be a part of your life. That is what I am realizing now."
Smith was impressed by Johnson & Johnson's commitment to serving the community. She noted their willingness to offer employees time off to do service.
"I can't be limited in what I want to do. At first I didn't want to go into corporate America because I had a certain thought of what it is," she says. "No matter where I work, I want to have that opportunity to give back, and Johnson & Johnson is definitely making that possible."
Smith also sees the position as an opportunity to mature and become more independent. Having grown up in Philadelphia, this will be her first time living on her own outside the city and Drexel's residence halls.
"It is a good opportunity for me to learn on my own and become more independent. Coming to college was my first step, but this is really going to be a big step for me," she says. "I am excited to get started and find out what I can learn from it."