Up Tempo!
Asked if she's ever amazed by where she is and what she does, Blair Christie leans forward and whispers "every _day_," an answer one might expect from the youngest-ever senior vice president at technology giant Cisco.
Amazed, as in grateful, humble — but not surprised. Because even though she leads global marketing, communications, investor relations and government affairs for one of the most valuable companies in the world, Christie is grounded by a self-discipline of know yourself, be yourself, trust yourself.
"I don't even allow myself to think about how big Cisco is," says the B.S. and MBA LeBow alumna, "because I want to stay focused on the task at hand — making Cisco one of the most important technology companies in the world."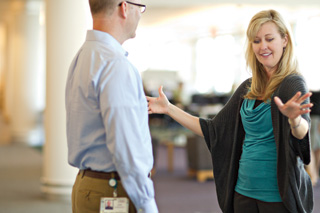 In fact, Cisco is arguably the globe's leading provider of the innovative equipment and systems that connect the digital world — everything from the Internet, video conferencing and security systems to wireless local area networks. The company employs more than 63,000 people in more than 165 countries and generates more than $44 billion in annual revenue. Christie, along with CEO John Chambers, has primary responsibility for Cisco's reputation among investors, journalists, public officials and prospective customers.
Christie was just 30-something when she told her retiring boss, Cisco's head of investor relations, "I want your job." Only a few years later, she told CEO Chambers she wanted to form and lead a corporate communications group in addition to her investor relations responsibilities — just as soon as she returned from maternity leave after the birth of her second daughter. In 2011, Christie added marketing to her portfolio and became one of Cisco's top executives.
She and husband Joe, who she met at Drexel, now have two daughters and one son. PRWeek and the San Francisco Chronicle have marveled at her work–life balance; she was named a 2009 "Working Mother of the Year" by Working Mother magazine. Treasury and Risk Management named her among the "Top 40 Under 40" financial executives to watch in 2004.
And it all started with her co-op experiences and Nick DeBenedictis '68, '69, Hon. '87, who twice hired Christie during her undergraduate years, first at PECO Energy and then at what is now Aqua America Inc., where he is currently chairman, president and CEO. When Christie graduated, DeBenedictis, a Drexel trustee, hired her again, this time as Aqua America's first manager of investor relations.
"She is a person of amazing intelligence and work ethic," DeBenedictis says. "I worked her hard, and I would tell her when she blew it. She's a quick study." Or, as Christie remembers it: "Nick's very intoxicating. The more he gives you, the more you want to do, and then he gives you more and you want to do more. He was a huge shaper of my work ethic."
Several years later, armed with a LeBow MBA and high-tech experience managing investor relations for Philadelphia-based InterDigital Inc., Christie joined Cisco as part of its investor relations team, eventually leading her to oversee corporate communications and marketing. One blogger, who is a persistent Cisco critic, greeted her acquisition of marketing responsibilities in 2011 thusly: "Christie's background is in investor relations, all fluff and no substance in my opinion. Cisco needs a hard-hitting, focused marketing pro." Christie's staff came running into her office with that blog post; she told them all to calm down.
"I go back to what Nick taught me: it is about the results," she says. "I have spent a lot of time with our engineers and salespeople to learn this business, to know how to paint a mosaic showing how our products are important to customer success. I had a great track record of results."
"Blair has a huge job; I know, it was the job I had at Nortel Networks," says Elliot Schreiber, Ph.D., who this summer retired as the founding executive director of LeBow's Center for Corporate Reputation Management; Christie sits on the center's advisory board. "If Nortel were still alive, she would be my chief competitor, and I would not want to compete against Blair Christie.
"I know of a number of financial analysts who have dealt with her," Schreiber adds. "She is as straightforward, honest, open and transparent as she can be. Blair has empathy for other people's points of view, and she can translate that back to the executive suite. Even when things were going badly at Cisco, analysts still sung her praises."
Christie arrived in San Jose, Calif., when Cisco was a Wall Street darling, and she led the relationships with investors through the tech-bubble crash that turned Cisco's stock into the Street's favorite punching bag. During the tumult of the tech-bubble burst, Cisco still won professional society awards for its relationships with Wall Street, and some institutional investors actually apologized to Christie for selling off Cisco stock. That period "is when I learned the most," Christie says. "I learned quickly that you make a decision and move on. No decision is worse than making a bad decision."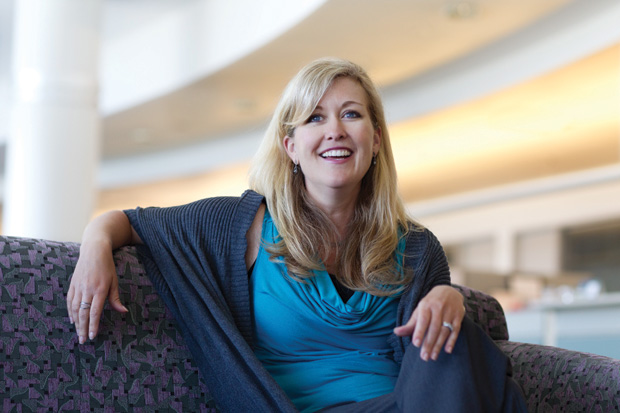 Lee Marshall, vice president for industry alliances at Business Wire and someone who taught Christie the ins and outs of investor relations, says her greatest asset may not be her intelligence or her confidence: it is her authenticity. "Blair has always been who she is," Marshall says. "As she climbs the career ladder she continues to be open, helpful; Blair may be the most well balanced person I know."
Every successful person or organization, Christie agrees, is true to its self. She strives to help Cisco be honest with itself about its strengths and priorities, and then she conveys that essence to customers and other stakeholders. When Cisco was named one of the Best Global Brands in 2011, Christie told an interviewer: "A key factor of Cisco's success is our reputation as a trustworthy, innovative and visionary leader. If you want to be perceived a certain way, it's critical that your actions match your words."
Take Drexel as an example.
"Everything is up tempo; you have to earn it every day; you are not entitled to anything," Christie says. "That is Cisco, too. That is why I do so well here. It's the culture I experienced at Drexel."
It also may have been part of what attracted her to Drexel. Christie is the type of person who, bored as a teenager working retail in Annapolis, Md., learned German from a colleague and taught herself to juggle. As a summer intern in the office of U.S. Sen. Arlen Specter, she "saved" the senator's favorite window seat on the Philadelphia-bound train before taking her own train home to Annapolis. As an executive in Philadelphia, she flew to San Jose, spent the very next day in 15 interviews for a job at Cisco, and then took the redeye home to prepare for her company's imminent shareholder meeting.
Christie's Twitter profile simply states: "Diplomat, explorer, connector, convener, at work and in life." (Follow her on Twitter: @BlairChristie.)
What's next? Well, with a youthful Marissa Meyer recently taking over the helm of Yahoo! and Sheryl Sandberg as the COO of Facebook, the sky would seem to be the limit for Christie and her fellow, hard-working women executives of Silicon Valley. Or maybe Christie's next life chapter will focus more on her husband's teaching and coaching career, rather than her own.
But most immediately, she'd like to figure out the warning signs for when she's about to make a decision that doesn't follow her gut instincts. Says Christie: "My intuition is pretty good."