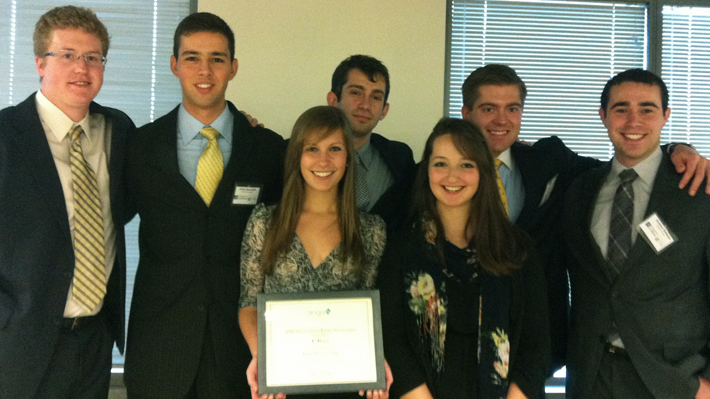 Undergrads' Campaign Wins First Place in ANGA Collegiate Energy Challenge
Eleven undergraduate students who participated in ANGA Collegiate Energy Challenge during fall term have claimed first prize. Utilizing a budget of $3,000, the students acted as consultants, developing and implementing a campaign to promote natural gas to the Drexel community.
Working as a unified agency, the class divided into teams to tackle research, marketing and strategy implementation, and came up with the slogan "Pennsylvania Natural Gas: Fuel Today. Sustain Tomorrow." The class traveled to Washington, D.C., in December to present its campaign to the judges.
The project culminated with several events on campus during November, including a social media competition, a natural gas vehicle display, and a panel discussion featuring industry professionals. Senior marketing student Josh Robbins says the class' campaign was successful. "We also wanted to creatively inform our target audience that Pennsylvania is one of the largest producers of natural gas, and that it can help sustain our nation through economic growth and a cleaner environment." 
Sophomore business and engineering student Sarah Messenger said that the class was a great opportunity to get hands-on business and leadership experience. "It allowed me to learn and apply project management, as well as understand the importance of natural gas. It was a fantastic experience, unlike any other I've had at Drexel so far."
EdVenture Partners, an organization that builds industry-education partnerships, presented the competition alongside LeBow's Dornsife Office for Experiential Education. The class' winning presentation can be viewed at EdVenture Partners' website.
Dana D'Angelo, clinical professor of business, taught the class, and Andy Macaleer, adjunct instructor and a professional consultant, facilitated the program. The students who participated are: Andrew Lawson, Christopher Baccash, Daniel DiFrancesco, Jakob Metzger, Rita Bucca, Andrew Bellezza, Sarah Messenger, Diana Fox, Josh Robbins, Christina Russell and Jin Lee.